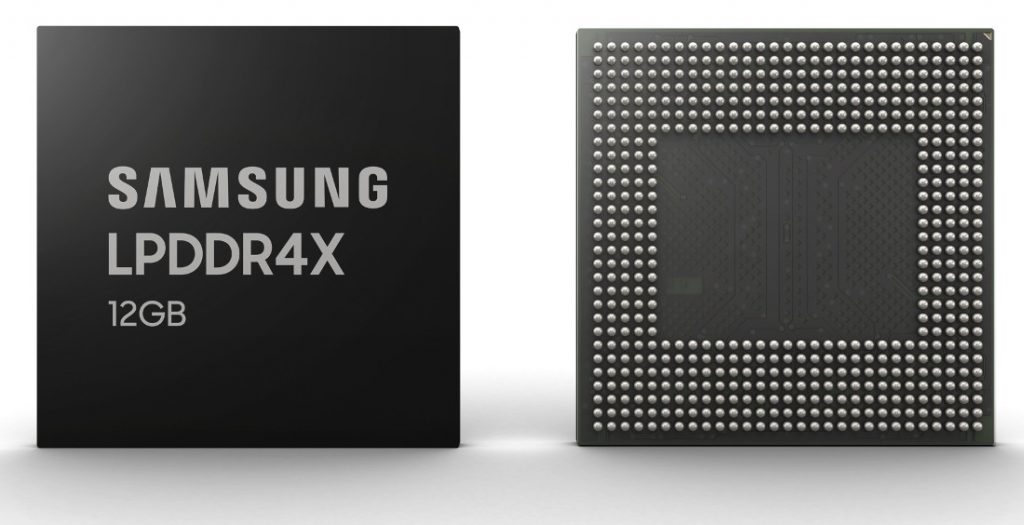 Samsung has already introduced the Galaxy S10+ and Galaxy Fold smartphones with 12GB of RAM last month. Today the company has announced that it has started mass production of 12-gigabyte (GB) low-power double data rate 4X (LPDDR4X) RAM for premium smartphones. It is  achieved by combining six 16-gigabit (Gb) LPDDR4X chips (16Gb=2GB) based on the second-generation 10nm-class (1y-nm) process into a single package, and promises up to a 10% power reduction while maintaining the same data rate of 4,266 megabits per second (Mb/s) as it 8GB RAM.
This four-channel package can realize a data rate of 34.1GB per second and its thickness has been reduced more than 20% from the 1st-gen package, enabling OEMs to design slimmer yet more effective mobile devices.
Samsung said that it plans to more than triple the supply of its 1y-nm-based 8GB and 12GB mobile DRAM during the second half of 2019 to meet the anticipated high demand, thanks to its cutting-edge memory line in Pyeongtaek, Korea. Check out Samsung's history of DRAM development from 2009 to 2019.
| Date | Capacity | Mobile DRAM |
| --- | --- | --- |
| Feb. 2019 | 12GB | 1y-nm 16Gb LPDDR4X, 4266Mb/s |
| July 2018 | 8GB | 1y-nm 16Gb LPDDR4X, 4266Mb/s |
| April 2018 | 8GB (development) | 1x-nm 8Gb LPDDR5, 6400Mb/s |
| Sept. 2016 | 8GB | 1x-nm 16Gb LPDDR4X, 4266Mb/s |
| Aug. 2015 | 6GB | 20nm (2z) 12Gb LPDDR4, 4266Mb/s |
| Dec. 2014 | 4GB | 20nm (2z) 8Gb LPDDR4, 3200Mb/s |
| Sept. 2014 | 3GB | 20nm (2z) 6Gb LPDDR3, 2133Mb/s |
| Nov. 2013 | 3GB | 2y-nm 6Gb LPDDR3, 2133Mb/s |
| July 2013 | 3GB | 2y-nm 4Gb LPDDR3, 2133Mb/s |
| April 2013 | 2GB | 2y-nm 4Gb LPDDR3, 2133Mb/s |
| Aug. 2012 | 2GB | 30nm-class 4Gb LPDDR3, 1600Mb/s |
| 2011 | 1/2GB | 30nm-class 4Gb LPDDR2, 1066Mb/s |
| 2010 | 512MB | 40nm-class 2Gb MDDR, 400Mb/s |
| 2009 | 256MB | 50nm-class 1Gb MDDR, 400Mb/s |