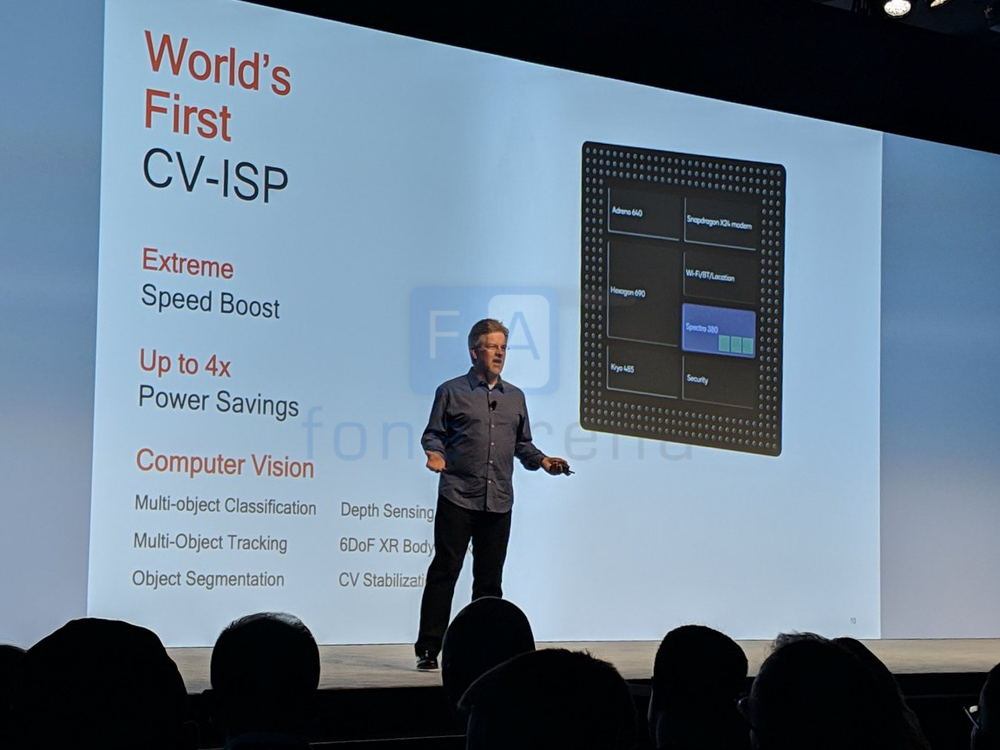 Earlier today, Qualcomm held a lengthy two-hour keynote extolling the improvements brought along by the all-new Snapdragon 855 system-on-chip. One of the more interesting and tangible enhancements talked about was on the imaging front. At the heart of the improvements sits the all-new Spectra 380 ISP that is poised to push mobile imaging and videography forward quite significantly. Let's take a closer look. 
Computer Vision  ISP
The Spectra 380 ISP (Image Signal Processor) includes what Qualcomm is calling out as the world's first Computer Vision ISP. By moving computational photography processing from the general purpose main Kyro cores to a dedicated chip, Qualcomm is able to advertise up to 4x power savings. Since the ISP is a highly specialized chip designed to execute the computational photography related requirements, it also provides a platform for OEMs to provide rapid object detection, scene detection and advanced machine learning based imaging enhancements.
Real-Time Bokeh in 4K/60 HDR Video
The CV ISP also brings immediate enhancements to the video capture experience. While HDR video capture made its debut with the Snapdragon 845, the big news here is wide support for 60FPS recording with bokeh in video content. In the tightly controlled video demo, the effect appeared to be quite convincing though it remains to be seen how the final implementation is. Considering how portrait mode for still images continues to evolve and improve, we would want to wait and see how real-world results look like. Regardless, it is a huge step forward for software enhanced videography .

HDR10+ Support
Where the Snapdragon 845 brought along HDR support, the Snapdragon 855 platform adds HDR10+ support. For the end user, this means more lifelike video content. Where standard HDR10 sets the boundaries for content brightness for the full duration of the clip, HDR10+ adds support for dynamic metadata. Using this, the video can dynamically alter brightness levels on a frame by frame basis giving you a much more immersive and true to life recording.

HEIF
Okay, so Apple has had HEIF support on their phones for quite some time.  High-Efficiency Image File Format or HEIF as it is commonly called is a relatively new container format that is starting to replace the very common JPEG format. With native support for HEIF, next-generation Android phones will be able to offer a wide selection of imaging-related capabilities. Unlike JPEG, the HEIF format can store a vast amount of data within a single file while still cutting down on storage requirements because of improved compression algorithms. With HEIF, it is possible to store RAW data, depth maps and more within a single file. For phones with multiple cameras, you can potentially capture images from multiple focal lengths at the same time and save them in a single file allowing you to dynamically adjust the shot after you've taken the photograph.
HEVC
The Snapdragon 855 chipset also gains support for hardware accelerated H.265/HEVC encoding while also offering acceleration for the VP9 codec. The more efficient codec will let you store 4K video at close to half the file size and reduce power consumption as well along with it.
Disclaimer: Qualcomm sponsored the correspondent's trip to Hawaii to attend the Snapdragon Summit