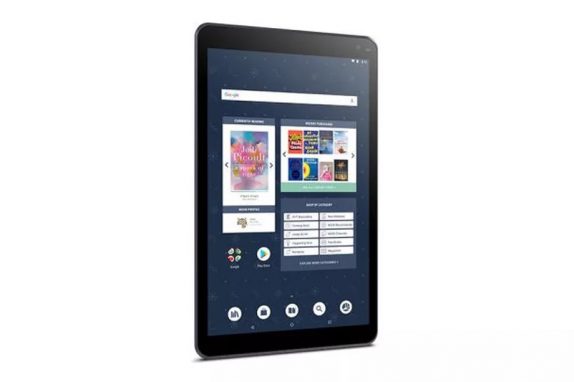 Barnes & Noble has announced a new NOOK tablet, the NOOK 10.1 it acts as a 2 in 1 tablet capabilities for browsing, taking pictures, or sending emails. It features a front and rear camera, headphone jack, Bluetooth capability, and pogo pins to easily connect to a NOOK keyboard or a NOOK charging dock.
It packs 32GB storage that is expandable up to 256GB and comes with an updated user experience on the NOOK 10.1, with a custom home screen with easy access to your current reads and recent purchases, and an improved NOOK Bookstore and Library. Plus. It sports a 10.1-inch (1920 x 1200 Pixels Resolution) IPS display that is optimized for reading and comes with Google PlayStore.
The company claims that it can offer up to 8.5 hours of reading watching videos and web browsing. Connectivity features include  Wi-Fi (802.11 a/b/g/n/ac) dual-band. It features 2MP dual and front cameras.
The NOOK 10.1 will be available for a special price of $119.99 (Rs. 8,760 approx.) starting from November 22nd to December 26th. Barnes & Noble is offering a cookbook bundle promotion starting from November 22nd to December 31st. Customers can also purchase the NOOK 10.1 with a charging dock for $159.99, and receive $50 worth of Good Housekeeping eCookbooks.
Bill Wood, Chief Digital Officer for Barnes & Noble said:
The new NOOK 10.1" provides a complete reading and entertainment experience on our biggest display yet. The soft-touch feel and lightweight design make it a perfect holiday gift for readers who want to enjoy their favorite books for hours, while also being able to browse, watch shows, listen to music, or send emails all from one device. The NOOK 10.1" is truly a gamechanger for the NOOK lineup.