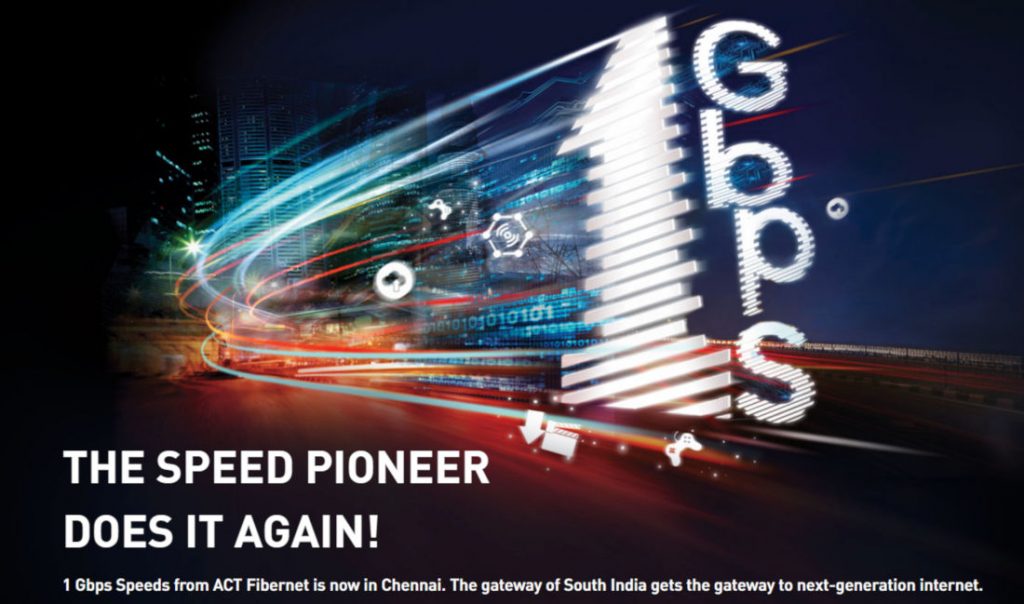 After launching India's first 1Gbps (Giga speeds) wired broadband service in Hyderabad and Bengaluru last year, today ACT Fibernet has launched Gigabit broadband services in Chennai. 
The ACT GIGA plan offers 1 Gbps broadband speed with 3000GB FUP limit at Rs. 2999. Customers who opt for 6-month plan get one-month free subscription and who opt for 12-month plan get two-months free subscription. You can upgrade the current broadband plan to Giga plan at Rs. 2500 for installation cost and for new customers the cost is Rs. 5000.
Similarly, Under SME (Small Medium Enterprise) plan, ACT SME Silver stars at Rs. 2999 offering 1Gbps speeds, but this has 4000GB FUP, which is 1000GB more compared to the retail plan.
| | | | | | | |
| --- | --- | --- | --- | --- | --- | --- |
| Retail Plan | Speed in Mbps | FUP in GB | Post FUP | Monthly Rental | 6 Months Subscription | 12 Months Subscription |
| ACT GIGA | 1 Gbps | 3000GB | 2 Mbps | Rs. 2999 | 17,994 | 35,988 |
SME Plans
| | | | | |
| --- | --- | --- | --- | --- |
| SME Plan | Monthly Rental | Speed | FUP | Speed After FUP |
| ACT SME Silver | Rs. 2999 | 1 Gbps | 4000GB | 2 Mbps |
| ACT SME Gold | Rs. 3999 | 1 Gbps | 5000GB | 5 Mbps |
| ACT SME Platinum | Rs. 4999 | 1 Gbps | 6000GB | 5 Mbps |
| ACT SME Phenomenal | Rs. 5999 | 1 Gbps | 7000GB | 6 Mbps |
| ACT SME Exceptional | Rs. 6999 | 1 Gbps | 8000GB | 7 Mbps |
| ACT SME Exceptional Plus | Rs. 8999 | 1 Gbps | 10000GB | 10 Mbps |