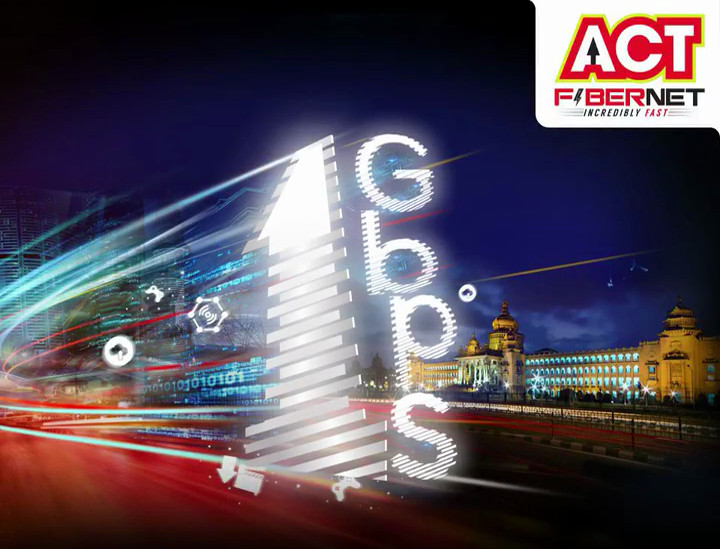 After launching India's first 1Gbps (Giga speeds) wired broadband service in Hyderabad earlier this year, today it has launched Gigabit broadband services in Bengaluru. It was launched by Shri. Priyank Kharge, Minister of IT, Bio Technology, Science & Technology, Tourism, Government of Karnataka.
It has launched Gibabit broadband plans for retail and SME (Small Medium Enterprise) customers. Under retail, ACT GIGA plan offers 1 Gbps broadband speed with 1250GB FUP upload and 1250GB FUP Download at Rs. 5999. Customers who opt for 6-month plan get one-month free subscription and who opt for 12-month plan get two-months free subscription. They can also upgrade the current broadband plan to Giga plan at Rs. 2500 for installation cost and for new customers the cost is Rs. 5000.
Similarly, Under SME (Small Medium Enterprise) plan, ACT SME GIGA Plus plan at Rs. 15,000 offers 1Gbps speeds with 5TB upload and 5TB download limit. ACT said that the ACT SME Exceptional Plus and ACT SME Phenomenal Plus plans will be upgraded to 1Gbps speed in near future.
| | | | | | | |
| --- | --- | --- | --- | --- | --- | --- |
| Retail Plan | Speed in Mbps | FUP in GB | Post FUP | Monthly Rental | 6 Months Subscription | 12 Months Subscription |
| ACT GIGA | 1 Gbps | 1250GB | 1 Mbps | 5999 | 35,994 | 71,988 |
| | | | | |
| --- | --- | --- | --- | --- |
| SME Plan | Monthly Rental | Ccrrent Speed | FUP | Speed After FUP |
| ACT SME GIGA Plus | 15000 | 1 Gbps | 5TB | 5 Mbps |
Commenting on the launch, Bala Malladi, CEO, Atria Convergence Technologies Pvt. Ltd, said:
With the success of 1GBps in Hyderabad, I am extremely happy to extend our services to Bengaluru. Known as the tech capital of India, we realised the city needs cutting edge / futuristic internet technology to accelerate its development. We therefore, ramped up our network with Giga technology and will now provide full coverage for individual home and corporate organisation. I am confident that as we keep introducing such advanced technology across cities we will soon witness a societal transformation.
Shri. Priyank Kharge, Minister of IT, Bio Technology, Science & Technology, Tourism, Government of Karnataka, said:
Bengaluru has been announced as the city that is most adaptable to digital change and has always been in the forefront of technology and innovation. It is a matter of pride that ACT Fibernet being a Bengaluru founded start up, has become pioneer in India to introduce 1Gbps broadband connectivity in the country and by launching this in Bengaluru today, it would only further enable us to digitize the entire city and supplement the Government of Karnataka's Vision along with India's vision to be later in the digital economy. With the launch of 1 Gbps internet in the technology capital of India, it further strengthens Bengaluru's position as a true Global City. I wish the very best to ACT FIbernet and I'm sure they will play a very important role in the Internet industry of India.
With inputs from Sunil