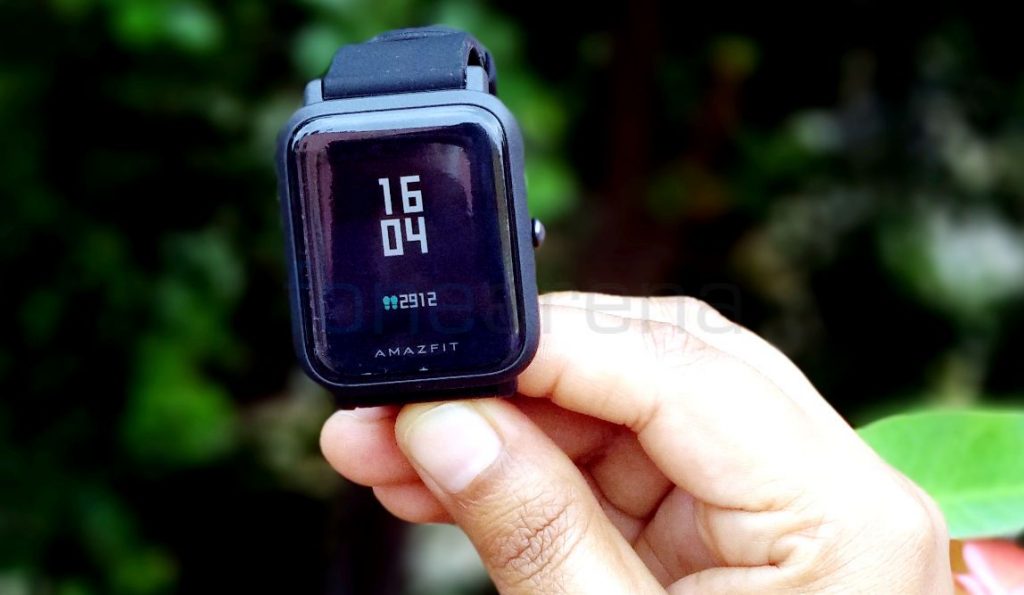 Huami recently launched the Amazfit BIP in India, it is the same company which manufactures Mi Band series for Xiaomi. Amazfit BIP is company's cheapest smartwatch under Amazfit range of smartwatches. This is an entry-level smartwatch with always-on reflective color display priced at Rs 5,499, this smartwatch also sports PPG heart rate sensor, GPS sensor, Geomagnetic Sensor, Air Pressure sensor and 3-axis accelerometer for activity, sports and sleep tracking. The smartwatch packs lots of tech inside and definitely looks promising but how does it fair in day-to-day life, Let's dive into the review to find out.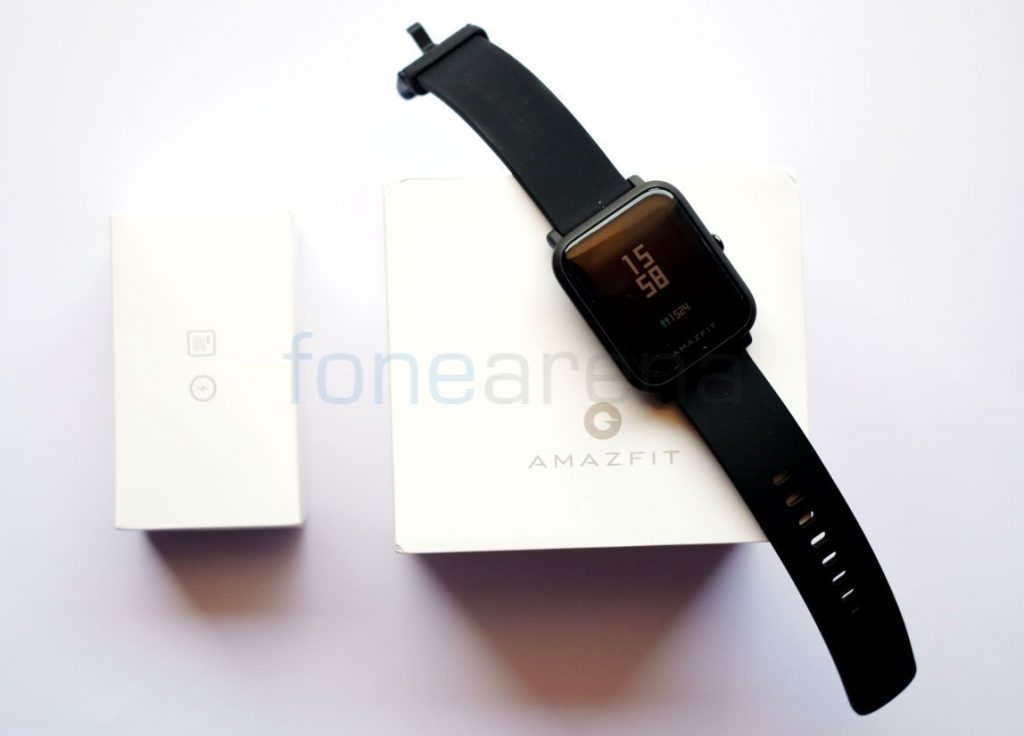 We unboxed the smartwatch recently, check out the Amazfit BIP unboxing.
Box Contents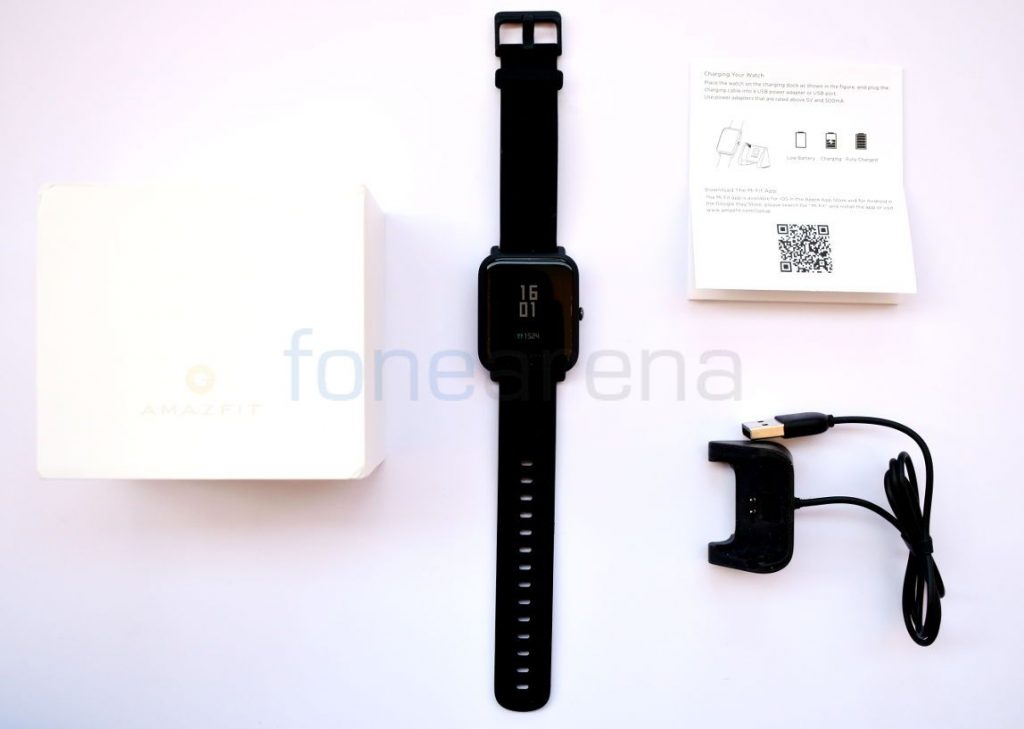 Amazfit BIP smartwatch in Black color
Charging Cradle
User Manual
Design and Build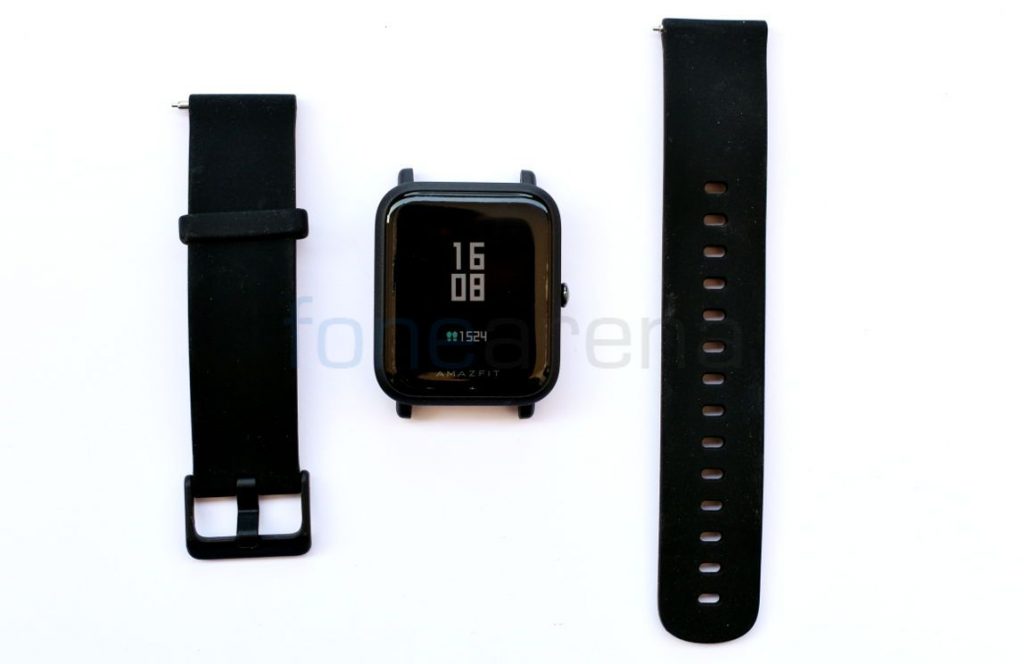 Amazfit BIP measures 24 x 2.5 x 1.3 cm (including watch strap) and weighs just 31 grams. The display is covered under 2.5D Corning Gorilla Glass 3 with anti-fingerprint coating to keep it safe from scratches and smudges. It has IP68 ratings for water resistance, so you can even expose it to clean water and shower without worries. Amazfit BIP is capable of storing data even when it is disconnected from the smartphone. It uses Bluetooth 4.0 to connect to Android (4.4+) or iPhone (7.0+).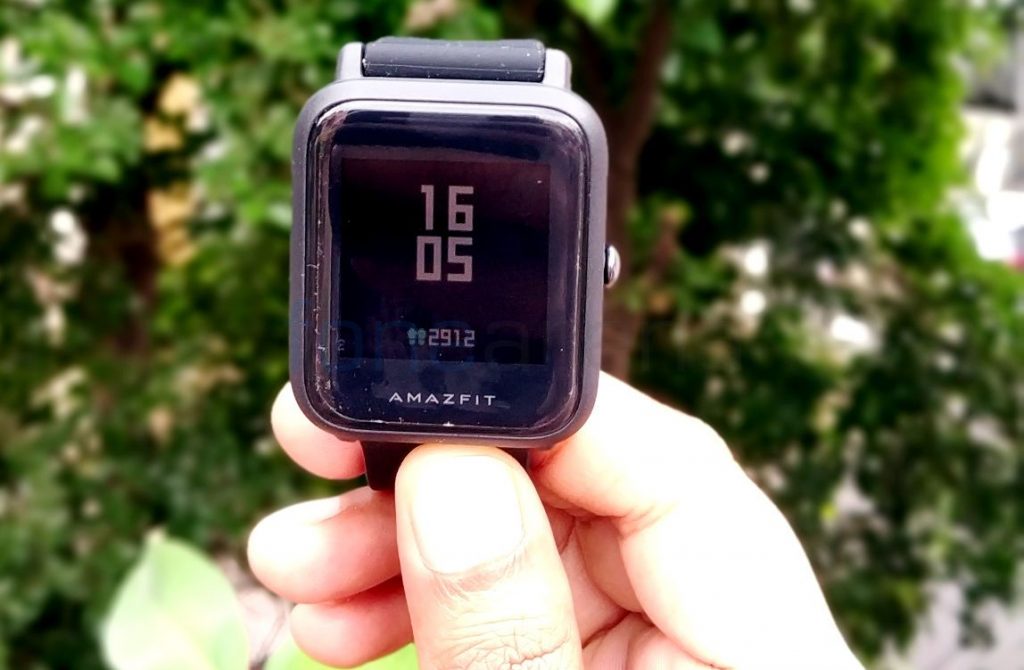 The 1.28-inch always-on reflective color LED display has a pixel resolution of 176 x 176 pixels. Even though the display glass looks large, it occupies around 70% of the screen due to thick bezels. The display has 5 brightness levels, during my usage I found the display to be bright enough and 40-60% brightness is adequate for indoors as well as outdoors even in bright sunlight. The 20mm standard watch band is made of soft material and can be changed if required, the bundled watch strap is very comfortable and smartwatch can be used for sleep tracking while sleeping without any issues as it weighs just 31 grams. On the back you can see the charging pins, serial number, and heart rate sensor that has glowing green LED lights while measuring heart rate.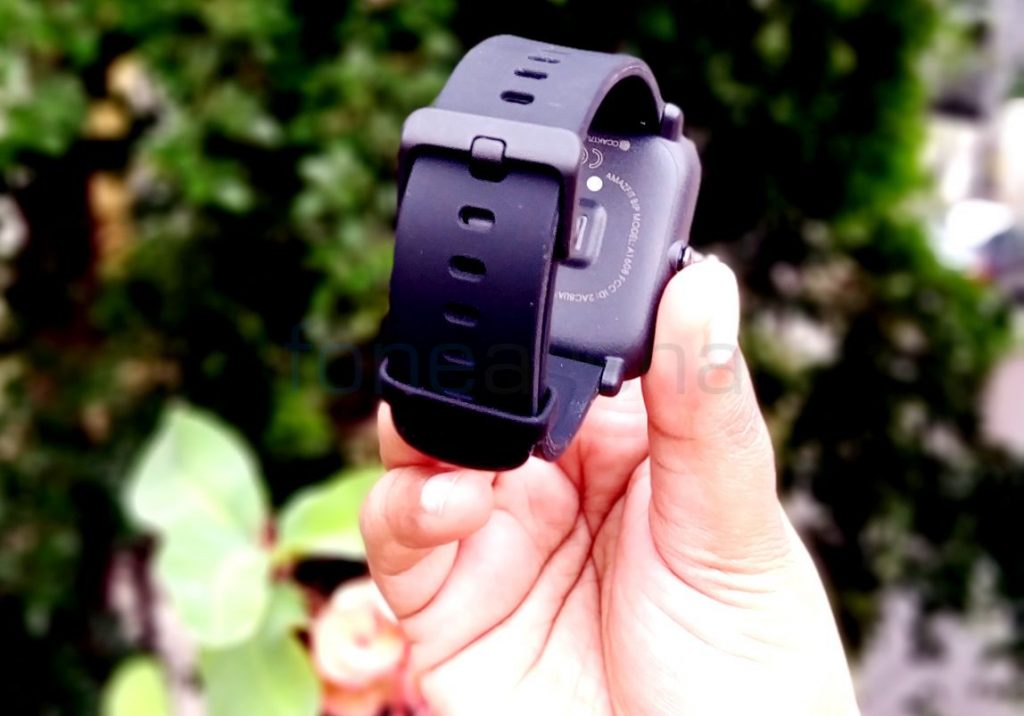 The touchscreen display supports various gestures including swipe up, swipe down, swipe left and swipe right which are intuitive and very easy to get used to. The hardware button on the right side can be pressed to unlock the smartwatch, and can also be programmed to start tracking a specific activity on long press. Users can swipe up from bottom to check the notifications on their Amazfit BIP after unlocking, and swipe down from the top to check the battery level and bluetooth connection status. Left swipe works as next/forward shortcut and the right swipe works as previous/backward shortcut.
Heart Rate Sensor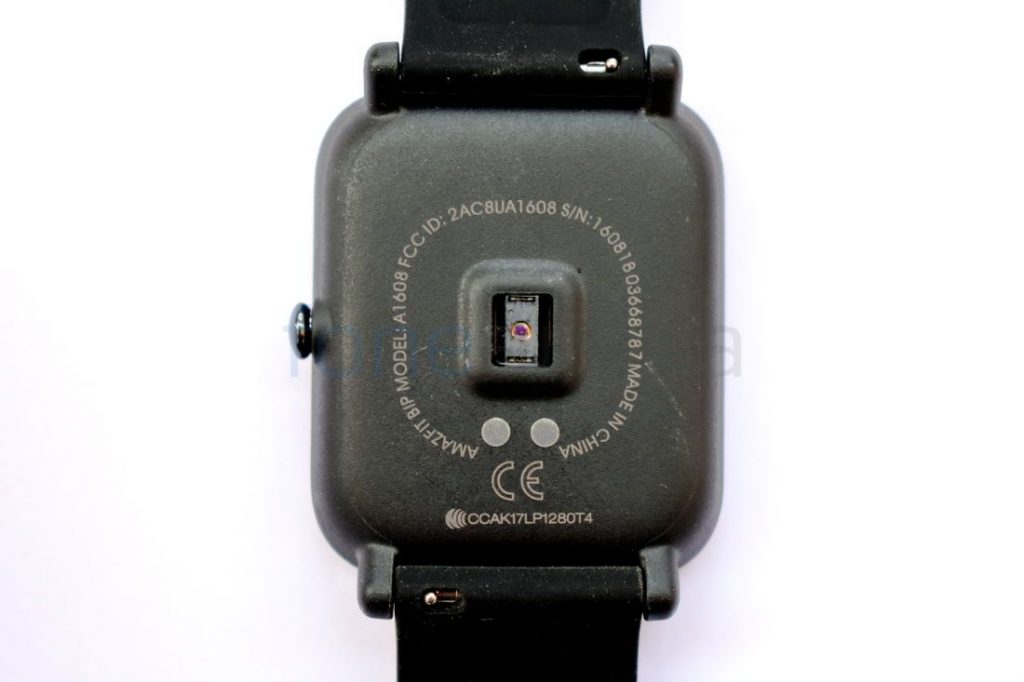 Amazfit BIP uses LED lights and photo-diodes to illuminate blood vessel for a while and monitors the heart rate via the change of green light absorbed. You can go to Status on your Amazfit BIP or use the Mi Fit app to check the heart rate. It takes 10 to 15 seconds to measure heart rate, and stores the data with date and time.
Amazfit BIP also supports continuous heart rate measurement during activities like running. Users can also choose between 1 minute, 10 minutes and 30 minutes time intervals to measure heart rate, but it should be noted that very frequent heart rate measurement will result in more battery drain.
It also shows heart rate in resting state along with maximum, minimum and average heart rate if a user turns on continuous heart rate measurement. According to the app, the resting heart rate varies between 60 to 100, once it measured 138 BPM while normal walk. Over 164 BPM is considered heavy like when you are doing intense cardio exercise.
GPS
Amazfit BIP has an inbuilt GPS and GLONASS for route tracking, so you don't need to carry your phone along when you're going for a morning walk or cycling. You can access activity history on your Amazfit BIP also, it shows activity type, date, time, route, time taken, average speed, average heart rate, steps, step frequency and average stride length on the smartwatch but you can see much more detailed information on Mi Fit app on your smartphone. The Mi Fit app shows path, time taken, pace, calories burnt, average speed, step frequency, average heart rate, total steps, average stride length and uphill movement and heart rate zones.
Users can also see the detailed charts for speed, heart rate and altitude for activities on Mi Fit app. As of now, Amazfit BIP supports only 4 activities, outdoor running, treadmill, cycling and walking. GPS based activities consume more battery as compared to normal state. Amazfit BIP also has auto pause feature for activity tracking, if a user stops for some duration in between an activity, then the smartwatch doesn't count that time period. Users can also set heart rate alert, pace alert and distance alerts for activities, smartwatch will vibrate when the user specified limit for heart rate, speed or distance are crossed.
Software
The Mi Fit app for Android and iPhone have been improved a lot in couple of years. The app shows steps, distance and calories burnt. Coming to sleep tracking, it shows total sleep time, deep sleep, light sleep and awake time, similar to Mi Bands. Amazfit BIP also supports heart rate sleep assistant, which gathers more precise sleep data by measuring your heart rate when you are sleeping.
The display on Amazfit BIP shows the watch face by default, users can also access steps, distance, calories burnt, heart rate data, weather, alarms, activity sessions and battery information on the smartwatch. You can also enable option to show time when you lift your wrist.
Similar to Mi Band 2, Amazfit BIP supports notification alerts for incoming calls, incoming SMS, event reminder, goal notifications and notifications for various app, but you can turn on notifications for as many apps as you want unlike Mi Band 2 which had notification support for only 5 apps. In addition to these, it also has all Mi Band 2 features such as Idle alert that vibrates when you are inactive for 1 hour, and do not disturb (DND) that disables all notifications from your phone during the period of time you set. Idle alert also has DND option. You can connect to Google Fit that lets you sync your steps and sleep data.
There are only limited watch faces available in Mi Fit app, but third-party watch face apps such as My WatchFace [Free] for Amazfit Bip and Amazfit Bip & Cor WatchFaces on the Play Store have a huge library of watch faces, thanks to the awesome developer community but these custom watch faces result in huge battery drain.
Battery life
Amazfit BIP has a 190mAh Li-Polymer battery but that too results in great battery life as the tiny always-on reflective display doesn't require much battery, and that's the reason behind company claiming a battery life of 30 to 45 days depending on usage. I have tested Amazfit BIP with different settings and it lasts for about 25 days when I turned on continuous heart rate monitor setting every 30 minutes and kept my Amazfit BIP connected to smartphone via bluetooth for a period of 8-9 hours each day. With minimal usage, I managed to get more than 40 days backup.
It should be noted that battery backup might vary depending on the frequent use of the display, heart rate monitor, accurate sleep tracking and activity tracking, an hour of GPS based activity tracking results in around 3 to 4% battery drain and custom watch faces also result in heavy battery drain and can drain up to 10% battery in a day. The watch takes about 2 hours to go to 100 from 0 using a 5V/2A charger.
Conclusion
Priced at Rs. 5,499, the Amazfit BIP is worth considering if you're looking for an entry-level smartwatch. It has a compact design, has IP68 ratings for water and dust resistance and also has always-on reflective color LED display and heart rate sensor. If you are looking for an affordable activity and sleep tracker with a heart rate sensor and great battery life which can replace your existing wristwatch, the Amazfit BIP is what you need.
The company says that it will offer 1-year warranty and after sales service, but we don't know how the service will be since the company has mentioned on Twitter that it has only one service centre in India in Ghaziabad. Looks like buyers from other cities will need to ship their unit to their service centre if there are any issues. The Amazfit BIP is officially available only on Flipkart as of now, but it goes out of stock quickly.
Pros
Notifications for calls, messages, emails, and other apps on the always-on color touch display
Water and dust resistant (IP68)
Continuous heart rate monitoring
Air pressure sensor (barometer), Geomagnetic sensor (compass) and GPS + GLONASS sensors
Ability to track walks, runs, cycling and more with mapped routes, detailed stats and heart rate zones.
Impressive battery life
Cons
Availability
After-sales support