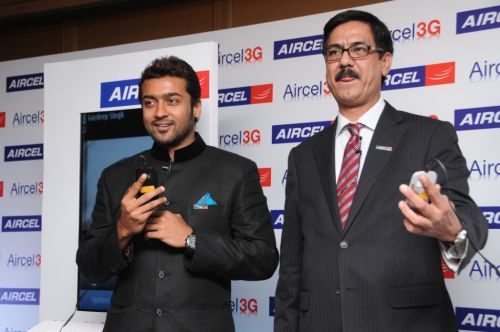 Aircel launched its 3G experience zone in Chennai for the consumers to get a first hand feel of  3G connections . The 3G demo was inaugurated by actor Surya who made the first video call via Aircel 3G network. You can experience Aircel 3G in four zones spread around Chennai.
The Aircel 3G experience zones are at Atrium2, Spencers Plaza, Fun City, Express Avenue, Atrium Citi Centre & Aircel Store PH road you can walk in and experience Aircel 3G services like Aircel IVVR , Aircel 3G PocketInternet portal and Video calls.
Mr. Gurdeep Singh, Chief Operating Officer, Aircel said, "At Aircel we have always had a clear focus on the future and have diligently been the first to introduce, products and services that address relevant needs of the consumers be it the Aircel Pocket Internet, Aircel Pocket Apps store and the Aircel Apollo Mobile Health Care. It has been our constant and consistent endeavor to offer our consumers best in class on the Mobile anytime anywhere. The launch of 3G experience zones in Chennai is a step towards the same as it would equip our consumers and provide them first hands on experience on 3G services and open to them a world of possibilities."
We hope the public launch of 3G from Aircel will go live soon !