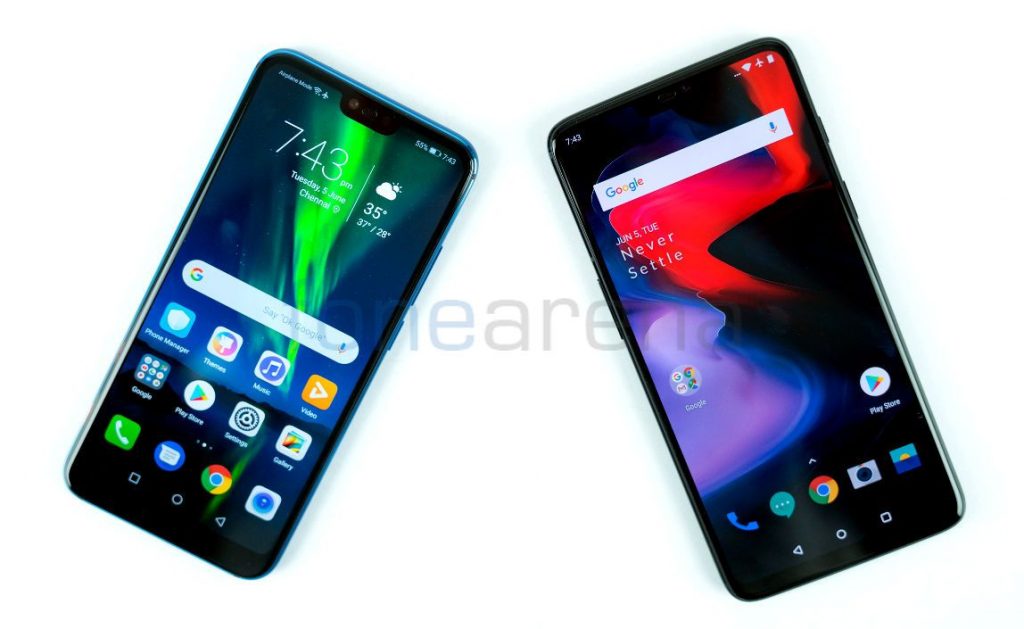 London saw a lot of action when both Honor and OnePlus decided to launch their latest flagships back to back. Priced under the incredibly hot, sub Rs. 35,000 'value flagship' segment, the Honor 10 and OnePlus 6 both bring killer specifications at a very similar price point. So obviously, one can't help but compare the two to see which one is better. And that's just what we're going to do.
https://www.youtube.com/watch?v=l2JzmmaoiKc
Design
Up front, the Honor 10 jumps onboard trend and manages to have reduced bezels on all sides. The phone is really comfortable to hold with excellent ergonomics thanks to the rounded edges, smaller display. Flip the Honor 10 over and you'll see the glass back featuring a reflective pattern made up of 15 layers of glass. The phone comes with a nano-scale optical coating and design alternates between various hues of blue and purple depending on how light strikes the back panel. The end result is visually stunning and unlike anything on the market. The phone measures 7.7mm in thickness and weigh around 153 grams.
The OnePlus 6 is the company's first flagship with a glass back and it has Corning Gorilla Glass 5 protection to protect it from scratches and accidental drops or bumps. It has a subtle curvature that creates patterns and highlights when the light hits the back. Depending on the color variant, you'll get a glossy or matte finish. That's to say, there's probably a color or version that'll be perfect for you. The phone is great to look at but its no Honor 10. That phantom blue is just stunning. The phone is 7.75mm thick and weighs around 177 grams. Up front, the OnePlus 6 too has a notch and doesn't look all that different from the Honor 10, larger size notwithstanding.
Display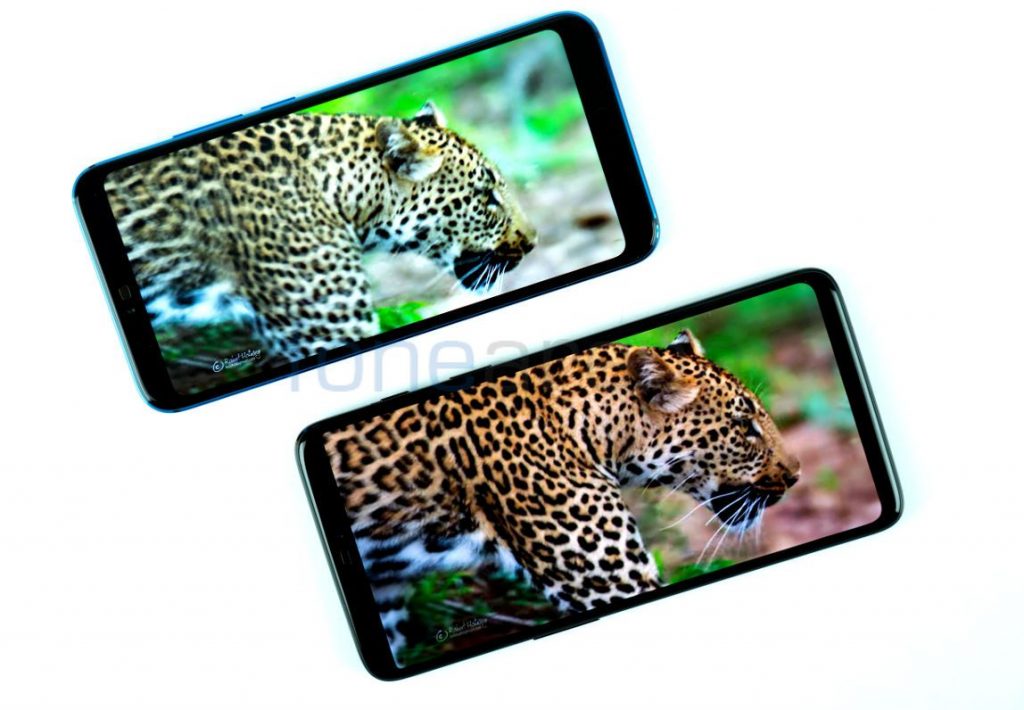 The Honor 10 comes with a 5.84-inch Full HD+ 2.5D curved glass display with a notch and 19:9 aspect ratio. The colors are punchy, contrast levels are great, and the brightness levels go sufficiently high even in bright outdoor conditions. The Honor 10 offers lots of customization settings under display option where you can tweak the color mode and adjust the color temperature as well. In addition to that, users can also change the display scaling and lower the screen resolution to HD+ to reduce power consumption.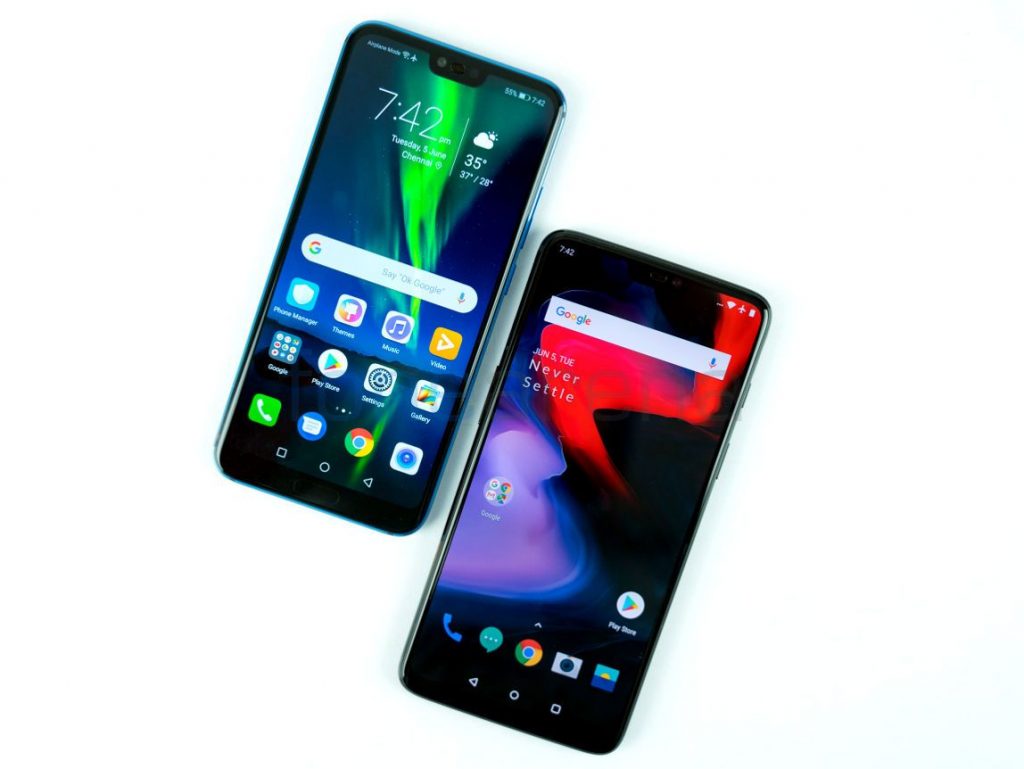 The OnePlus 6 sports a much larger 6.28-inch screen with a resolution of 2280 × 1080 pixels and 19:9 aspect ratio. Yes, the OnePlus 6 too has a notch. The screen-to-body ratio is about 84%. The color reproduction and viewing angles are good, it was perfectly readable display under bright sunlight too. Honestly, both the phones are quite evenly matched. The Honor10's display errs on the side of being a little oversaturated but the end result makes images look really good and multimedia content like games and movies really shine here.
Hardware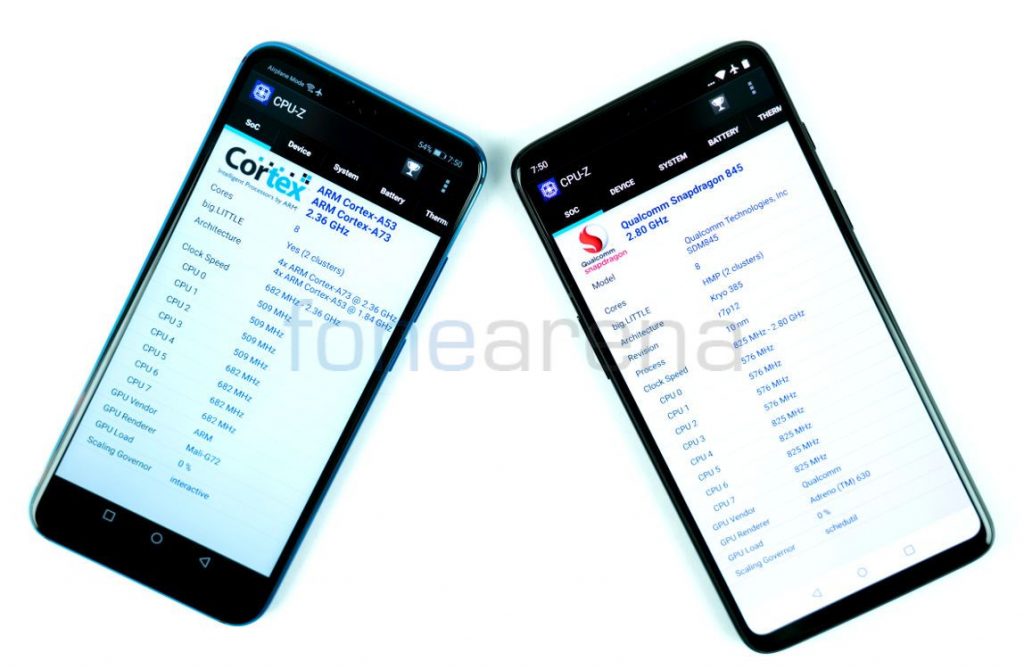 The Honor 10 is powered by an Octa-Core HiSilicon Kirin 970 10nm SoC with an i7 co-processor under the hood. The performance of this chipset is on par with Qualcomm's flagship SoC's. In addition to that, there's also a dedicated Neural Processing Unit (NPU) that enables AI capabilities on phones like the Honor 10.
The OnePlus 6 is powered by the latest Octa-Core Snapdragon 845 64-bit 10nm Mobile Platform clocked at 2.8GHz within AIE and Adreno 630 taking care of graphics department. The performance of the device is just excellent, and the gaming performance to doesn't disappoint. But these are just specs. The usage experience is remarkably different on both the phones.
Software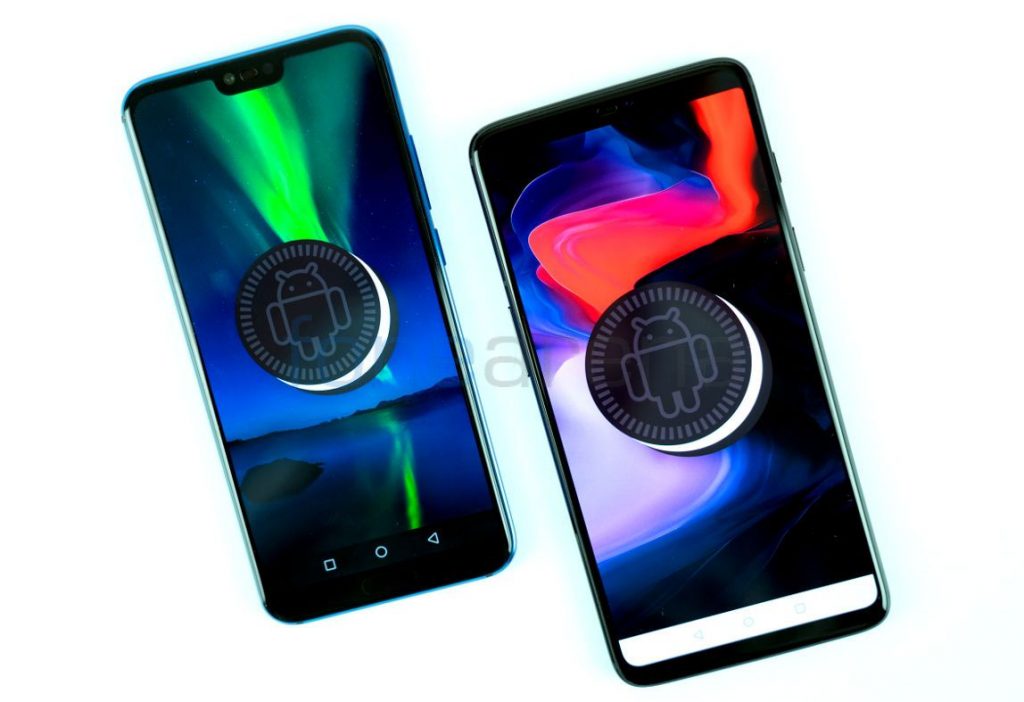 Where the OnePlus uses Oxygen OS built on top of Android Oreo, a near stock build with minimal additions; the Honor 10 has a fully skinned approach. EMUI 8.1 is built on top of Android 8.1 and offers a wealth of customization options. Over time, EMUI has come a long way and now brings a very enjoyable user experience. You can, of course, throw up Nova Launcher or some such if you don't like the native UI.
Camera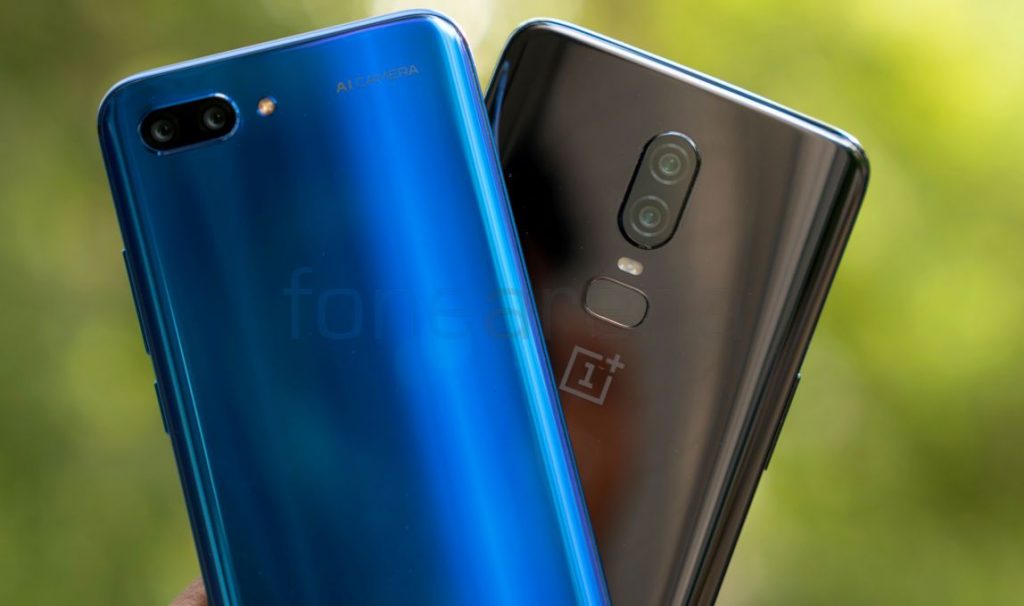 The Honor 10 sports a dual camera setup with 16MP (RGB) primary camera and secondary 24MP (Monochrome) rear camera with f/1.8 aperture, depth focus, and LED flash. The front side of the device has a 24MP front-facing camera with f/2.0 aperture. It also has an AI mode which automatically selects the shooting mode by analyzing a subject. It can select 22 scenes in total. It takes great photos in daylight condition and pretty decent though slightly grainy shots in low light conditions.
The OnePlus 6 equips a 16-megapixel primary rear camera with a f/1.7 aperture with Optical Image Stabilisation (OIS) along with Electronic Image Stabilisation (EIS), and a secondary 20-megapixel secondary camera with f/1.7 aperture. At the front, you'll observe a 16-megapixel camera with a f/2.0 aperture.
Talking about the camera performance, the OnePlus 6 takes good photos under daylight condition with very good details, color, and vibrancy. Images tend to be very slightly overexposed which can make them appear a little washed out. Images taken in HDR mode are better with improved contrast and saturation. Macro shots came out well. Low light shots tend to be grainy. Out of the box, both phones take very good photos. And while both offer a version of a Pro Mode, the AI-assisted capture on the Honor10 edges ahead for the sheer ease of use offered to the average user. You're more or less guaranteed a shot that'll look fantastic on the device.
Battery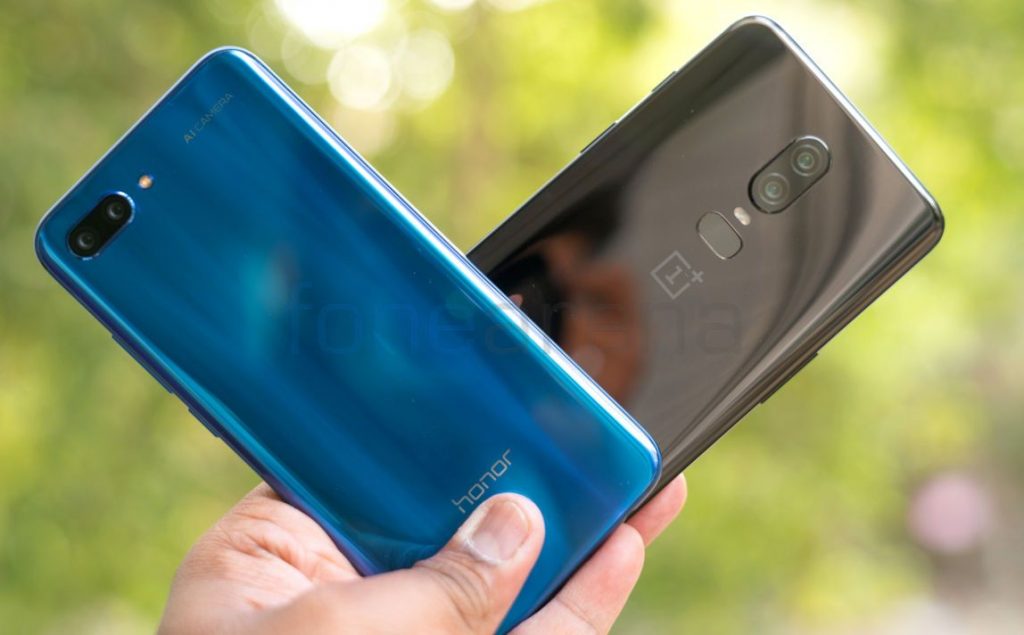 The Honor 10 comes with 3400mAh battery with fast charging technology.  It was able to deliver a day's worth of usage consistently. On the other hand, the OnePlus 6 is powered by a 3300mAh battery with their own patented Dash Charging technology. There's not much to be said here. Both phones are equally capable of lasting a full day of use and then some.
Conclusion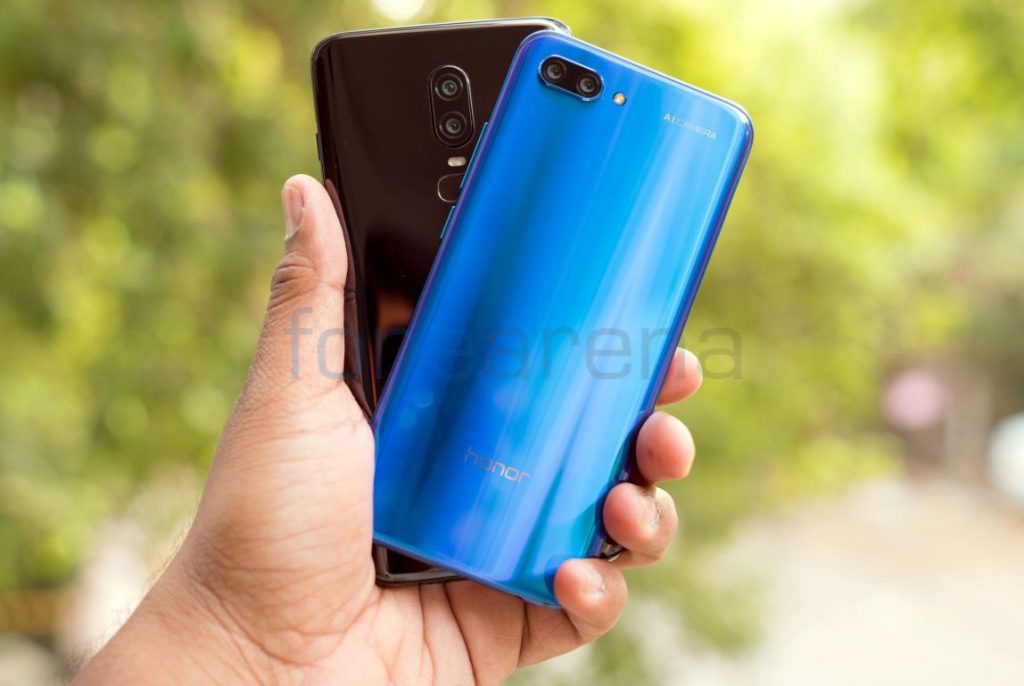 So… Which one should you buy? The OnePlus 6 has a larger screen, a very similar notch, a not so similar glass back, equally powerful hardware and a stock-ish build of the software. Meanwhile, the Honor 10 has a smaller yet large display, ergonomics that are way better than not just the OnePlus 6 but competitors at higher price points too. A notch, a rear panel design that might have been the best in the industry if it weren't for the company's other phones. Yes, EMUI can be a bit polarizing but overall priced at Rs. 32,999, versus the 34,999 price point of the OnePlus 6, the Honor 10 gives you double the storage, a design that really stands out and AI-assisted camera shenanigans that make things a lot easier when out and about. It is available exclusively from Flipkart.