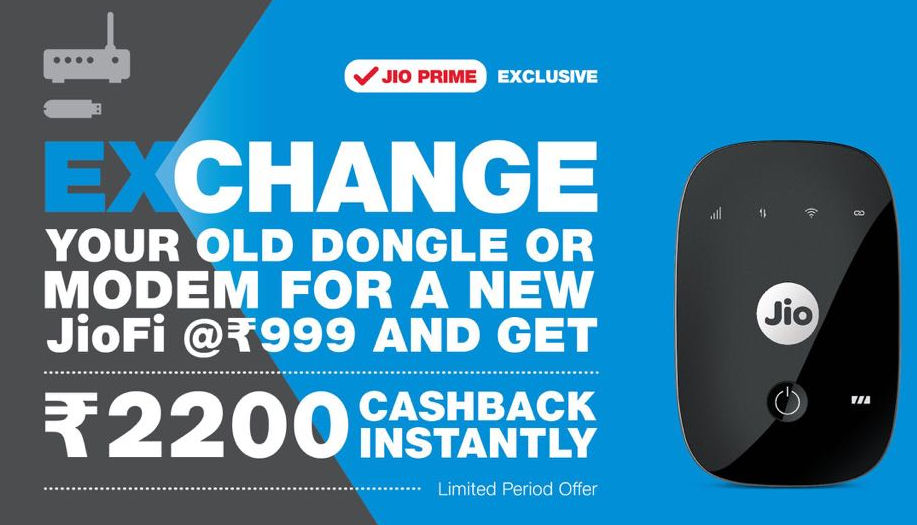 Reliance Jio has launched a new, limited period exchange offer that lets you exchange your old dongle or modem for a new JioFi at Rs. 999 and get a instant cashback of Rs. 2,200 in your account in the form of vouchers instantly. This is not the new JioFi 6 (JMR815) that went on sale last month. This is called the JioFi M2S that lets you connect to up to 32 devices (10 recommended) and has a 2300mAh that supports up to 6 hours of battery life.
How to avail this offer:
Purchase a JioFi at 999 from jio.com  or offline stores
Get the sim activated  at Rs. 198 or Rs. 299 + Rs. 99 (JioPrime)
Return your old NON -JIO dongle or modem at any JioStore / Reliance Digital or Jio stores
Provide your Old Non-Jio dongle / modem serial number and your new JioFi MSISDN Number
 Cash back will be instantly credited in your MyJio Account in form of 44 vouchers of of Rs. 50 each which can be redeemed upon Recharge of Rs.198 and Rs. 299 only
JioFi exchange offer can be availed only on a new JioFi device (Model: M2S), purchased on or from 26th April, 2018 along with the exchange of old dongle or router/modem, till the offer ends.