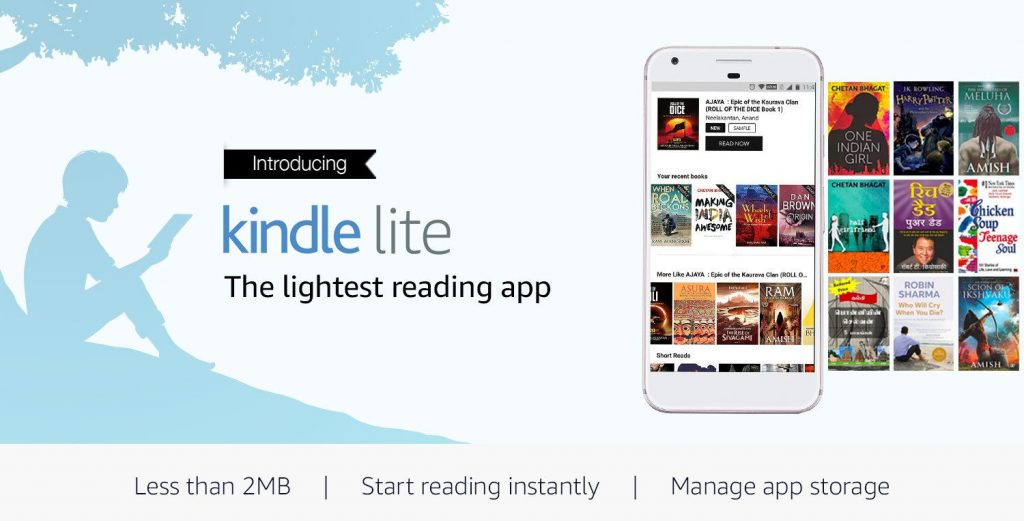 Amazon released Kindle Lite app for Android in Beta for low-end Android smartphones with limited storage and on 2G/3G networks last year. Now the company has launched the app for all the users in India after the best testing is complete. Kindle Lite lets you read eBooks instantly without having to wait for the entire book to download. The app less than 2MB and provides Kindle features including personalized recommendations, Whispersync (synching your eBooks across devices) as well as free eBook samples and titles across English, Hindi, Tamil, Marathi, Gujarati and Malayalam.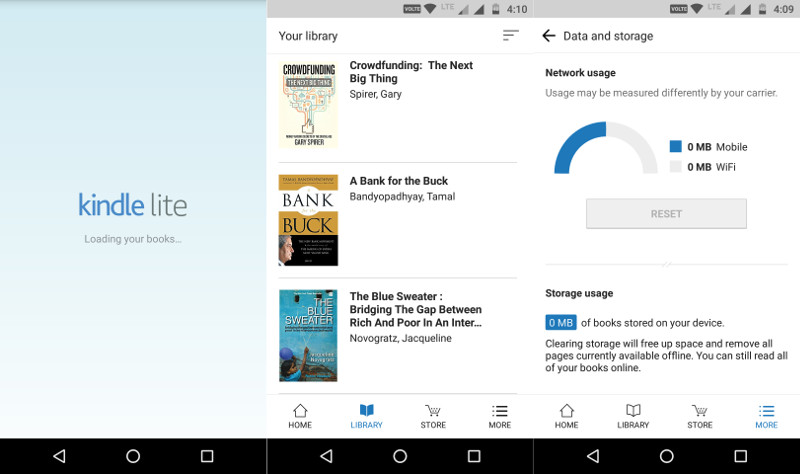 It also has existing Kindle features such as easily buying eBooks, ability to zoom into images, night-mode for reading, changing font sizes and simply navigate through the table of contents for a better reading experience.
During the first month of launch, customers will also get 80% cashback on their first eBook purchased on Kindle Lite through Amazon Pay.
Download Amazon Kindle Lite (Free) – Android
Highlights of Kindle Lite

 Lightest Reading App – Kindle Lite is less than 2MB and downloads under a minute on your phone. You don't need to worry about running out of memory for your photos, videos or music anymore.
Read instantly– You don't need to wait for eBooks to download completely to begin reading.
Read on all networks – Read your favourite titles on 2G/3G networks.
Uses less space on your phone— Kindle Lite allows you to actively manage storage for downloaded eBooks as well as monitor your data usage over WiFi or mobile networks.
Ease of navigation – Whether it is moving to the next chapter in your book or searching through your library, Kindle Lite allows you to move between pages seamlessly.
Read across 6 languages – Read your favorite titles across English, Hindi, Tamil, Marathi, Gujarati and Malayalam.
Commenting on the new app, Rajiv Mehta, Country Manager, Kindle, said:
As part of our continued focus on India, we are always working to improve the reading experience for our customers. Apps constantly compete for space on a mobile phone and Kindle Lite solves this problem for our readers.Kindle Lite is less than 2MB and built to provide a great reading experience even on 2G/3G networks.