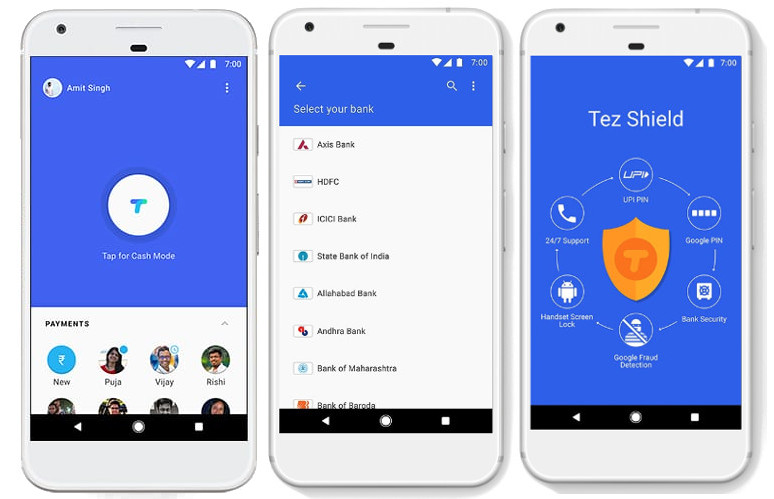 Google today announced a strategic partnership with SBI to deeply integrate SBI bank on the company's digital payments app Google Tez. This partnership lets users create SBI UPI Id; @oksbi and get access to exclusive offers for SBI customers and enable wider adoption of digital payments and growing the digital payments ecosystem in India.
Google now claims that since the launch of Tez in September 2017, has processed over 250 million transactions and has over 13.5 million monthly active users, across India, from the major cities to Kashmir and Kanyakumari. Currently, Tez supports over 70 UPI enabled banks.
Google's Tez is built on the Indian government-supported Unified Payments Interface (UPI), allowing users make small or big payments straight from their bank accounts to the accounts of others from over 70 UPI enabled banks free of cost. Since the app was built for India, it is available in English and seven Indian languages including Hindi, Bengali, Gujarati, Kannada, Marathi, Tamil, and Telugu.
Commenting on the partnership, Rajnish Kumar, Chairman, SBI said:
We are committed to create an enabling environment to promote digital payments for more Indians. We already have a multitude of services including e-commerce and m-commerce, and this partnership with Google Tez will drive innovation and deliver exciting new opportunities for our 40 crore plus customer base. Our shared commitment to excellence in customer service and bringing simple and secure payments for all will boost adoption of UPI and is a significant step forward in the digitization of cash.
Diana Layfield, Vice President, Head of Finance & Commerce Products, Next Billion Users, said:
We are very excited about the growth of Tez and our partnership with State Bank of India. We're delighted to be working closely together to build unique propositions for users and create innovative solutions for merchants to go digital. We are still in very early stages of building a vibrant digital payments ecosystem – that brings together millions of smartphone users, small merchants, large businesses, and financial institutions. This is an important step forward in that journey.