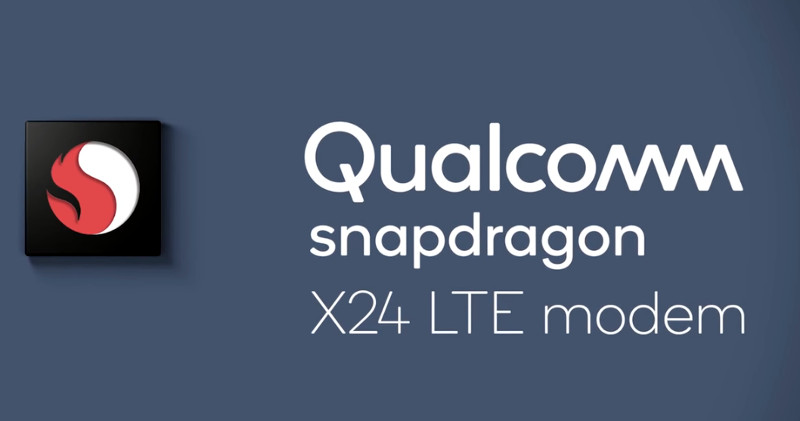 Qualcomm today unveiled the Snapdragon X24 LTE modem which supports up to 2Gbps download speeds. It is the world's first Category 20 LTE modem supporting mammoth speeds and also the first chip built on a leading-edge 7-nanometer FinFET process. It is the successor of last year's X20 LTE Modem
The X24 LTE is the company's eighth-generation LTE multimode modem and third generation Gigabit LTE solution aimed at strengthening the LTE foundation for future 5G NR multimode devices and networks. It also delivers 2x speed compared to the Company's first generation Gigabit LTE modem. It also supports up to 7x carrier aggregation in the downlink, as well as 4×4 MIMO on up to five aggregated LTE carriers.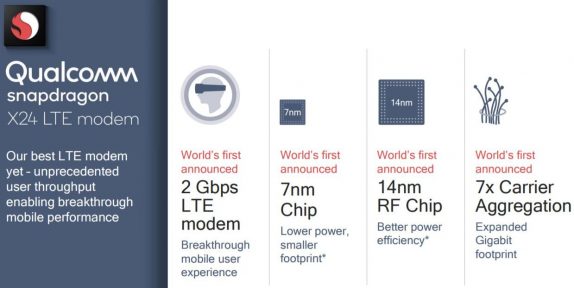 It is designed to allow devices with Snapdragon X24 LTE modem to utilize all spectrum assets available from a mobile operator, whether in the licensed spectrum or with License Assisted Access. Any additional system capacity and improvements are made possible through the support of Full Dimension Multi-Input Multi-Output (FD-MIMO), a Massive MIMO technology which acts a foundation to the future 5G NR networks.
The Qualcomm Snapdragon X24 supports Category 20 upload speeds, 3×20 MHz CA and up to 256-QAM. It pairs with an advanced RF transceiver built in 14 nm FinFET process technology. The Qualcomm Snapdragon X24 LTE modem will be demoed at Mobile World Congress Barcelona in conjunction with Ericsson, Telstra, and NETGEAR.
Commenting on the new modem, Serge Willenegger, senior vice president and general manager, 4G/5G and Industrial IOT, Qualcomm Wireless GmbH said:
As the world's first announced Gigabit LTE modem to achieve speeds of up to 2 Gbps, the Snapdragon X24 LTE modem sets a major mobile industry milestone, designed to provide enhanced mobile broadband and deliver an extremely important gigabit coverage layer for commercial 5G networks and mobile devices that are expected to start launching in 2019.

Further expanding on the use of 4×4 and LAA capability, the Snapdragon X24 packs a powerful array of the most advanced 4G LTE technologies commercially available, helping mobile operators to fully mobilize their spectrum assets and maximize the capacity of their Gigabit LTE networks, and mobile device makers to offer consumers a tangible glimpse of our 5G future.