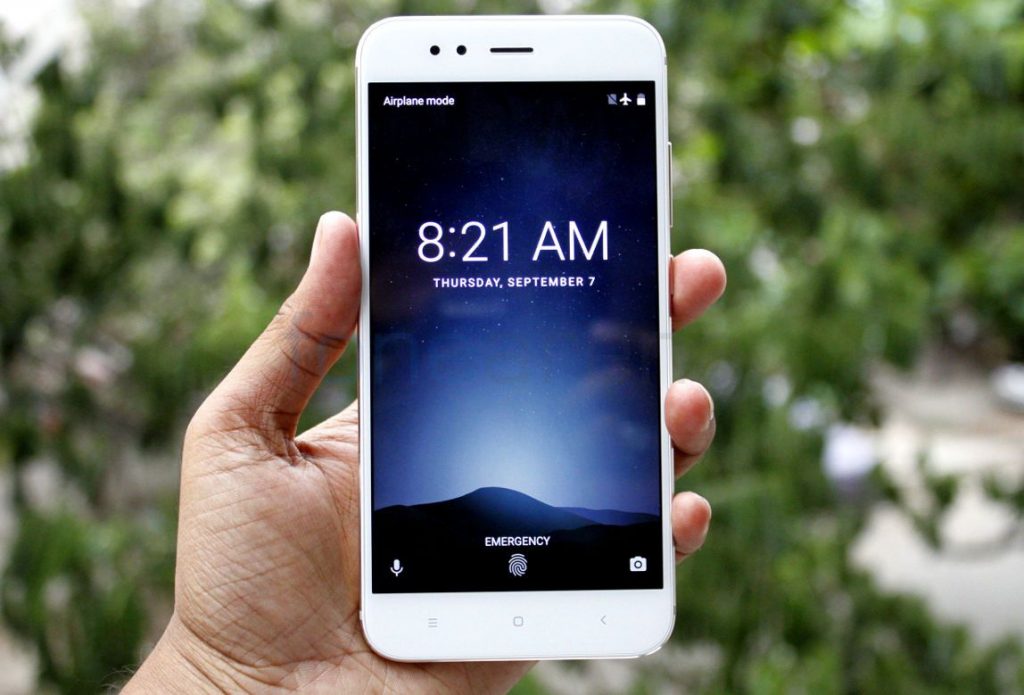 Indian smartphone market has seen major improvements in shipments in the year 2017 when compared to 2016. The smartphone market witnessed a 14%  annual growth with a total shipment of 124 million units in 2017, making it the fastest growing market amongst the top 20 smartphone markets globally.
The smartphone market resumed its double digits after a temporary slow-down in 2016 because of factors like demonetization and a shortage of smartphone components. On the other hand, China smartphone market declined first time this year, while the USA was relatively flat.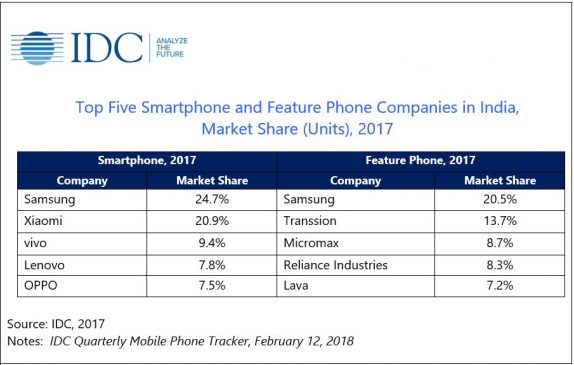 However, post the Q3 2017, the smartphone market saw a clean dip of 22% quarter-over-quarter (QoQ) in Q4 2017 as vendors focused on clearing channel inventory. However, the market grew 18% YoY. Falling in line with most other reports, Xiaomi continued to lead the pack in Q4 2017 with 26.8%, while it is Samsung that is leading when we take whole year's shipments into account.
Samsung was responsible for a 24.7% market share, while Xiaomi is slowly catching up with 20.9% shipments. Vivo, Lenovo, OPPO follow Xiaomi in 3rd, 4th and 5th places. According to IDC feature phone market, India now holds the biggest feature phone market globally. The segment has witnessed a 17% growth this year after declining for three consecutive years. While it is Reliance JioPhone that created wonders in Q4 2017 with 24.1% market share, it is Samsung again that is leading at 20.5% when we calculate entire year's shipments.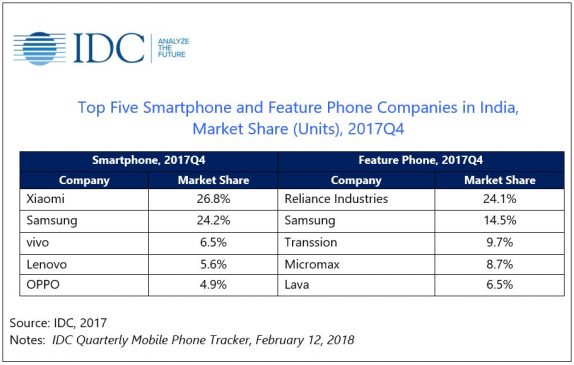 A mammoth 164 million feature phone shipments were made in 2017 compared to 140 million a year ago. In Q4 2017, brands shipped a total of 56 million units in the Q4 2017 making it the highest-ever shipments in a single quarter. The category registered a huge 67 percent year-over-year (YoY) growth and 33 percent growth from the previous quarter.
Commenting on the same, Upasana Joshi, Senior Market Analyst, IDC India:
Xiaomi taking a lead over Samsung in the smartphone market and Reliance Jio emerging as the leading feature phone company in India were the two key highlights of the last quarter of 2017. The growth of both the vendors was propelled by their aggressive pricing. Xiaomi's offline expansion and higher marketing spends were other key factors for the vendor's high shipments in the seasonally low quarter.