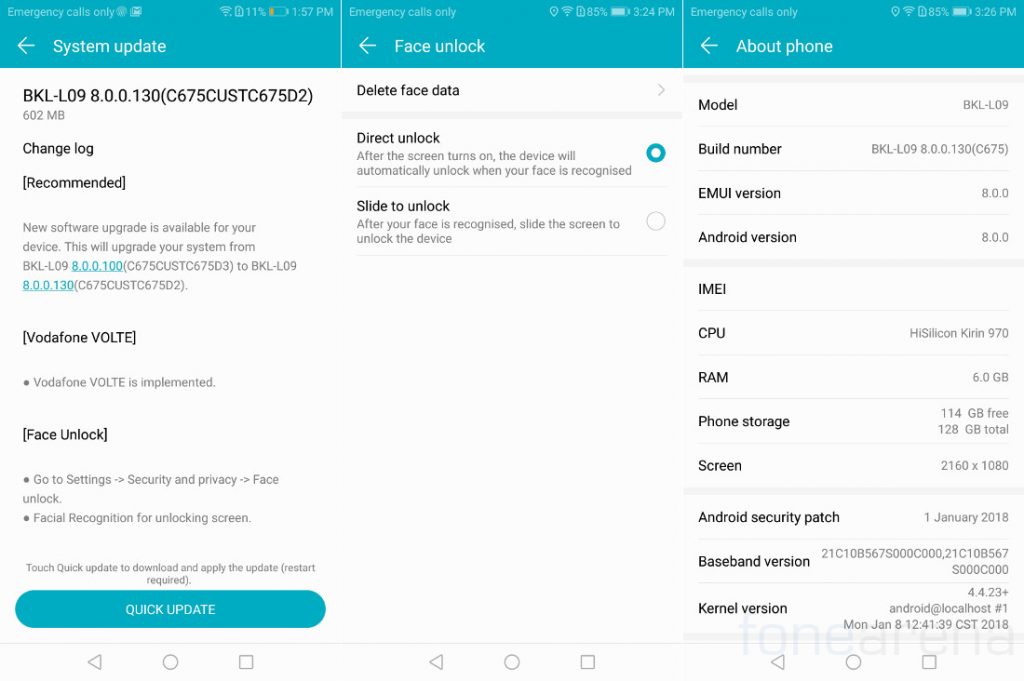 Update: The 602MB BKL-L09 8.0.0.130 update for the Honor View 10 that brings Face unlock is now live. It also adds Vodafone VoLTE support and also includes Android security update for January 2018. Check out the complete changelog below.
New software upgrade is available for your device. This will upgrade your system from BKL-L09 8.0.0.100(C675CUSTC675D3) to BKL-L09 8.0.0.130(C675CUSTC675D2).

[Vodafone VOLTE]

Vodafone VOLTE is implemented.

[Face Unlock]

 Go to Settings -> Security and privacy -> Face unlock. ● Facial Recognition for unlocking screen.

[Closed eye Face Unlock Prevention]

If eyes closed screen will not be unlocked.

[Intelligent Screen On]

While focusing, screen will not be turned off.

[Change background – Camera]

In front camera AR Lens mode, background can be changed while you click pictures.

[AI Motion detection]

Moving picture can be captured in photo mode.

[Super resolution imaging]

 In high-powered zoom, AI super-resolution algorithm brings detailed enhancement to make pictures clear.

[AI Zoom]

It increases snapshot quality.

[Google Security Patches]

 Google security patches are merged to make your device more secure.

[Pre-Upgrade Considerations]

Downloading over WiFi is recommended. and make sure that the remaining power is greater than 50%.
It's recommended to backup all of your personal data, including phone book, text messages, emails etc. in advance.
Before upgrading, please ensure there is sufficient storage space for the update package on either the microSD card or the internal storage prior to proceeding with the update. Free storage space can be checked under system settings -> storage.
During downloading upgrade package, the operation of the device will not be impacted. Please note, upgrade procedure need have some minutes to let device reboot and flashing. During flashing, the device is not available to be used.
This version can roll back to old version. Please refer Rollback guidelines available with the release. and the roll-back will clear user data so backup is recommended.
Earlier: Honor has announced that it has started rolling out a new software update to enable Face unlock feature through intelligent face recognition in Honor View 10 smartphone. The phone automatically detects it has been picked up, see your face and unlocks in a second.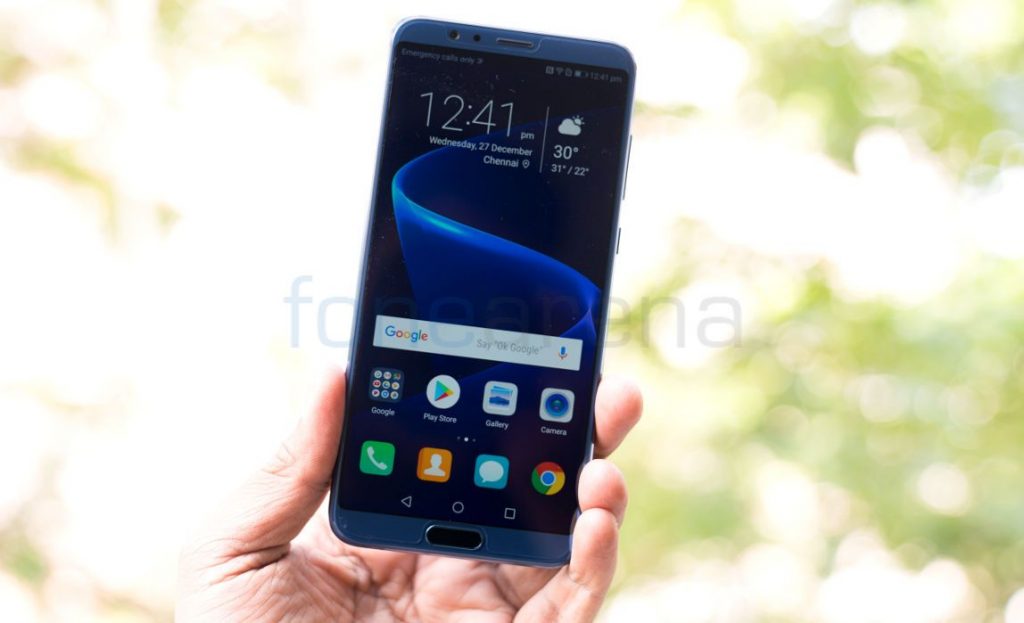 You can enable face recognition from the settings menu and enroll your face simply looking at the camera. It also detects the positioning between you and the phone and adjusts the direction accordingly. It works even when you lie down in bed, since the screen automatically rotates so that you can comfortably read any messages. It also has closed eye unlock prevention, so if eyes are closed, it will not unlock the screen.
The phone already has Intelligent lock screen notifications, intelligent screen on, AI Motion detection, AI Zoom and more features. You can check out our Honor View 10 review to read more about the features.
Honor said that the roll out has started from 17th January and will be rolled out to everyone by 24th January 2018.