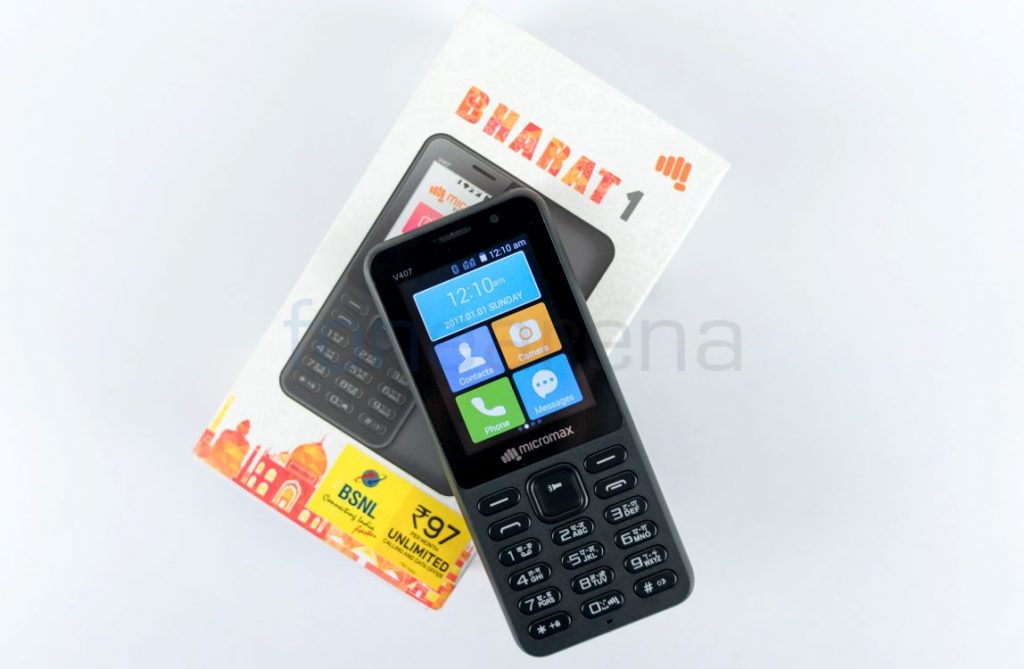 Micromax launched the Bharat-1, the company's first 4G VoLTE feature phone to take on Reliance Jio's JioPhone. Even though it was launched in partnership with State-owned telecom operator BSNL, the phone can be used on any network unlike the JioPhone. Is the phone worth the price? Let us find out in the review.
Box Contents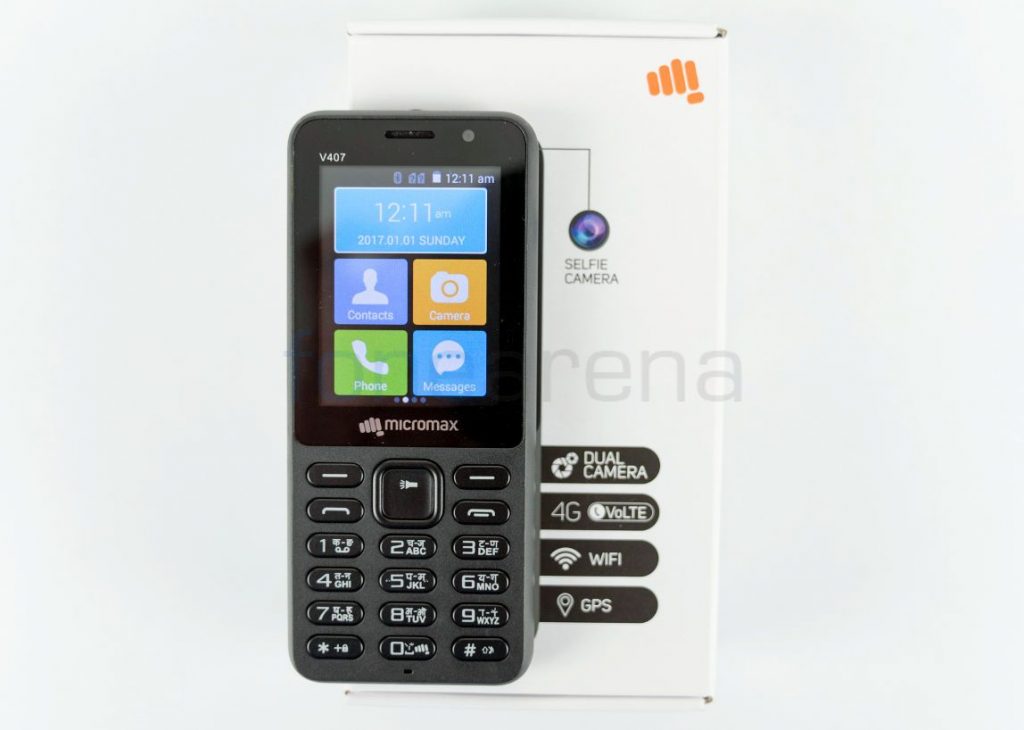 Micromax Bharat 1 (V407) phone in Black color
2000mAh battery
2-pin charger (5V-700mA)
Headset with microphone
User Guide
Display, Hardware and Design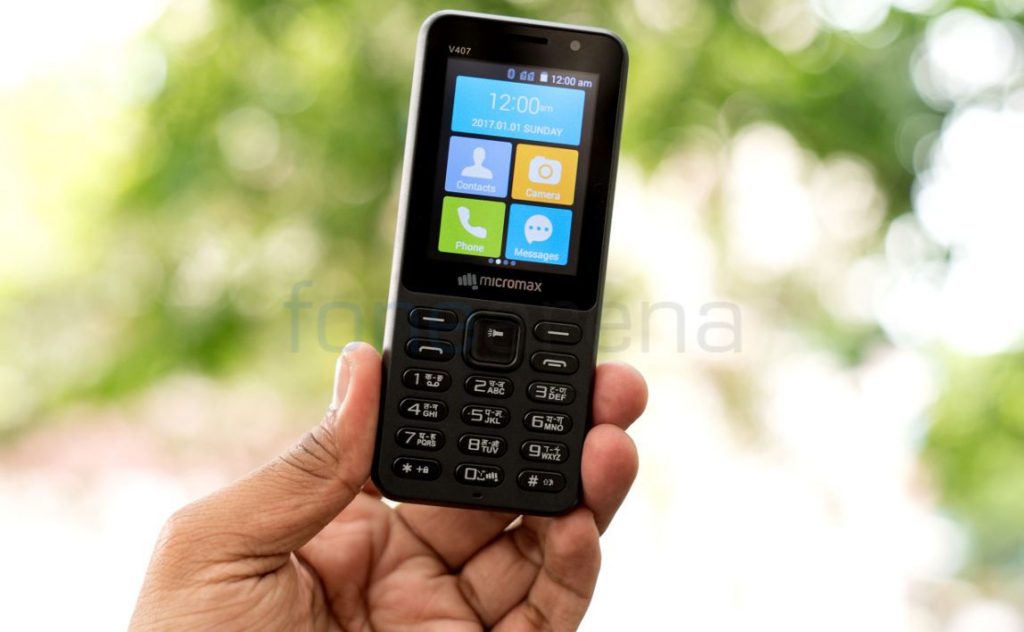 The Bharat 1 looks similar to most feature phones with a small 2.4-inch (320 x 240 pixels) QVGA display with huge bezels around it. The display is good and the sunlight legibility is decent, but you can expect much in a small TFT LCD screen in feature phones. You can adjust the display brightness and sleep time. You can also adjust the font size (Small, Normal, Large and Huge).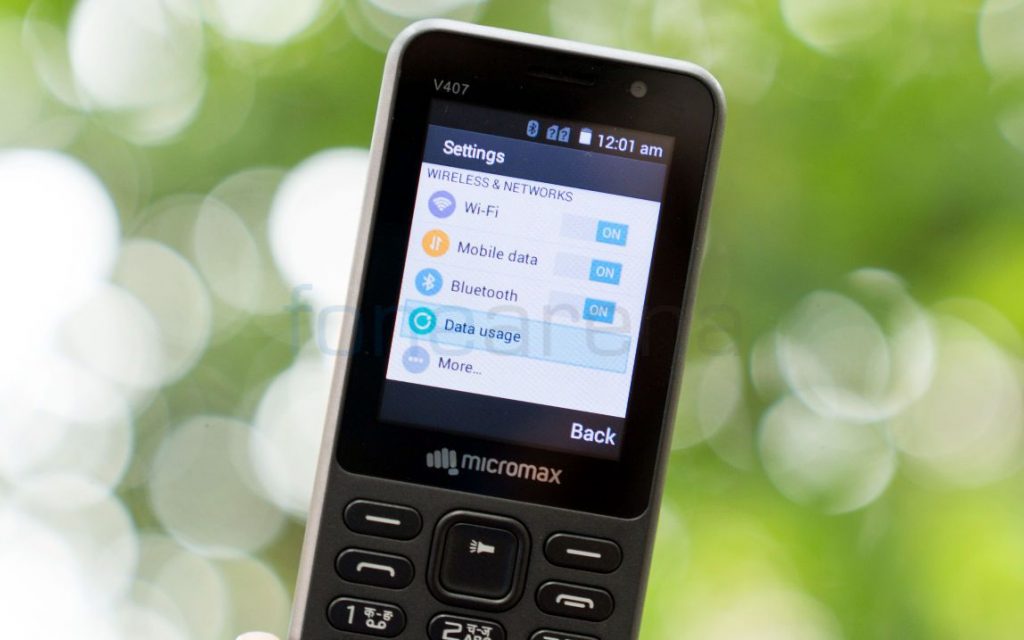 The earpiece grill is present above the screen that also houses the loudspeaker, along with a 0.3-megapixel (VGA) camera. On the bezel there is the model number of the phone – V407. There is also a Micromax branding on the bezel, below the display. The keyboard is also backlit that glows in Blue color, but you can't adjust the backlight time.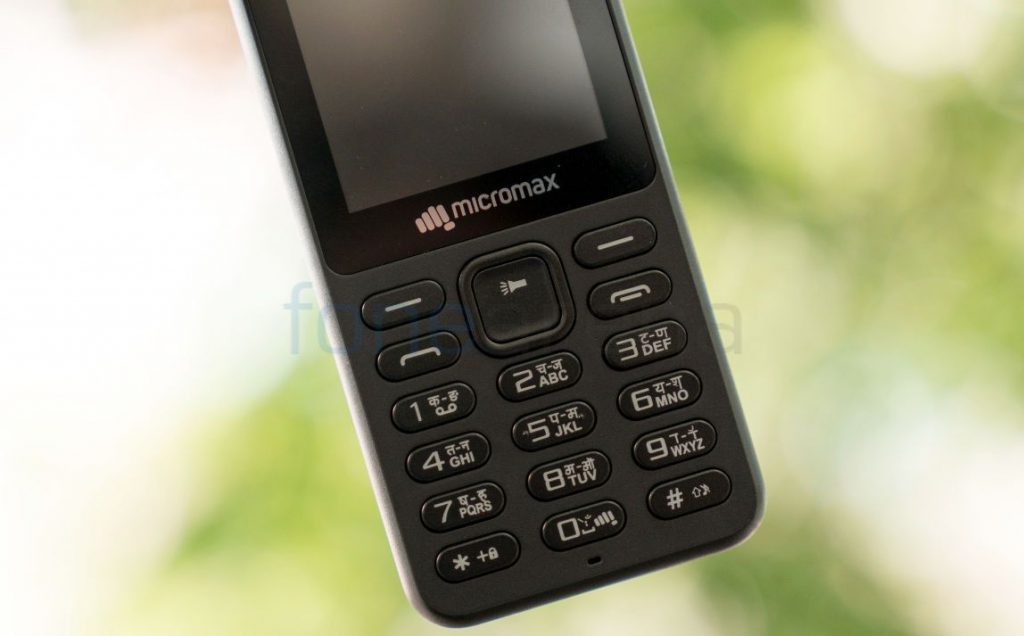 The phone has a plastic body, but the build quality is decent. The T9 keyboard has a nice tactile feedback when pressed. It has left soft key and Dial key on the left side of the D-Pad, and right soft key along with End / Power Key on the right. Since all the keys are separate, it is easy to press them. The 'OK' key is in the middle of the D-Pad. You can press and hold the top button on the D-Pad to launch the torch-light. You can also see a small microphone hole on the bottom part, just below the keypad.
On the top there is a torch-light. On the bottom there is 3.5mm audio jack and a micro USB port for charging and data transfer.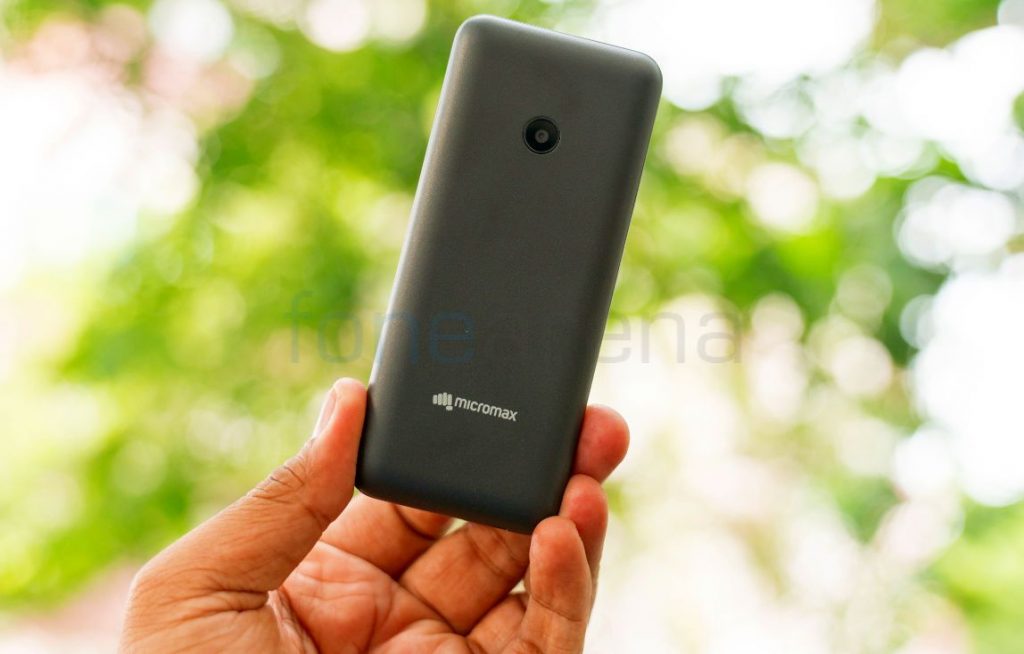 The phone has a 2-megapixel fixed-focus camera without flash. The plastic back has a smooth finish, but the phone is not slippery. The phone measures 134×56.4×13.8 mm and weighs just 58 grams. The build quality is good for the price.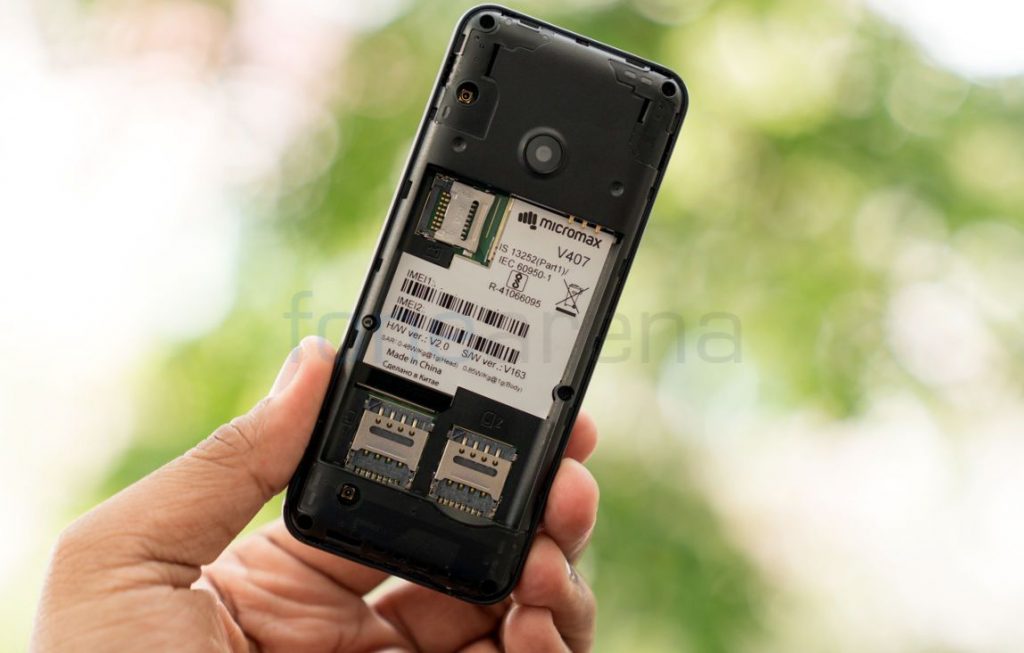 Removing the back cover reveals a 2000mAh battery. You need to remove the battery to insert SIM and microSD. Both are micro SIM slots that support 4G, but only one SIM supports 4G at a time and other goes to 2G. The microSD slot accepts cards up to 32GB.
Camera
Since this is a feature phone, you can't expect anything from a 1.3-megapixel rear and 0.3-megapixel (VGA) fixed-focus cameras. Most shots end up blurry. The phone even supports video recording up to 480p (VGA), but the video quality is poor since the sensor is small. Check out a couple of camera samples.
Software, UI and Apps
Coming to the software, the phone runs on customized version of Android, even though the phone is called a feature phone, but the company doesn't reveal what Android version it is running or what kind of customized OS it is using. It doesn't support USB debugging or OEM unlocking.
You can press the left soft key when you are in the homescreen to go to quick settings that lets you toggle sound, torch, Airplane mode, Brightness, Data, WiFi and Bluetooth. You can also change the lockscreen wallpaper, go to notifications, go to settings and manage apps.
The phone doesn't have a homescreen to customize. All the apps are present on a screen with large grid style and the time and date on the top grid. There are large icons for Contacts, Camera, Phone and Messages in the homescreen. Pressing the left button on the D-Pad shows a quick contacts dialing screen that lets you add shortcuts for contacts you dial frequently. The phone doesn't have a recent apps key so you can't clear the memory.
Out of 512MB RAM, about 196MB of RAM is free when the default apps are running in the background. Out of 4GB of internal storage, 2.09GB of storage is usable.
Coming to apps, it has the usual set of utility apps such as Calendar, Clock and Calculator in tools. In the Applications menu there is a File explorer, NotePad and Sound Recorder. It also has Facebook Lite, YouTube, Opera Mini browser and mostly importantly WhatsApp that you rarely find in feature phones.
It doesn't have an option in security settings to enable option to install apps from unknown sources, you can't install third-party APKs that you have downloaded. It also comes with Micromax TV powered by ZengaTV to watch Live TV, Videos, Music and Movies, but the collection is limited.
Music Player and FM Radio
The music player can play different audio formats. It also has FM Radio that requires you to insert your headset to play FM. You can also record FM in .3gpp format. The loudspeaker output is loud and clear, and the bundled headset is just average. Since the loudspeaker is present on the front, audio doesn't get muffled when you place the phone on a flat surface.
Calling and Messaging
Dialer shows names in contact as you type the number. There is also automatic call recording option. Call quality is good, and we did not face any call drops. It also has option to import or export contacts as .vcf. The T9 keypad is easy to type messages. It supports text input in 22 Indian languages that includes Hindi, Assamese, Bengali, Gujarati, Marathi, Telugu, Tamil, Malayalam, Punjabi, Odia, Kannada, Urdu, Kashmiri, Nepali, Konkani, Maithili, Dogri, Sindhi, Sanskrit, Manipuri, Bodo and Santali.
Performance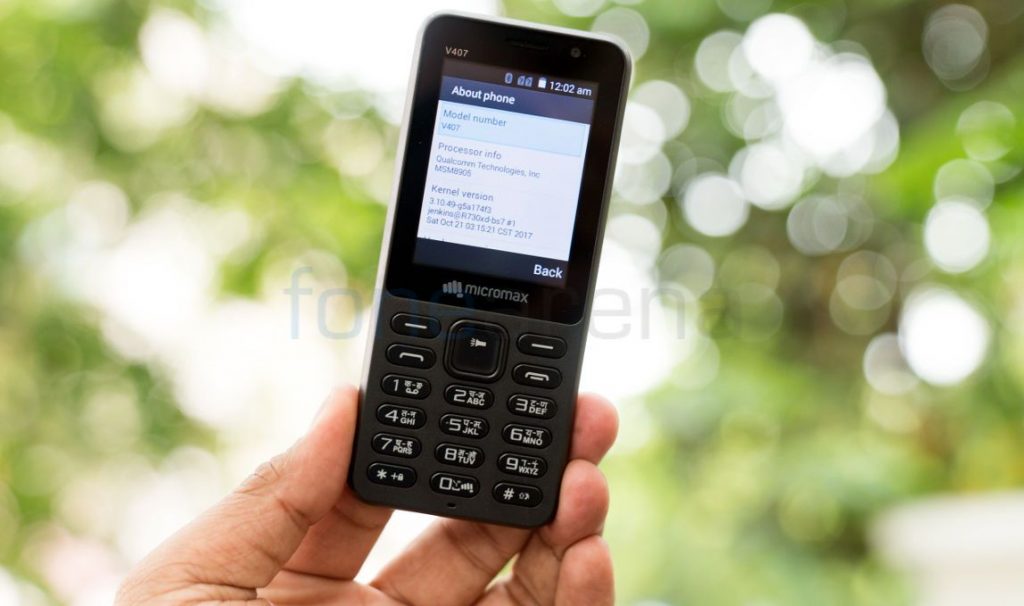 Coming to the performance, the phone is powered by a Dual-core Qualcomm 205 Mobile Platform (MSM8905) with ARM Cortex A53 cores running at 1.1GHz per core along with 512MB RAM is more than enough for this phone. It also has Adreno 304 GPU. Performance is smooth without any lags.
Connectivity
It supports 4G LTE with VoLTE on the primary SIM. You can set any SIM as a primary card that will support 4G and the second SIM goes to 2G. You can also set a SIM for data and a SIM to make calls with as default or ask every time when you call. It has support for 1800/2100/2600 MHz 4G bands, 2100/1900/850/900 MHz 3G bands and 850/900/1800/1900 MHz 2G bands.
It has WiFi 802.11 b/g/n with support for WiFi Hotspot that most 4G VoLTE feature phones lack. It also has Bluetooth 4.1 LE and GPS support and has Bluetooth and USB tethering so that you can easily share your 4G connection to a PC.
The phone also comes with an offer from BSNL that offers unlimited calling and unlimited 2G/3G data (Up to 5GB, after that speed will be reduced to 80 kbps) at Rs. 97 per month for 1 year, but you need to get a new SIM separately and it doesn't come with the phone.
Battery life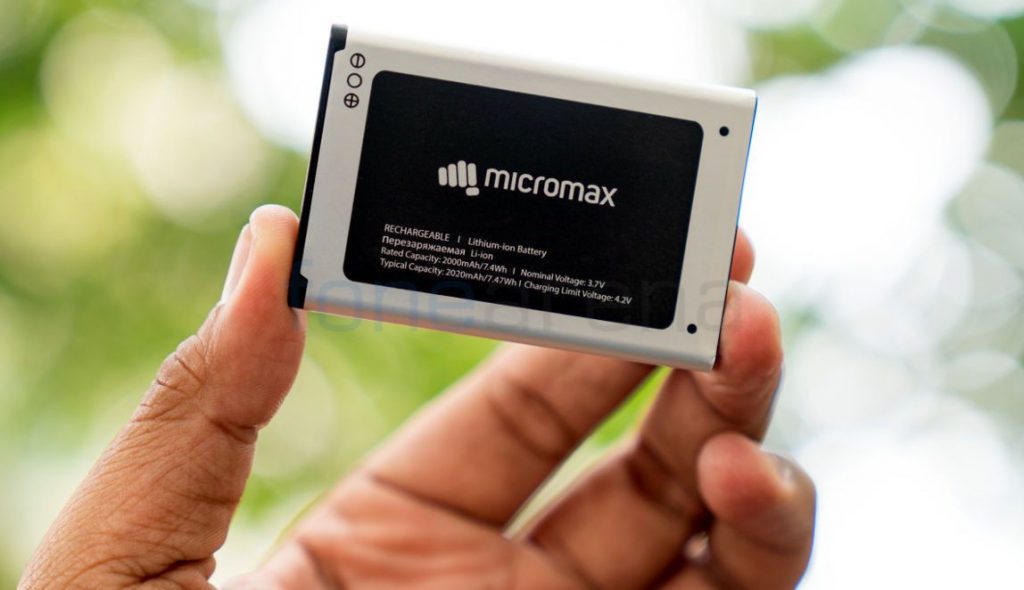 Coming to the battery life, the 2000mAh battery offers brilliant battery life since the small 2.4-inch screen doesn't consume a lot of power. Even with 4G enabled on Jio SIM and a secondary SIM card, it lasts for more than a day. Without much internet use, it will last easily for over 2 days. If you are use only one 2G SIM to make calls, it will easily last over 3 days. It takes over 2 and half hours to charge the phone using the .
Conclusion
At a price tag of Rs. 2200, the Micromax Bharat 1 is a good 4G VoLTE feature phone for entry-level users and elders those who want to use 4G, but are looking for a phone with a keypad. It also supports 2G and 3G networks so you can use two SIM cards. Of course it doesn't have a lot of apps and huge collection of Live TV channels, Music and Movies that is present in JioPhone, but you this doesn't come with a contract and lets you use any of your existing SIM cards, including Jio SIMs. It also comes with WhatsApp that is not present in most VoLTE feature phones.
If you are don't want a large-screen Android phone and need a handy, light-weight VoLTE phone with a T9 keyboard, this is definitely a good choice. It is priced at an MRP of Rs. 2599, but you can get it for as low as Rs. 2200. It is available from Snapdeal online as well as retail stores offline.