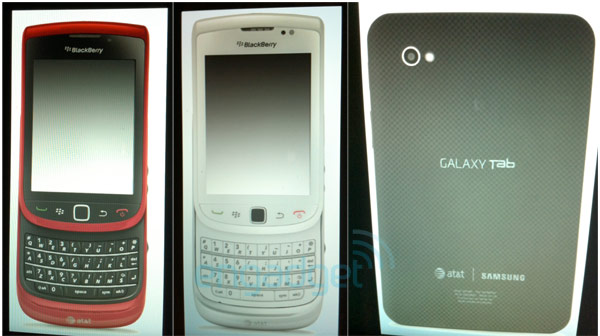 Folks over at Engadget got their hands on some interesting leaked screenshots, which are showing a lot of great things. The screenshots are related to AT&T Summer Holiday lineup, in which you can see all the stuff which is coming to AT&T like a limited White and Red Blackberry Torch, Samsung Galaxy Tab, and a Windows Phone 7 powered Samsung Cetus.
Also two new never-heard-before phone are also revealed in the screenshots, Samsung Focus and HTC Surround, and it's reported that both handsets will run on WP7.
We heard rumors that the Samsung Galaxy Tab will hit AT&T, and now we have a proof for it. May be Samsung will do the same thing with the Galaxy tab like they did with the Galaxy S series, Samsung will launch the Galaxy Tab in USA through every major US mobile carrier, that's what I think is going on in Samsung's mind.
So folks the Summer is almost around the corner, so may be we'll see these new device next month or so. So stay tuned with us !