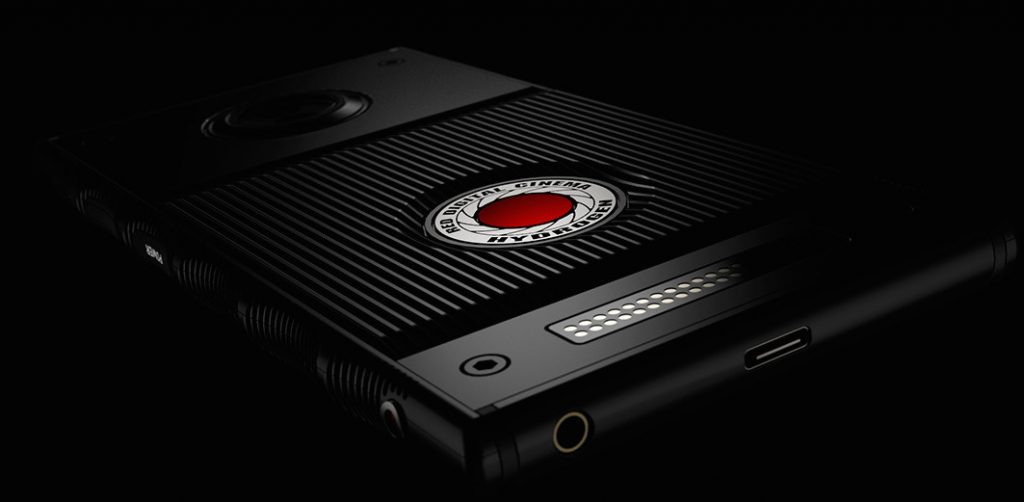 RED, popular for its high-end cameras today announced its entry into phone market with the RED HYDROGEN ONE Android smartphone that will have world's first holgraphic display. This uses nanotechnology so it seamlessly switches between traditional 2D content, holographic multi-view content, 3D content and interactive games. The teaser image shows 3.5mm audio jack and USB Type-C port along with connector pins for modules.
RED HYDROGEN ONE display lets you
View all traditional 2D content normally at full screen resolution
View holographic RED Hydrogen 4-view content (H4V)
View stereo 3D content
View 2D/3D VR, AR and MR
It has proprietary H3O algorithm that converts stereo sound into expansive multi-dimensional audio, something like 5.1 on headphones.  It is also a modular phone that has high-speed data bus to attach modular components that will be released in future. The company says that these modular attachments will help shooting higher quality videos and images as well as HYDROGEN format holographic images. The phone will not only be the only control center for the HYDROGEN , it will also integrate into RED's camera program working together with Scarlet, EPIC and Weapon as user interface and monitor, said the company.
RED Channel will be One channel to find all 4-View holographic content. Create .h4v or convert 3D to .h4v) content and upload. Download or stream to view. Movies a documentaries: games, shopping and other apps all found with one click.
The company has not announced exact specifications of the phone, but RED founder Jim Jannard said that it will come with internal storage and an external micro SD card slot, a headphone jack, selfie camera and a back camera. These cameras will not produce cinema quality image, but there will have modular system to add image quality well beyond any other camera short of our professional cameras.
The box will have HYDROGEN ONE Media Machine with a USB-C cable and charger, an expandable Micro SD card slot plus a "special small token" for ordering early. It said that all other accessories available at launch will be available at an additional price and additional modules will not be immediately available at the time of this first production launch.
The RED HYDROGEN ONE starts at $1,195 (Rs. 77,340 approx.) for aluminium version and the titanium version costs $1,595 (Rs. 1,03,235 approx.) for a limited time. It is now available for pre-order and is expected to ship sometime in Q1 2018.