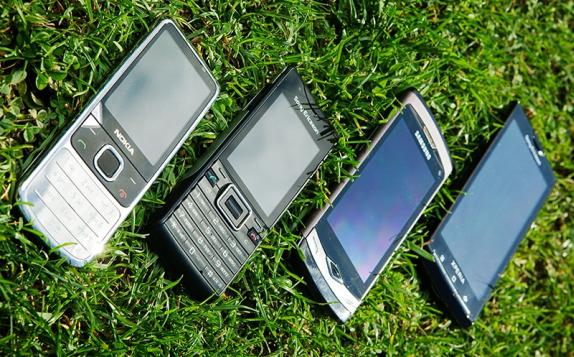 You must have heard about Sony Ericsson's Green heart family of devices which are made of recycled materials. The Elm which is a member of the Green heart range has been picked as the most eco-friendly phone according to a new Eco rating scheme from UK mobile operator O2 . The Elm emerged as a winner amongst 65 phones from 6 phone makers including Nokia, HTC, LG, Samsung and Palm.Surprisingly Apple refused to take part and so the iPhones were not part of the exercise
find the press release below.
The Sony Ericsson Elm™ phone has been named the most sustainable handset on the market. The UK's first sustainable rating system for mobile phones, O2's Eco rating, awarded the Sony Ericsson Elm™ phone 4.3 out of 5 for its green credentials.
Amongst 65 mobile phones, from six manufacturers*, the Sony Ericsson Elm™ phone was measured for its environmental impact, how it helps people lead more sustainable lives and Sony Ericsson's ethical performance as a manufacturer. In total five of the top 10 mobile phones in the rating were designed by Sony Ericsson.

"Sony Ericsson is committed to delivering products with the best possible environmental performance in the industry," said Mats Pellbäck Scharp, Head of Corporate Sustainability at Sony Ericsson. "That's why we're pleased the Sony Ericsson Elm™ phone has been rated the most sustainable mobile phone in the industry. We fully support the new O2 Eco rating system – through initiatives such as this, consumers have the information they need to make informed green choices."

The Sony Ericsson Elm™ phone is part of Sony Ericsson's GreenHeart™ range of mobile phones and accessories. The GreenHeart™ portfolio spearheads Sony Ericsson's commitment to making a real and substantive impact to green innovation, which will see benefits brought to the environment, consumers and mobile operators. The GreenHeart™ strategy will eventually see the greening of the manufacturer's entire portfolio – as announced in June 2009.

By 2015 Sony Ericsson is committed to reducing CO2 emissions by 20 per cent and greenhouse emissions by 15 per cent from its mobile phone's full product lifecycle. Sony Ericsson's commitment to sustainability has also seen the mobile phone manufacturer join forces with an alliance of public interest organisations to persuade the European Parliament to ban the use of hazardous substances in consumer electronics from 2015 onwards.

For more information on GreenHeart™ and our environmental work, please visit the Sony Ericsson GreenHeart™ web page and blog at: http://www.sonyericsson.com/greenheart  http://blogs.sonyericsson.com/greenheart

Sony Ericsson is committed to the continuous improvement of the environmental impact of the company. It follows and works with all three, i.e environmental, social and economic dimensions of sustainability. Sony Ericsson's work covers its contribution to society through improving people's lives, making good business, conserving resources and protecting the environment.