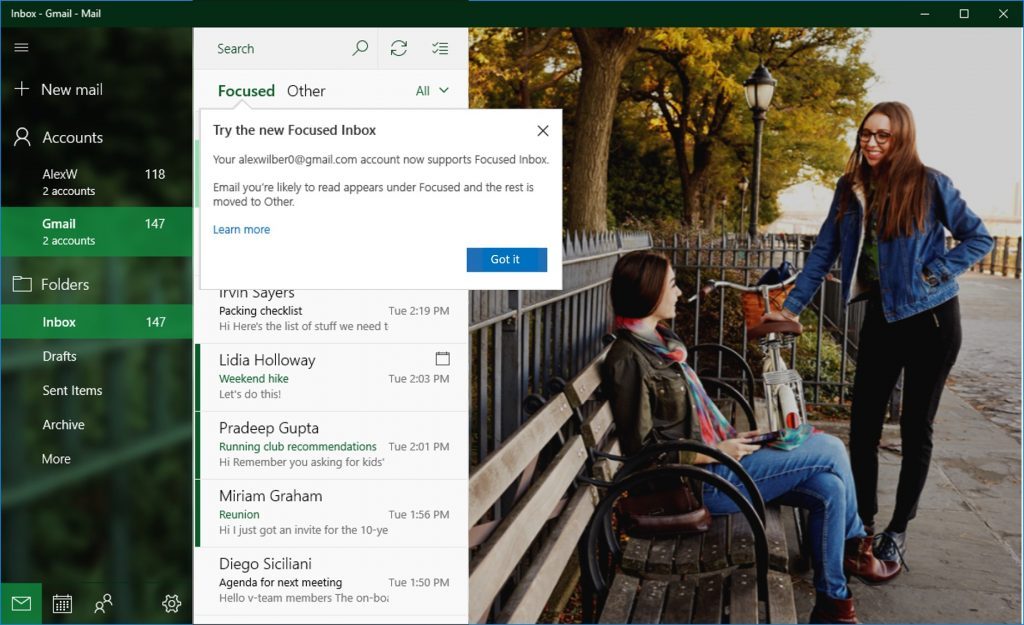 Microsoft will soon add a couple of features to Windows 10 Mail & Calendar apps that will improve Gmail experience for users.  have long supported connecting to and managing your Gmail account. The update brings Focused Inbox, faster search and richer experiences for travel reservations and package deliveries.
The update adds will add features like tracking travel and shipping deliveries, making emails more actionable, helping you easily track your favorite sports events, faster search, and more. These features were already available for users with Outlook.com accounts. Focused Inbox for Gmail accounts will divide mails in two folders – Focused and Others. The Focused section will include all the important mails, while the Others section will house all the not-so-important mails like newsletters, brand discount announcements etc. Gmail segregates mails into Primary, Social, and Promotions sections.
In order to get these features users will have to give permission to sync their email, calendar and contacts to the Microsoft Cloud.The new Windows 10 and Calendar apps will start rolling out over the next few weeks to users under Windows Insider Preview programme, and will be rolled out to all Windows 10 users.