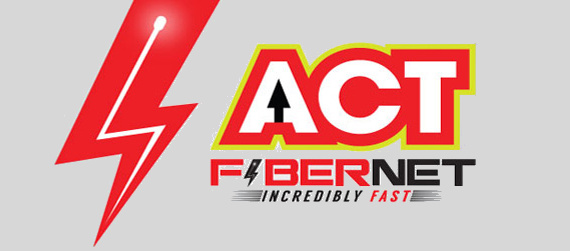 After Hyderabad and Bengaluru, ACT (Atria Convergence Technologies Pvt. Ltd.) has upgraded its existing internet plans by offering more speed speeds and data limits for its customers in Chennai. This is the third upgrade for Chennai customers, since plans were upgraded in October 2015 and again last year.
In less than a year, ACT Fibernet has almost doubled FUP limit for ACT Blaze plan from 60GB FUP to 100GB FUP at no additional cost. Similarly, ACT Thunder has been upgraded from 150GB FUP to 225GB FUP and ACT Incredible plan from 250GB FUP to 350GB FUP, again at no extra costs.
For SOHO, its top Rs. 4999 plan has got 200Mbps speed upgrade from 125Mbps and FUP limit from 550GB to 700GB.
Package name

Rent

(Rs.)

Existing plans
Plans from April 1

Speed post FUP

Speed
FUP
Speed
FUP
RETAIL
ACT Blaze
999
50Mbps
60GB
75Mbps
100GB
512 Kbps
ACT Storm
1099
50Mbps
90GB
75Mbps
130GB
512 Kbps
ACT Lightning
1299
75Mbps
125GB
90Mbps
175GB
512 Kbps
ACT Thunder
1499
90Mbps
150GB
100Mbps
225GB
512 Kbps
ACT Incredible
1999
100Mbps
250GB
150Mbps
350GB
1 Mbps
SOHO
ACT SME Swift
2999
100Mbps
300GB
150Mbps
450GB
2Mbps
ACT SME Flash
3999
125Mbps
400GB
200Mbps
550GB
2Mbps
ACT SME Force
4999
125Mbps
550GB
200Mbps
700GB
2Mbps