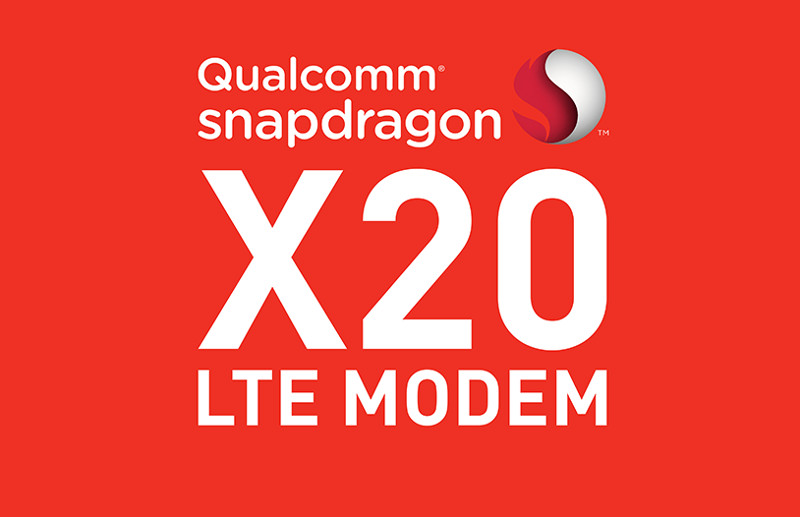 Qualcomm today announced Snapdragon X20 LTE chipset, its seventh-generation LTE multimode modem and second generation Gigabit LTE solution built on 10nm FinFET process. It is the world's first chipset to come with LTE Category 18 download speeds of up to 1.2 Gbps, a 20% improvement compared to Snapdragon X16 LTE.
Highlights of Qualcom Snapdragon X20 LTE modem
10nm FinFET process
Cat 18 DL up to 1.2 Gbps and Cat 13 UL up to 150 Mbps
Support for up to 5×20 MHz downlink Carrier Aggregation (CA) across licensed and unlicensed FDD and TDD radio frequencies
4×4 MIMO on up to three aggregated LTE carriers.
Supports integrated Dual SIM Dual VoLTE (DSDV) capability
Supported by the first commercially announced single-chip RF transceiver capable of simultaneously receiving up to 12 spatial streams of LTE data as few as three 20 MHz carriers
Support for 256-QAM boosts the peak throughput to ~100Mbps. Uplink, 2x20MHz carrier aggregation plus 64-QAM allows for speeds up to 150Mbps.|
Supports advanced dual SIM functionality and DSDV with the benefits of Ultra HD Voice and other IMS-based services on both SIMs inserted into the device.
Supports Snapdragon All Mode, including all major cellular technologies (LTE FDD, LTE TDD, WCDMA, TD-SCDMA, EV-DO, CDMA 1x, and GSM/EDGE), over 40 cellular frequency bands (including U.S. public safety Band 14 and 600 MHz band support), over 1000 carrier aggregation band combinations, LTE Broadcast, Voice over LTE (VoLTE) with support for Ultra HD Voice quality with the EVS codec, and single radio voice call continuity to 3G and 2G.
Supports Licensed Assisted Access (LAA), the global standard for LTE in unlicensed spectrum.  Support for both 5xCA and LAA
Supports 3.5GHz shared spectrum in the U.S. called Citizens Broadband Radio Service (CBRS)
Qualcomm also announced a suite of comprehensive RF front-end (RFFE) solutions adding to the Qualcomm RF360 family of RFFE products that include its first gallium arsenide (GaAs) power amplifier modules (QPA5460, QPA5461, QPA4360 and QPA4361) and the next-generation Qualcomm TruSignal antenna performance enhancement solution (QAT35xx) to drive superior RF performance by utilizing modem intelligence and system-level design and optimization.
QPA546x and QPA436x multimode, multiband power amplifier (MMPA) modules are optimized for envelope-tracking and average power tracking, respectively, and combine high, mid and low band power amplifiers with high performance switches to provide highly integrated modules for regional and global designs with superior power efficiency.
QPA5461 is designed to work with the QET4100 envelope tracker and is the first MMPA optimized for High Power User Equipment (HPUE) operation, providing high power-efficiency solutions for devices in LTE TDD networks.
Comprising the QAT3550 impedance tuner, the QAT3514 aperture tuner, QAT3522 antenna diversity switch and advanced modem software, the latest generation of Qualcomm Technologies' TruSignal provides a comprehensive antenna performance enhancement technology suite that is the mobile industry's first commercial adaptive antenna tuning solution supporting carrier aggregation.
The Qualcomm Snapdragon X20 LTE modem is now available for sampling to OEMs with first commercial devices expected in the first half of 2018.  The QAT35xx antenna tuning and diversity switch products are supported for use with the Qualcomm Snapdragon 835 processor. The QPA546x, QPA436x, D5328 and D5285 products are available for sampling today and the QAT35xx solutions are currently in production and are expected to be in commercially available devices soon.