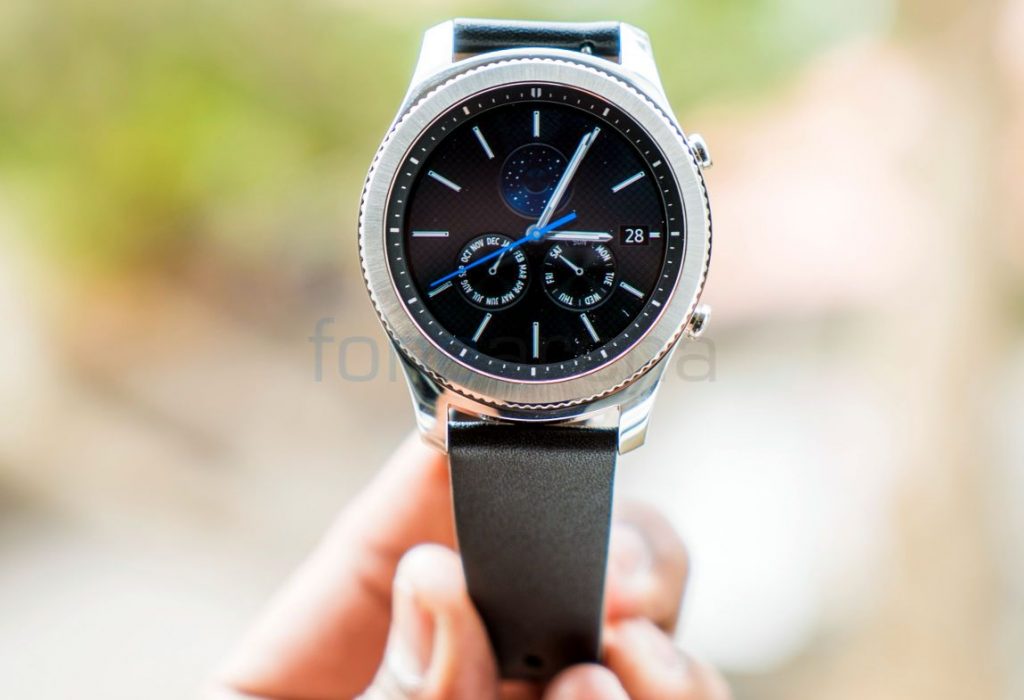 Samsung launched its latest Tizen-powered smartwatches – Gear S3 classic and Gear S3 frontier in India last month priced at Rs. 28,500 each. These smartwatches compete with the Apple Watch Series 2 directly that starts at Rs. 32,900. We recently unboxed the Gear S3 Classic, check out the review to find out if it's worth the price.
Unboxing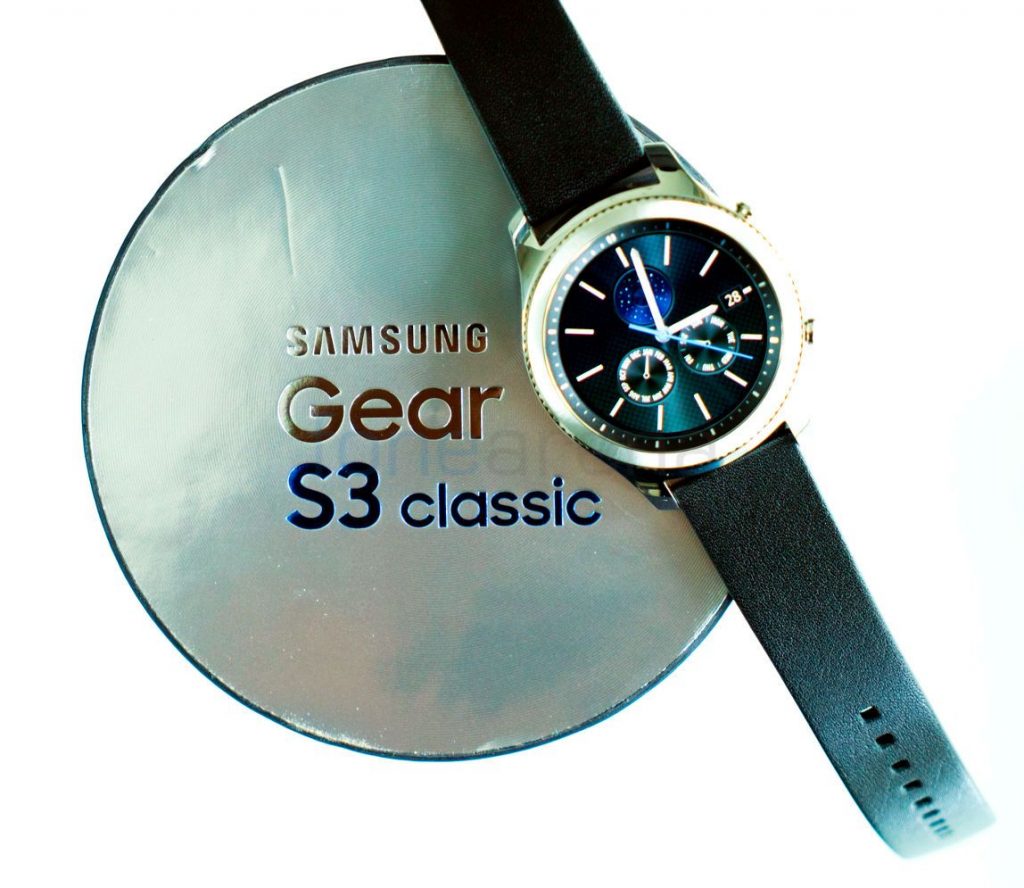 We unboxed the Gear S3 Classic recently, check out the video below.
Box Contents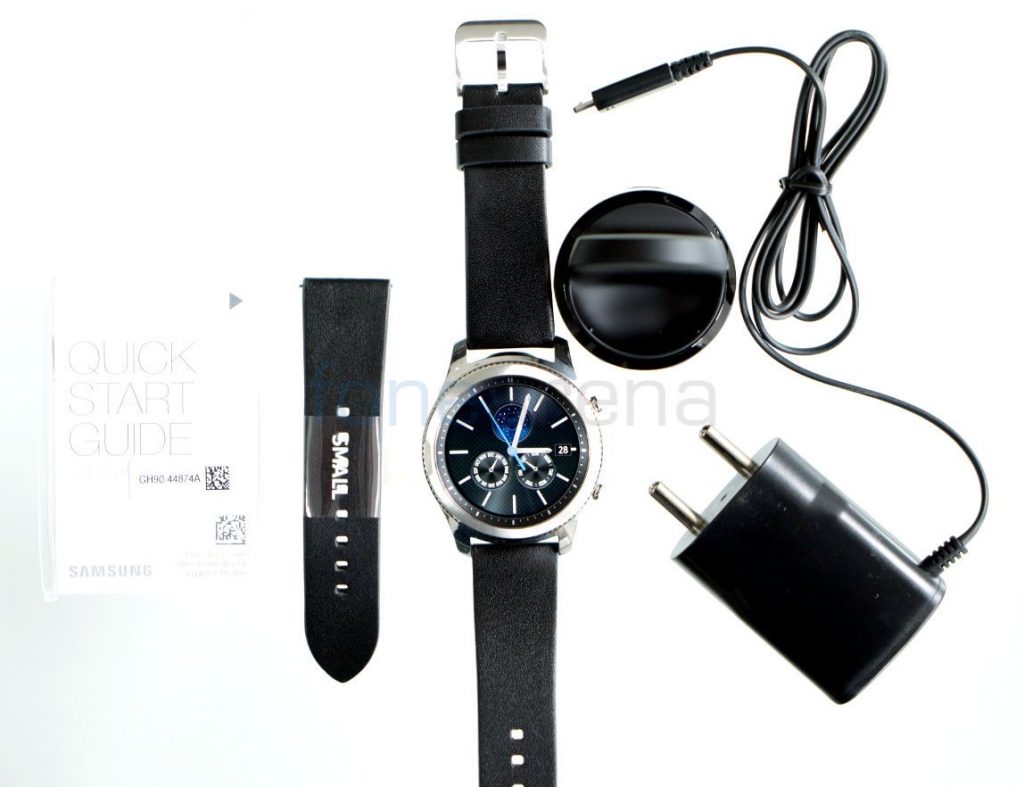 Samsung Gear S3 Classic smartwatch with stainless steel case
Small and Large wrist straps
Wireless charging dock
2-pin charger (5V-0.7A)
Quick start guide and user manual
Display and Design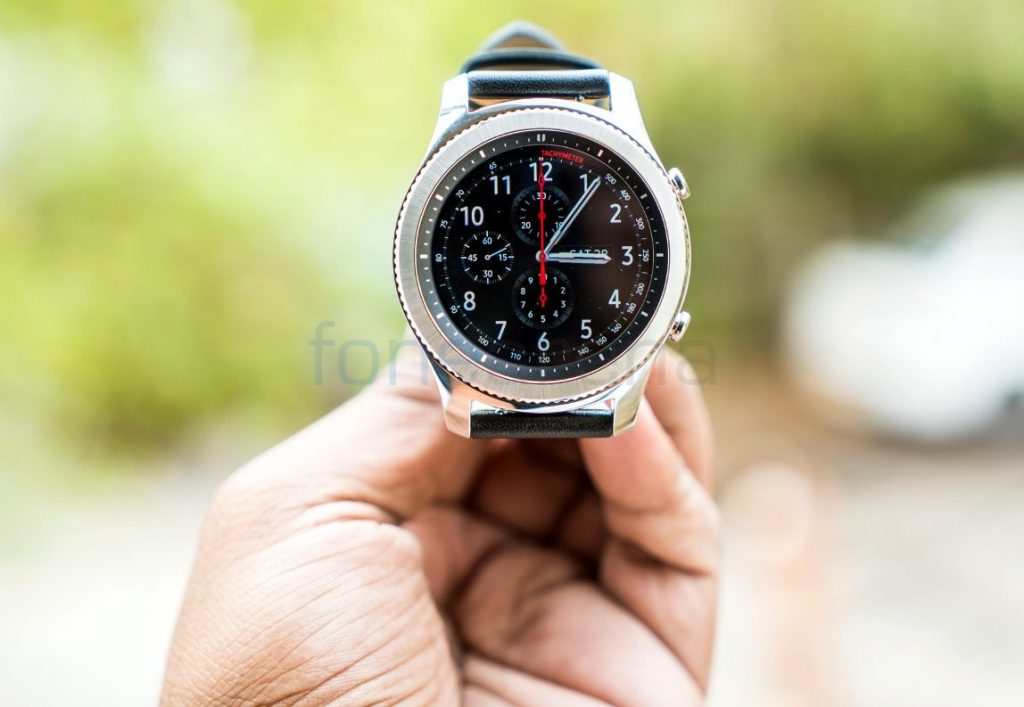 The Gear S3 has a 1.3-inch Circular Super AMOLED Always On display with a resolution of 360×360 pixels and a pixel density of about 278 PPI. This display is bright and crisp so that you can view the content on the screen event on a sunny day. You can increase the touch sensitivity of the screen so that you can access it even when you are wearing gloves. You can adjust the brightness from 1 to 10. There is also Auto low brightness option that reduces the brightness automatically if the environment is too dark. You can also set screen timeout from 15 seconds up to 5 minutes. The light sensor is built into the display so you don't see any ugly cutout for the sensor on the display like some Android Wear smartwatches.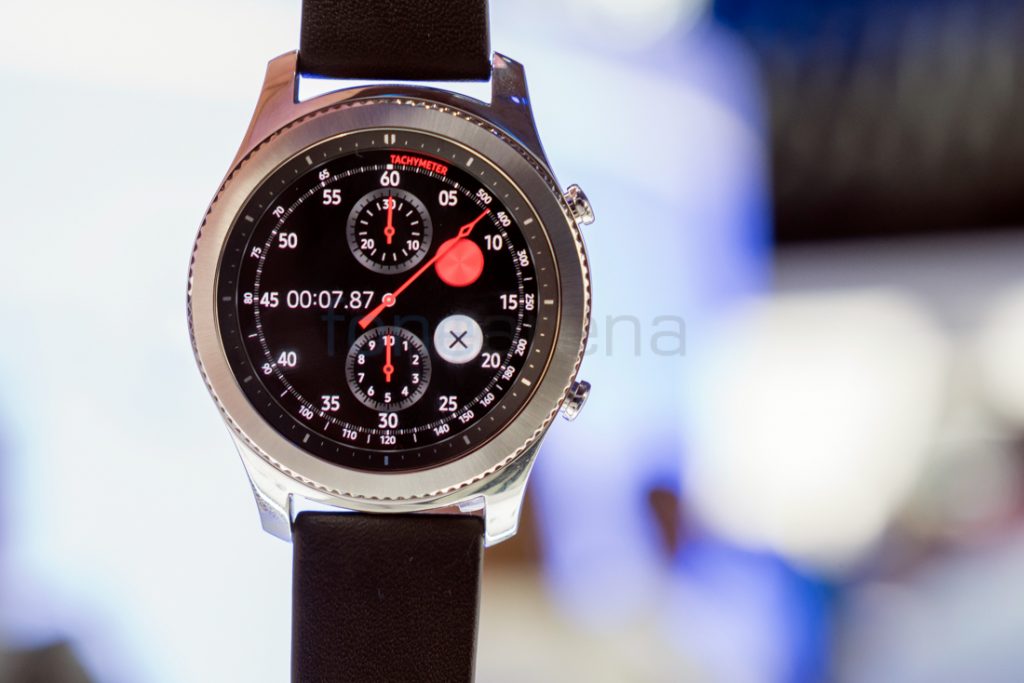 The display is also protected by Corning Gorilla Glass SR+ protection so you don't have to worry about the scratches. Overall the display is brilliant.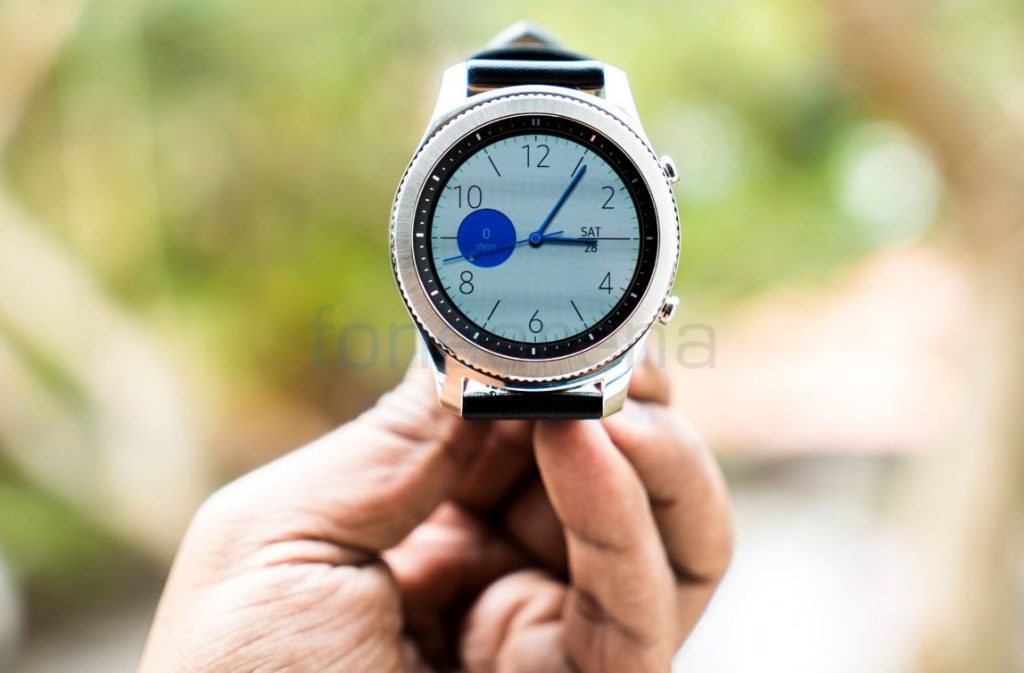 Coming to the design, the Gear S3 Classic has steel 316L chassis that looks and feels premium. It also has a rotating bezel so that you can perform several actions without touching the screen. You can rotate the bezel anticlockwise to view notifications, delete it by swiping upwards from the bottom edge of the screen. Even though the Gear S3 has a small screen it has handwriting input mode, speech-to-text and you can also use the on-screen T9 keyboard to type and reply to notifications when you can't reach your phone.
You can rotate the bezel to adjust the volume or brightness. You can rotate the bezel clockwise to receive an incoming call or to dismiss an alarm and rotate the bezel anticlockwise to reject an incoming call or to activate the snooze feature for an alarm.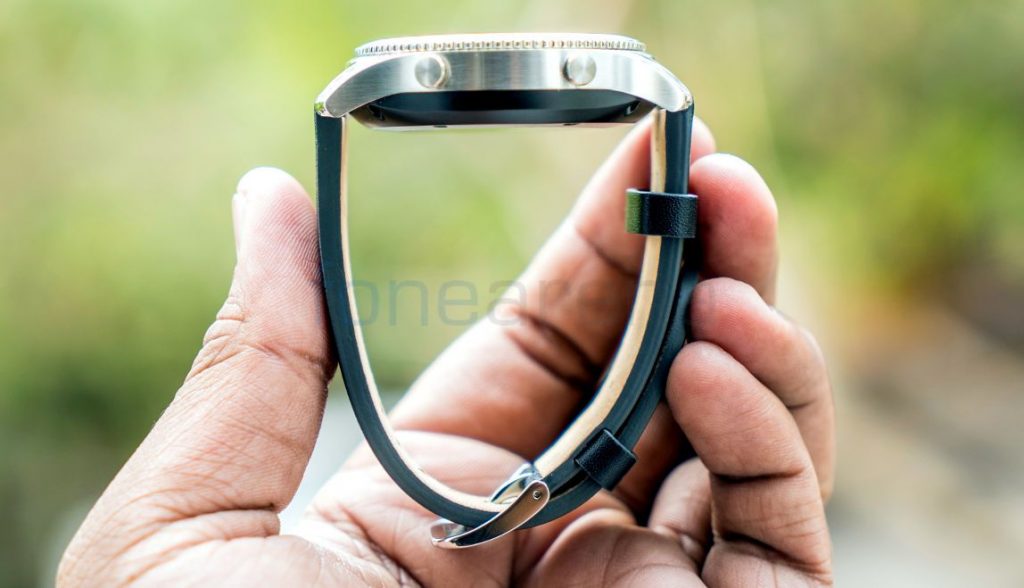 On the right side of the smartwatch there is a Back key and a Home key (also acts as a power button). There is also a tiny microphone hole next to the power button. It measures 46 x 49 x 12.9mm and weighs 57 grams without wrist band, which is a bit heavy compared to other smartwatches.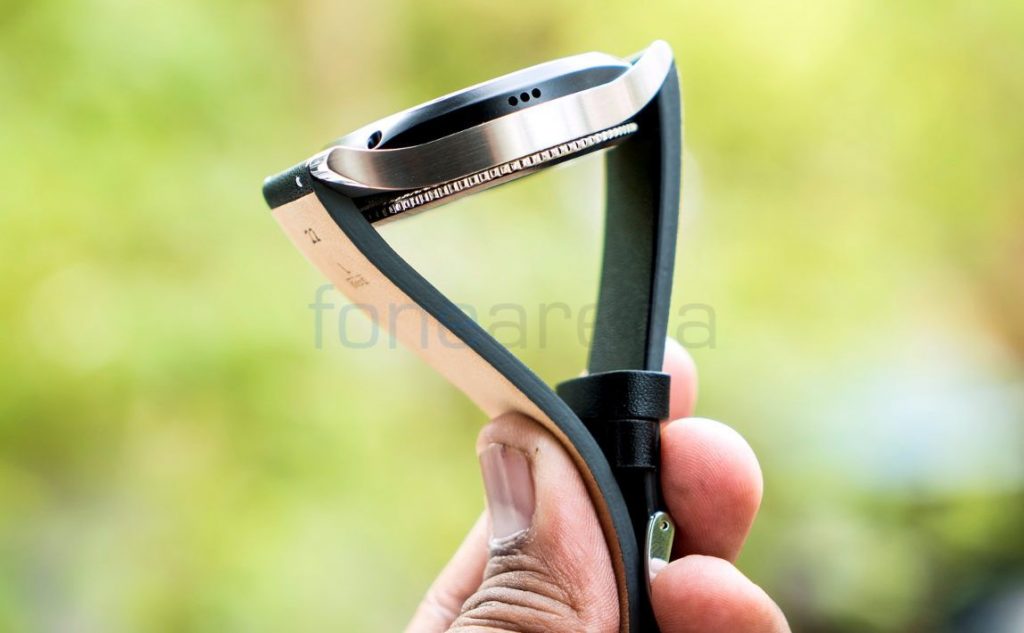 There is a speaker grill on the other side that lets you play music on the smartwatch. You can also take incoming calls directly from the smartwatch when it is connected to the phone since it has both microphone and speaker.
It has IP68 ratings for dust and water resistance so you can't immerse the Gear S3 in water deeper than 1.5m or keep it submerged for more than 30 minutes. Samsung warns that you should avoid taking a shower or going swimming when you are wearing the watch.
The Gear S3 classic comes with a leather band in small and large sizes. It also supports standard 22mm watch bands so you can personalize the smartwatch with any third-party band to better fit your own style.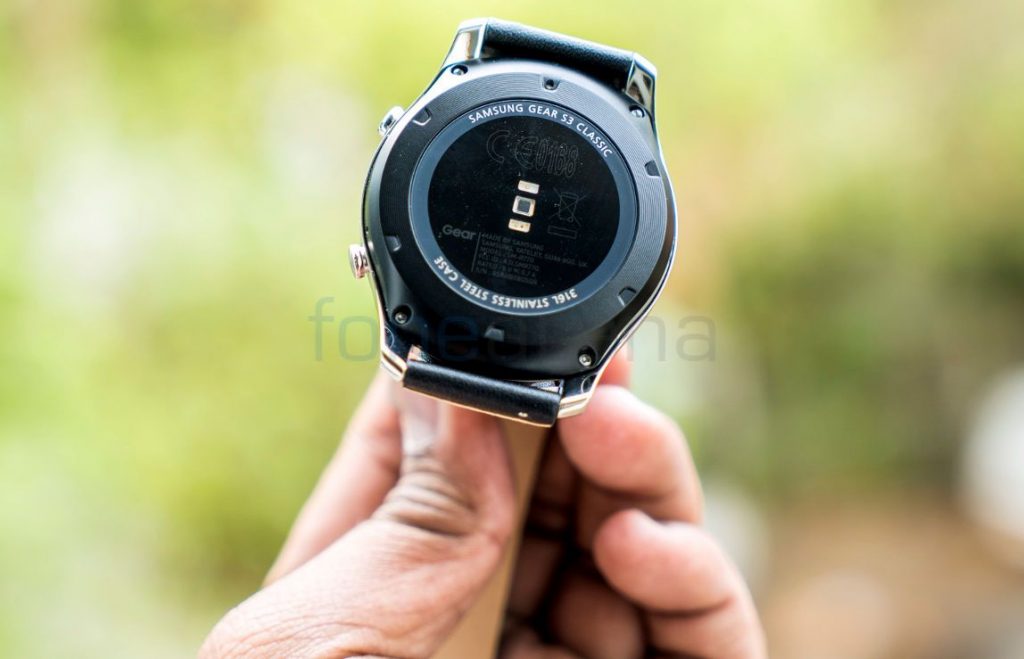 On the back there is a Pressure relief vent or Atmospheric pressure sensor and the Heart rate sensor is present in the center. Overall the Gear S3 Classic has a solid build quality for the price and has a minimalist design with elegant style compared to the frontier that has a rugged outdoor look.
Performance and Software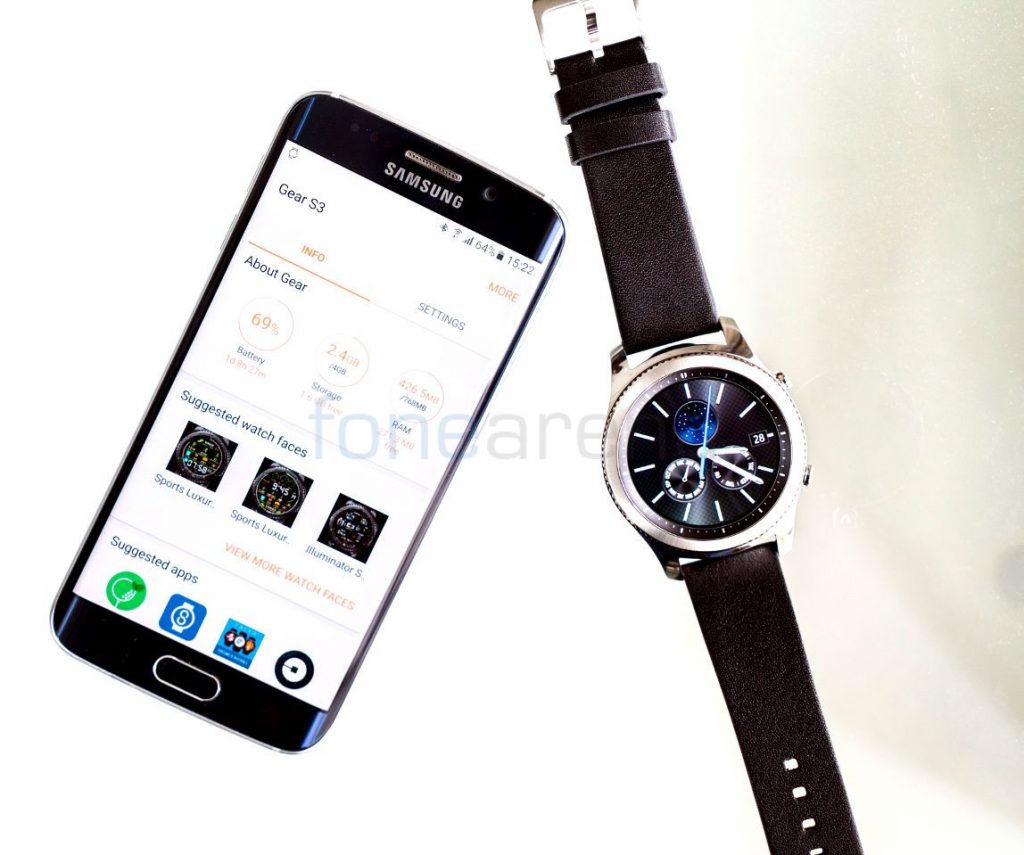 The Gear S3 Classic is powered by a 1.0 GHz dual core processor with 768MB of RAM that offers a smooth experience. It also has 4GB of internal memory to store music and install a lot of apps. We did not face any issues when using the smartwatch.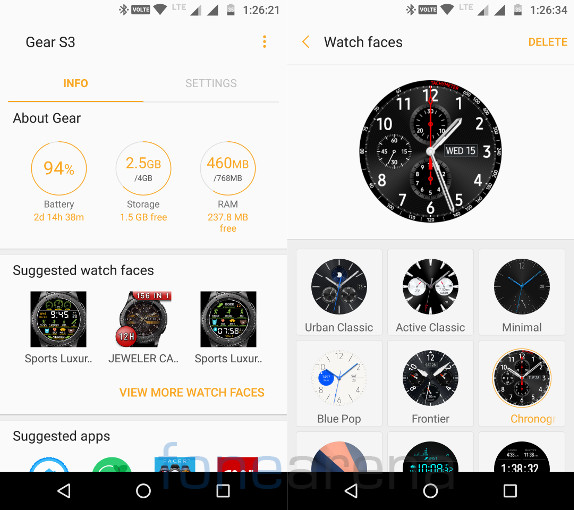 Coming to the software, the Gear S3 runs on Tizen OS 2.3.2.1 currently that support a range of watch faces both free and paid and a lot of apps. It comes with a standard set of apps, but you can download more from the Samsung Store. My favorite is AccuWeather that clearly shows weather forecasts.
Samsung launched the Gear app for iOS so the Gear S3 is now compatible with iPhone, but it does not support notifications from iOS smartphones when not connected via Bluetooth, Incoming email notifications and limited previews from iOS smartphones are available only from certain third-party email applications, only free standalone apps are available on iOS smartphones and paid apps or free Gear apps that require a companion smartphone app are not compatible with iOS smartphones. Samsung Pay is also not available on iOS smartphones.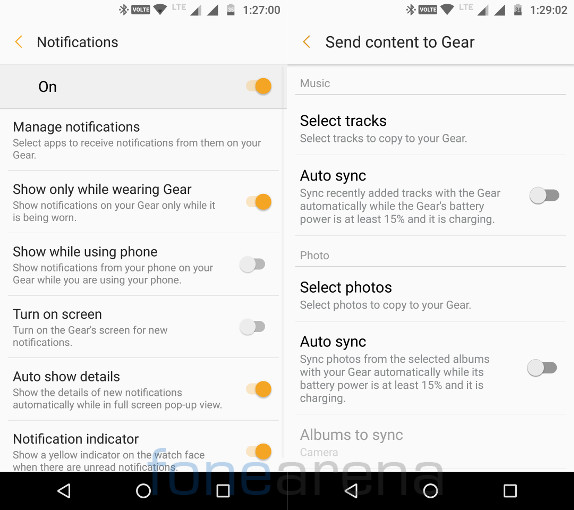 You can manage notifications from the settings so that you disable notifications for the app of choice. You can also sync tracks from phone to copy to Gear so that you can listen to them even when it is not connected to a phone through  the built-in speaker or by connecting a Bluetooth headset to the Gear.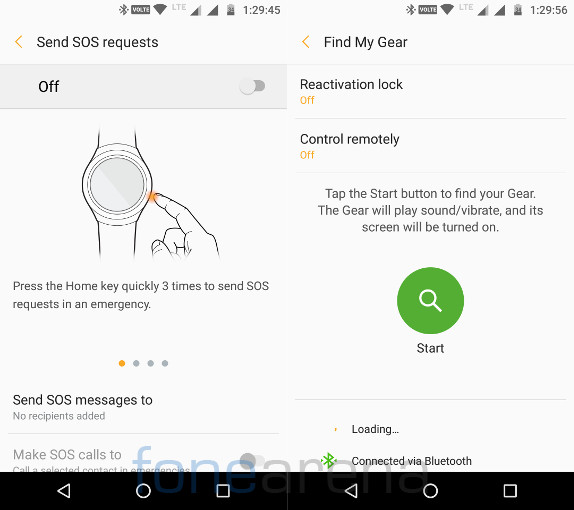 There is also SOS feature that works using GPS. Once SOS is triggered, the Gear S3 sends a call to a pre-programmed contact. Location tracking functionality then lets responders pinpoint the user's position in real-time. There is also Find My Gear option that lets you remotely control your Gear when it is lost or misplaced. You can locate it, lock it or reset the Gear remotely.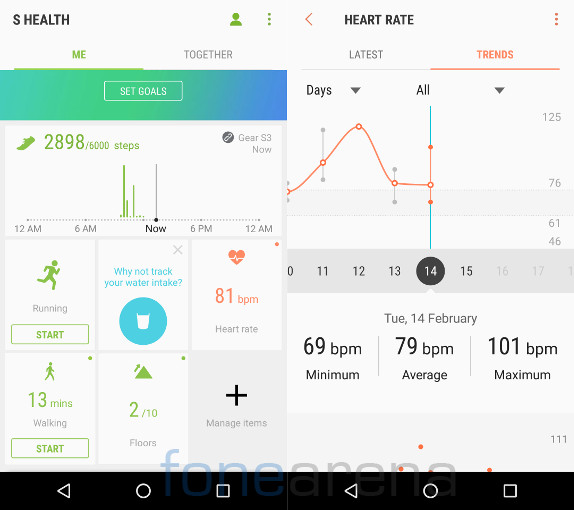 Even though it is not necessary, you can download S Health app to view detailed workout data on the app. It detects walking, running, floors climbed, sleep, heart rate and more. The heart rate monitor (HRM) sensor automatically gathers data during work out and shows you maximum and average data through graphs. Sleep tracking is almost same as the Mi Band 2. Since I don't wear a watch when sleeping, I did not track it everyday.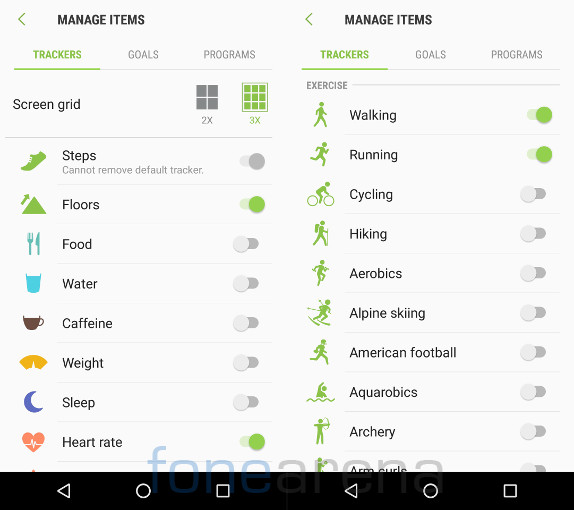 You can manage things to be tracked such as steps, floors climbed, food intake, water intake, sleep and lots more. It can track Walking, Running, Cycling, Hiking, Aerobics and lots more. Based on your profile, S Health shows your basal metabolic rate (BMR) and activity for the day at
a glance. You can also view your activity level and calories burned.
When you finish an activity like walking it displays an activity log that shows if it is Healthy, if you have made more than 100 steps per minute for at least 10 consecutive minutes, Light that indicates the time spent doing light activity, but not hard exercise or inactivity and also shows Inactive notification which is the time spent not moving for one hour or more. To help you stay active, the Gear prompts you to move after 50 minutes of inactivity. It this extends it asks you to stretch. You can set goals to be active number of minutes per day from 30 minutes to 360 minutes.
Connectivity
Coming to connectivity, the Gear S3 Classic has WiFi 802.11 b/g/n, Bluetooth 4.2, NFC, A-GPS/ GLONASS and Embedded Magnetic Secure Transmission (MST) technology, which uses magnetic signals to establish a connection between the Gear S3 and a payment terminal that lets users make mobile payments through Samsung Pay. It also has barometer sensor that allows them to measure altitude and atmospheric pressure, and detect sudden changes in weather.
In addition to Bluetooth connectivity from phone to Gear, it also has remote connection that lets you connect to Gear remotely over WiFi when a Bluetooth connection between the devices is not available. This works when both the devices are connected to WiFi.
Battery Life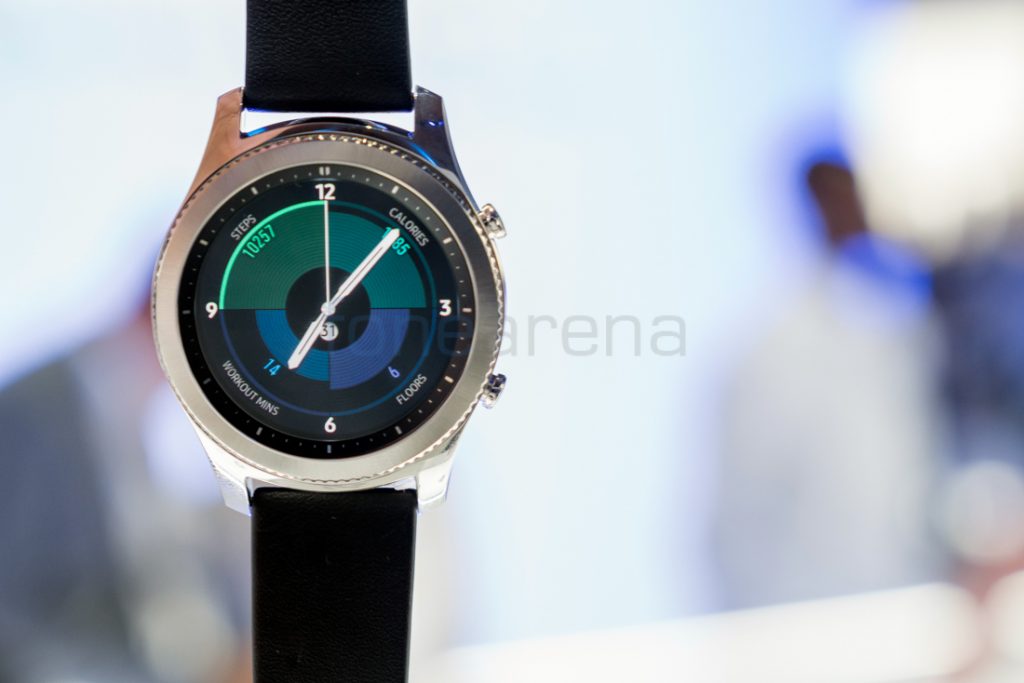 The Gear S3 Classic packs a 380mAh Li-ion battery with support for wireless charging (WPC Inductive) the is small and easy to carry. The charging dock has a micro USB connectivity and takes about 2 hours to charge it fully.
Samsung promises up to 4 days of battery life on a single charge, which is true but only when the smartwatch is used as a standalone device without connecting it to a smartphone, otherwise it lasts for about 2 days, which is still good compared to some Android Wear smartwatch. The activate power saving mode extends the battery's usage time by charging the display color to grey-scale, deactivating Wi-Fi and features, excluding phone, messages, and notifications and limiting the performance of CPU.
Conclusion
Overall the Samsung Gear S3 is a good upgrade to the Gear S2. It has solid build quality, premium design that makes it looks just like a luxury watch, has a lot of features and connectivity options and finally good battery life. It is a bit disappointing that there is no option for women since it is a huge watch that will not fit most women. Priced at Rs. 28,500, the Gear S3 Classic is available from Samsung stores offline and online as well as Amazon.in.
This is a bit costly compared to other smartwatches in the market and the Gear S3 frontier with LTE support is also priced the same in the Indian market. If you are looking for a premium smartwatch and are ready to spend, go for it. If you are into Apple ecosystem, it is better to choose the Apple Watch since the features are limited for iOS users.
Pros

Brilliant display
Good design and build quality
Good battery life
Interchangeable straps
Cons
Priced same as the LTE-enabled Gear S3 frontier
No smaller version for women
Limited features for iOS users