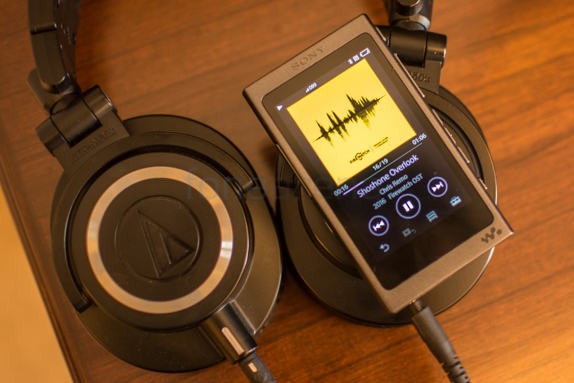 In 2017, a dedicated music player isn't something that is on most people's radar. With phones not only capable of playing back most formats but also being able to deliver high quality audio, there's not much of a reason for most users to invest in an iPod or Walkman. There is however a subset of people who value quality audio. The kind of people who won't settle for less than lossless audio, a clean source and a high-end pair of headphones. The Sony NW A35 Walkman is aimed at those people. Does it deliver on the performance? We find out in our review.
Specifications
Model Name

Walkman NW-A35

Colours

Black

Hi-Res Audio

Yes

Memory Size

16GB (NW-A35)

External Memory

microSD, microSDHC, microSDXC

Digital Amplifier

S-Master HX

Audio Output

3.5mm Stereo Mini Jack

Output Power

(JEITA 16Ω/mW)

35mW+35mW

Display Size, Resolution

3.1-inch, WVGA (800 x 480 Pixels)

Bluetooth

Bluetooth v4.2 (SBC, LDAC)

NFC™

NFC

FM Radio

87.5 to 108.0 MHz

Sound Enhancements

DSEE HX™, Dynamic Normalizer, ClearAudio+,
Clear Phase, DC Phase Linearizer, VPT, 6Band equalizer

Noise Cancelling

Digital Noise Cancelling

Language Study

Yes (DPC Speed Control)

Battery Life

30 hours with Hi-Res

45 hours with MP3

USB Charging Time

Approx. 4 hours

Supported Formats

MP3, WMA, FLAC, Linear PCM, AAC, HE-AAC, Apple Lossless, AIFF, DSD 2.8224MHz

Dimensions (W x H x D)

Approx. 54.8 x 97.3 x 10.7mm

Weight

Approx. 98g
Design
The Sony NW-A35 Walkman keeps it pretty simple when it comes to design. The front of the device sports a simple Sony logo at the top and a subdued but familiar Walkman logo along the bottom edge.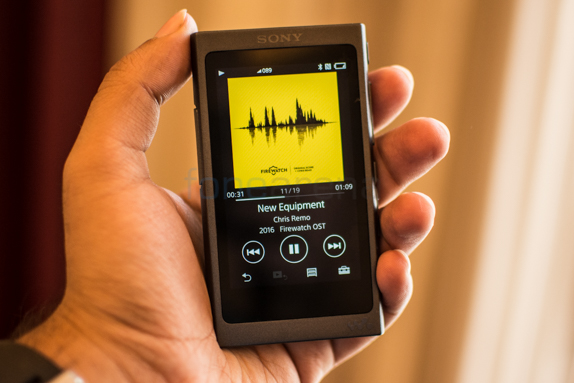 Set amidst the dark grey plastic, the 3.1 inch display on the NW-A35 has substantial bezels on all sides. Unlike the latest smartphones, the display and for that matter the design is more utilitarian than flashy. That's not to say that the DAP (Digital Audio Player) looks bad, it's just meant to hide away in a pocket and let you focus on the music.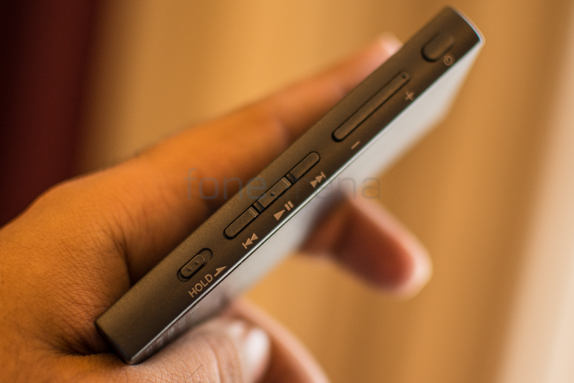 Over on the right hand side you'll find a full array of buttons that starts from the power button on the top, volume rocker below it, three separate buttons to play / pause and to switch the track forward or back. Finally you'll notice a toggle for a hold button right at the bottom. The left side of the Walkman has a microSD card slot under a flap while the rear of the device is clean. You'll observe logos for NFC support and other regulatory information but that's about it.
As we mentioned earlier, the focus here was not quite on aesthetics which is why the chubby  audio player might not be visually appealing but the dimensions make it really comfortable to hold. The phone measures 54.8 x 97.3 x 10.7mm and weighs a very light 98 grams.
Software
In an age when even refrigerators are equipped with browsers and smart capabilities, the NW-A35 eschews any form of smart connectivity or features. The device is devoted to music playback and that's all it does.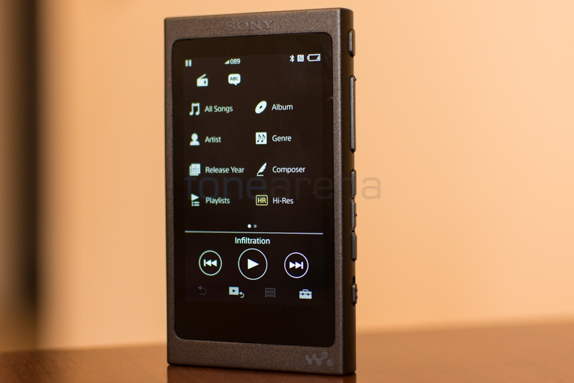 The homescreen is just a list of shortcuts to take you straight to the artists, albums and genres on your device. Scroll over to the right and you get additional options like being able to dive into your folder structure. Given Sony's focus on Hi-Res Audio, you'll also find a shortcut to dive straight into any such tracks on your device. Talking about Hi-Res Audio, only 24 bit lossless tracks qualify which means that for the most part even rips from your own CDs will find place in that section.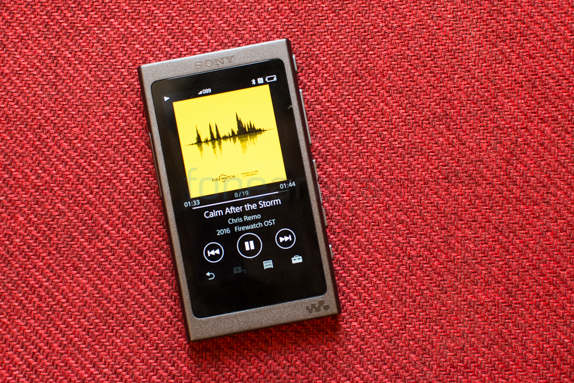 There's really not much customisability on offer other than allowing you to move the icons around. Up at the top are two shortcuts for the FM Radio and Language Study which doubles up as an audiobook player of sorts. Similarly, icons at the bottom drop you directly into the Now-Playing screen or the Music Library.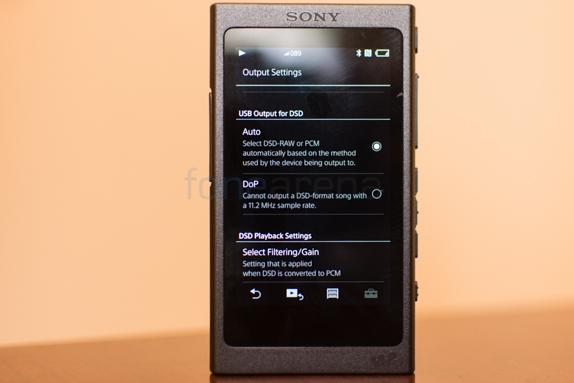 Within the settings menu, there's a plethora of options that let you toggle bluetooth audio and adjust audio playback. There's the usual playback settings like repeat and shuffle but it is the deeper audio centric options that are more interesting. From filtering and gain to USB audio settings, the NW-A35 also comes with Sony's Clear Audio+ solution that expands the soundstage drastically at the risk of loss of details.
Audio Quality
Depending on where you are coming from in your audio experience, you'll either find the output from the NW-A35 to be a massive upgrade or marginally different. If your source so far has been a relatively low to mid range smartphone, you'll observe that the soundscapes from the Walkman tend to be wider with a slightly warmer tone that we personally like. By default, we've switched off all the enhancements built-in to avoid adding any color to your music.
The A35 is generally a very pleasing sounding DAP with a very balanced output that'll please most users without being biased towards any specific genre. For bass heavy music, the audio tends to be tighter but can lack the big boomy sound that benefits some genres and you'll probably want to tweak the equaliser setting.
We really liked that volume can be adjusted in 120 steps compared to the usual 25-30 and this allows you to get it exactly right. That said, you might find it hard to drive higher end headphones. Even with our trusty AudioTechnica M50x, the NW-A35 was pushing 90 of 120 to get to a somewhat satisfactory volume level.
As we mentioned earlier, we switched off all the enhancements built-in by Sony since the colored audio from these may or may not be to everyone's liking. First up is DSEE HX which uses software algorithms to upscale MP3 or even 16bit FLAC to 24 bit Hi Res audio. As is the case with all the other enhancements, the results are a bit of a hit or miss and it really comes down to your preference. On our part, we preferred to keep them switched off though ClearAudio did have a pronounced positive effect on mainstream pop music. The next enhancement is the DC Phase Linearizer which is supposed to make low-frequency response sound more like an analog amplifier. In effect, it adds a certain warmth to bass and lower frequency audio. The Dynamic Normalizer works to reduce differences between audio tracks while the VPT setting allows you to simulate audio environments like a studio. As we mentioned earlier, you'll be best served by keeping most of these switched off to hear your audio the exact way it was meant to be. The Sony NW-A35 includes support for Bluetooth audio but interestingly, it only outputs in the somewhat horrible SBC codec unless you are using a Sony headset that supports the LDAC codec. The lack of AptX support is disappointing, more so considering this is an audio centric device.
Battery Life
Processing Hi-Res audio is a CPU intensive task and battery life predictably suffers when compared to playback of compressed audio. The NW-A35 is rated for 30 hours of Hi-Res playback and 45 hours of Mp3 audio. In our testing, we managed about 26 hours of Hi-Res audio and a little above 45 hours of MP3 audio while playing back pink noise. Your mileage may vary since you'll also be scrolling through your music library, adjusting audio playback.
Conclusion
For a lot of users, phones have taken over the job of dedicated audio players and if you're on a recent flagship, there's a good chance that the DAC on your phone can match or even outperform the NW-A35. For everyone else though, it is going to be a fairly substantial improvement.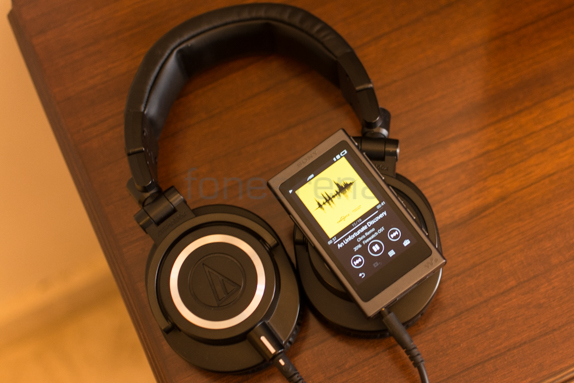 Despite being a relatively entry-level audiophile device, you'll notice a huge improvement if your audio source has so far been a regular smartphone. This is of course dependent on your source audio files. All in all, the gains that you'll see here depends on a mix of high quality source files, the audio player itself as well as the headphones that you use. Priced at Rs. 15,990, the NW-A35 is a pretty good entry point into the world of high-end audio if you are looking at an all-inclusive solution instead of strapping an external DAC to your phone.