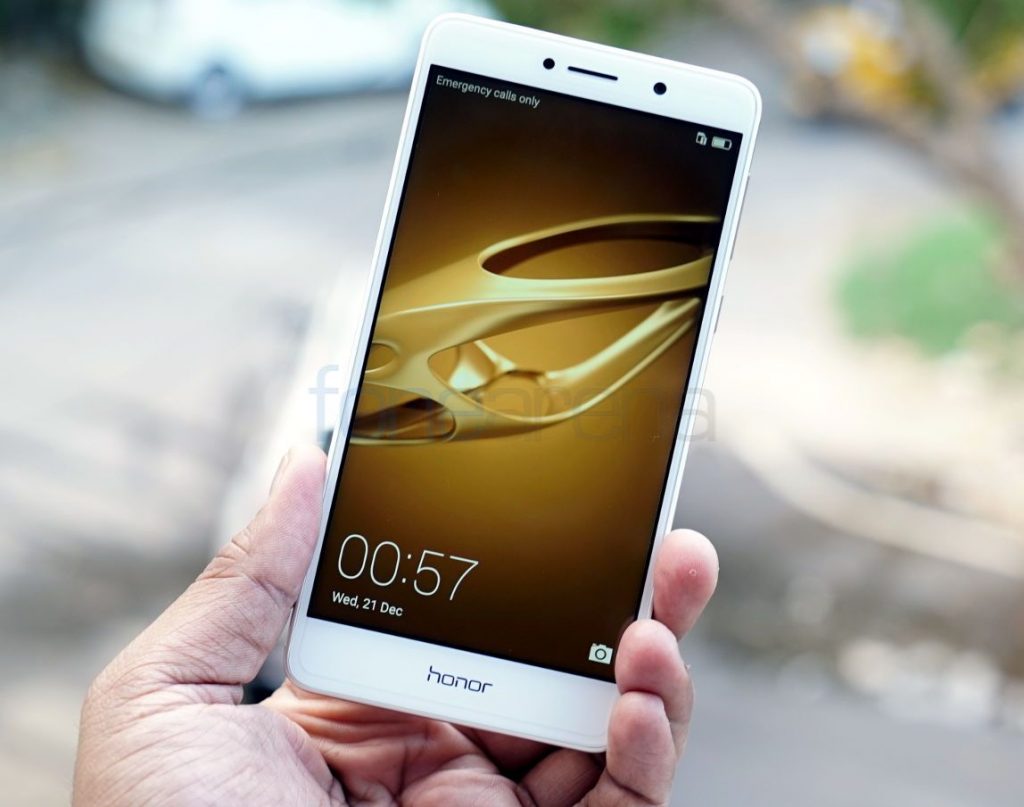 The Honor 6X is the latest smartphone mid-range smartphone from Honor. The successor of last year's Honor 5X comes with dual rear cameras, power-efficient Octa-Core Kirin 655 16nm processor and a unibody metal design. Let us see how it fares in our review.
Unboxing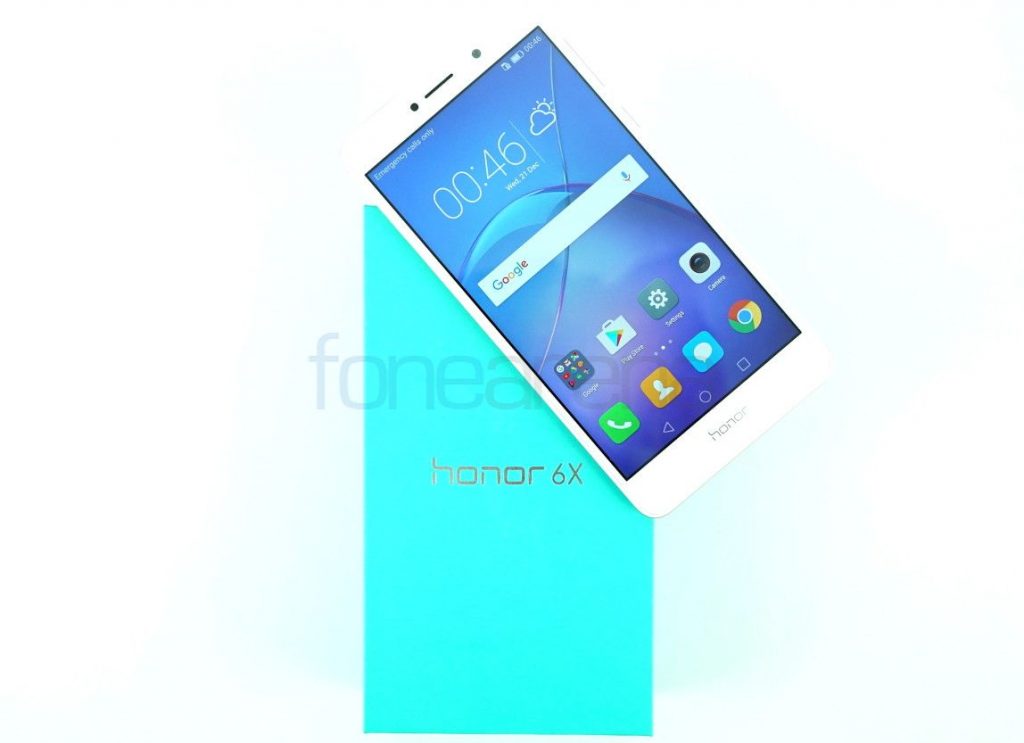 We unboxed the smartphone recently, check out our unboxing video below.
Box Contents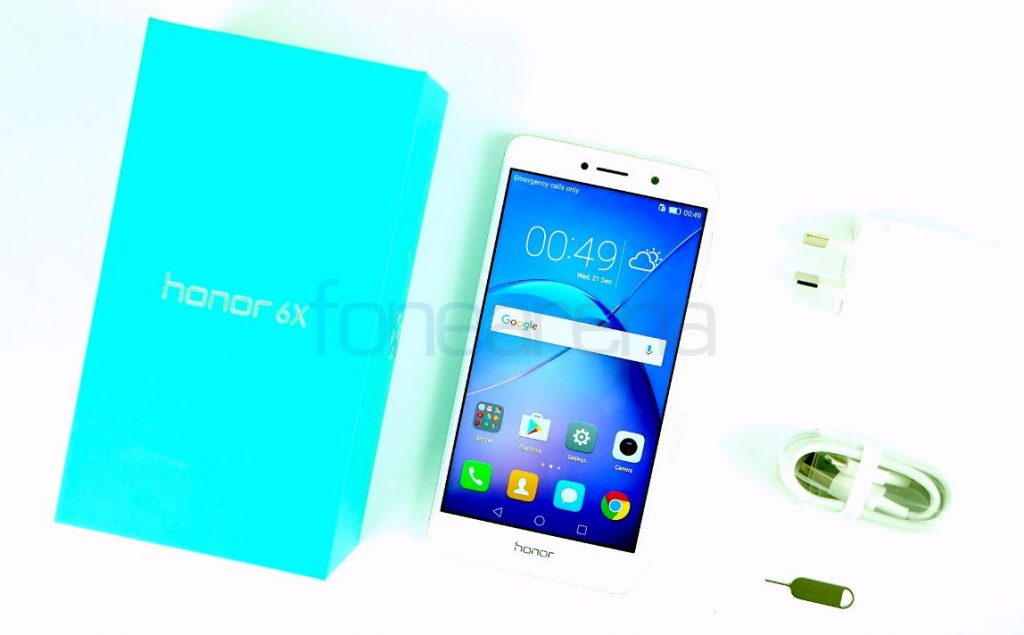 Honor 6X smartphone in Golden colour
2-pin charger (5V-2A)
Micro USB Cable
SIM Ejector tool
Since this is not a retail unit, the box contents might be different.
Display, Hardware and Design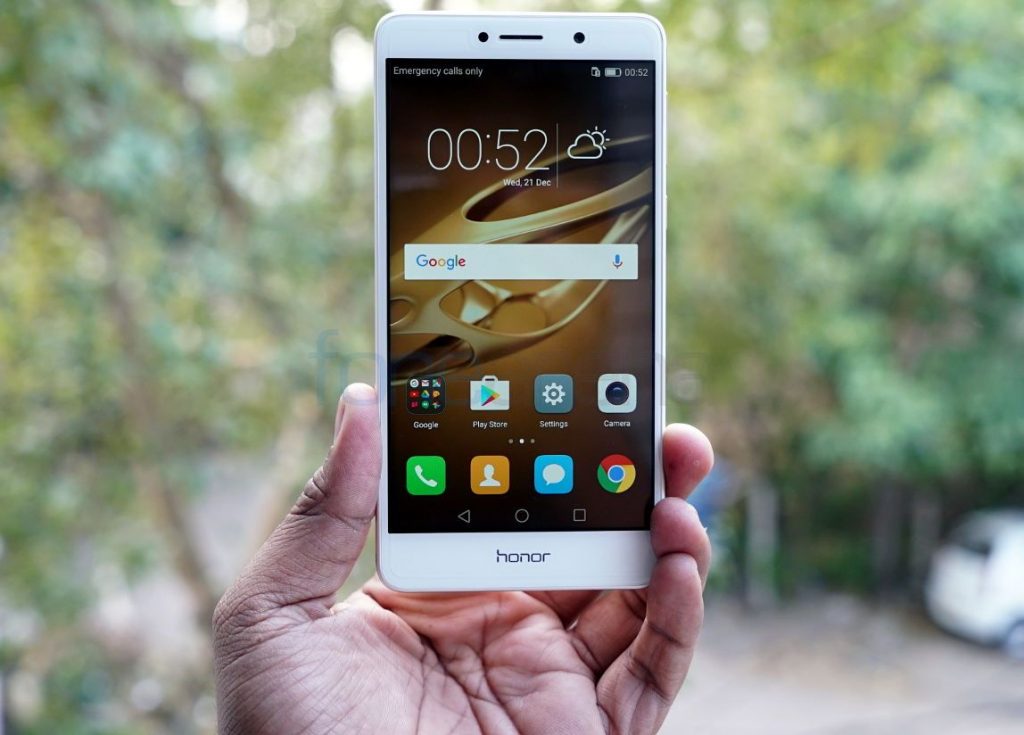 The Honor 6X packs a 5.5-inch Full HD display with a resolution of 1920 by 1080 pixels and a pixel density of about 400 PPI, similar to its predecessor, but this has a 2.5D curved glass screen that gives it a premium look. The display is bright, has vibrant colours and the sunlight legibility is good as well. Since the display is glossy it attract fingerprints.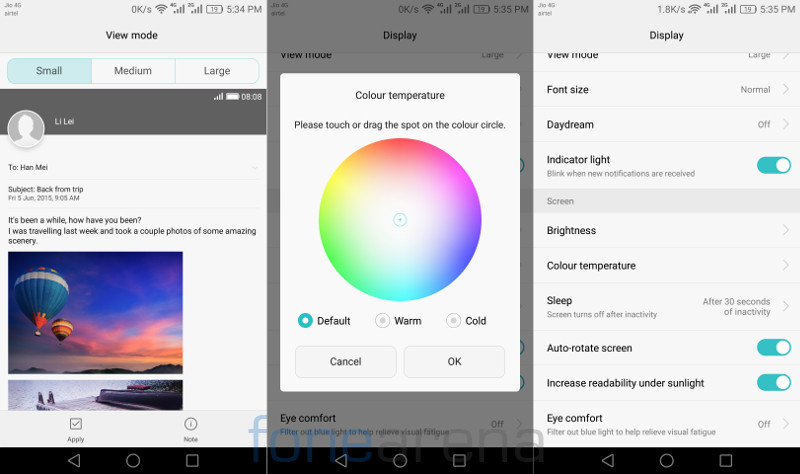 The display settings allows you to change the view mode from Large to Medium or Small if you want to view more content. There are also options to change the font size from normal to small, large, huge and extra huge depending on your preference. You can also change the colour temperature from Default to Warm or Cold. You can also set your preferred colour temperate using the colour circle. There is also an option to increase readability under sunlight which works well by boosting the brightness when the ambient light sensor detects if you are outdoors. The Eye comfort mode filters the blue light so the screen has a yellowish tint when the mode is enabled. This is more useful when you are reading at night as it avoids eye strain.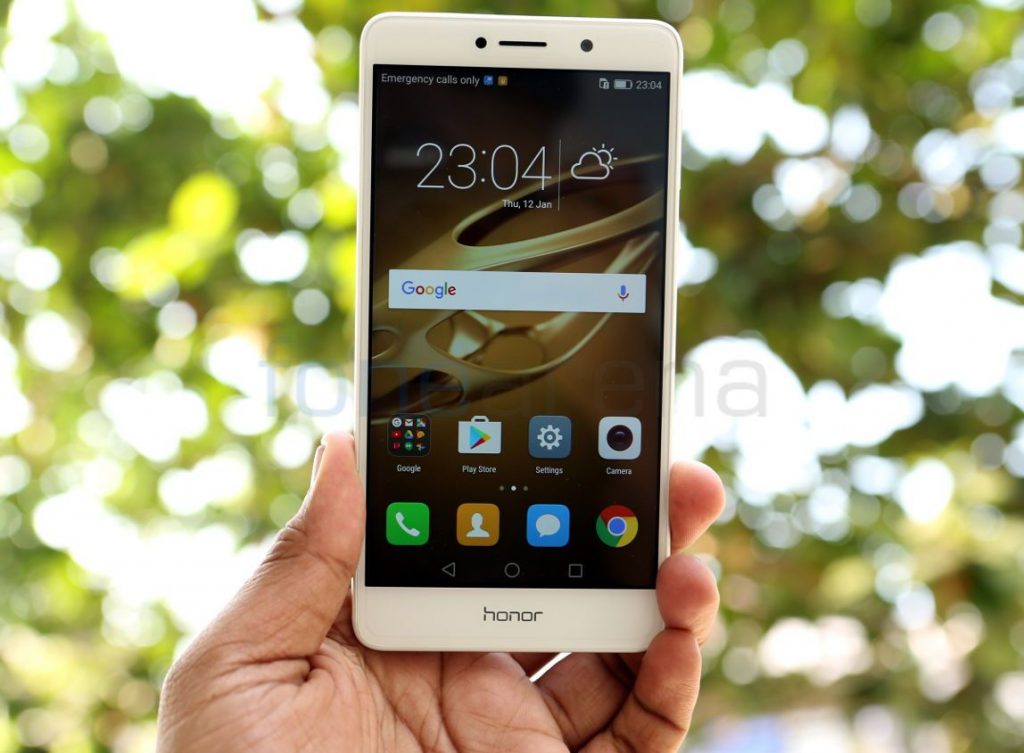 Compared to the Honor 5X, the 6X has a more compact design since it has a screen-to-body ratio of about 76%. Even though the phone looks big, it is just 150.9mm tall and is 72.6mm wide, making it one of the most compact phones with a 5.5-inch screen.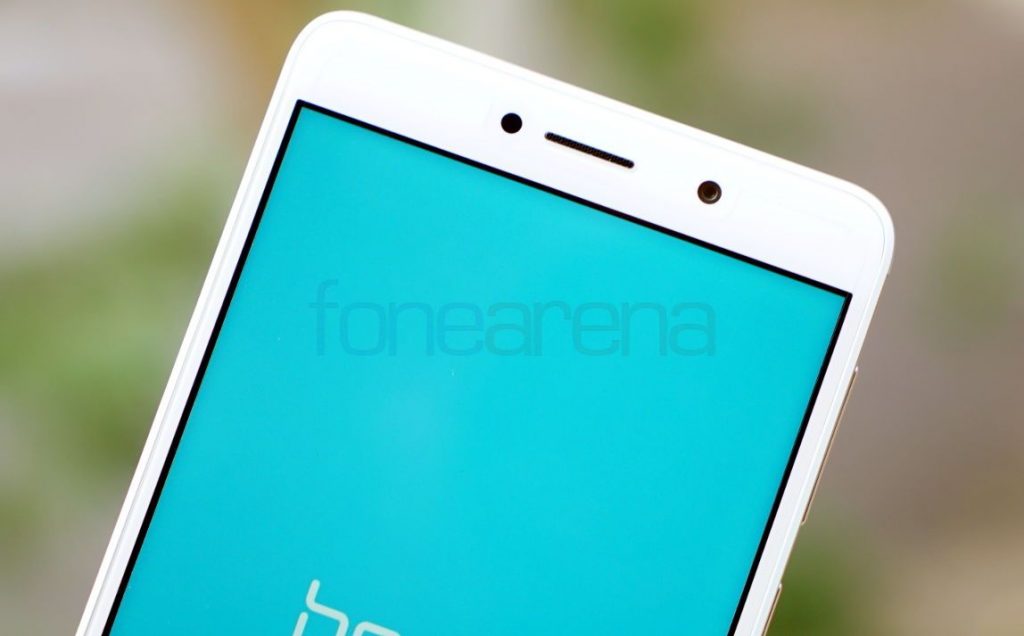 Coming to the hardware, the phone has an 8-megapixel camera on the front, which is an upgrade from the 5-megapixel sensor on the Honor 5X. We shall discuss more about the camera later. There is an earpiece in the center. The usual set of proximity and ambient light sensors are present next to it. There is a tiny notification LED that glows in several colours. The phone also has a magnetic sensor (magnetometer) and gyroscope so you can use the phone with VR headsets.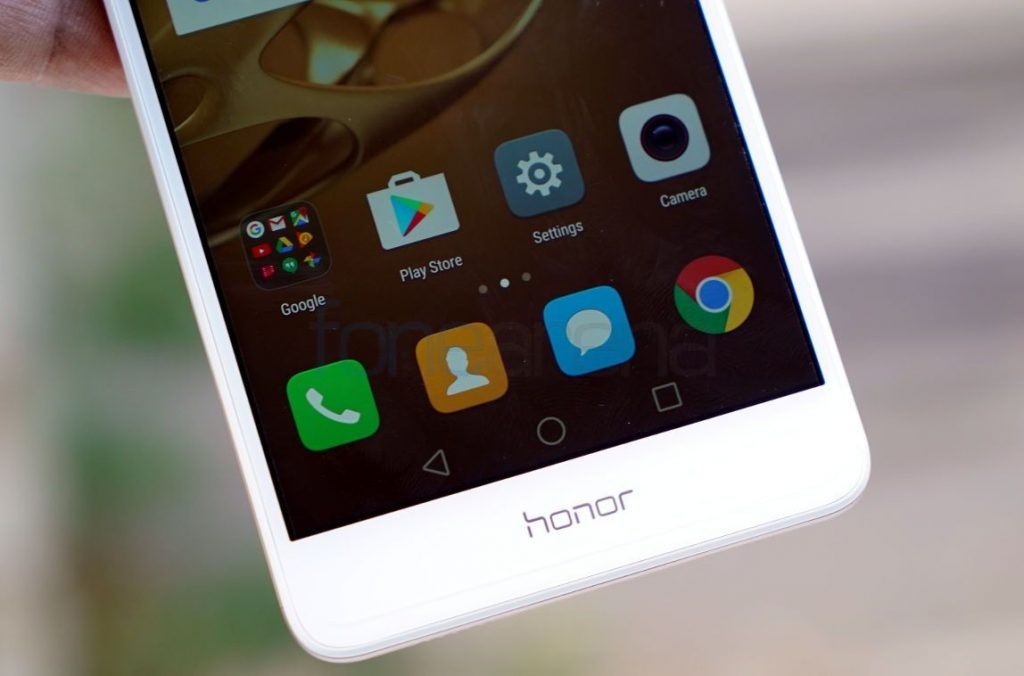 It doesn't have any physical or capacitive touch buttons below the display. There is an Honor branding on the bezel below the display.
On the left side, there is a hybrid SIM tray that accepts two nano SIM cards or a nano SIM and a microSD card up to 128GB in capacity. The volume rockers and the power button are present on the right side. These buttons are also made of metal. The phone is 8.2mm thick.
At the bottom, there are two grills on either side of the micro USB port. One has the loudspeaker and the other one has a microphone. On the top, there is a 3.5mm audio jack along with a secondary microphone.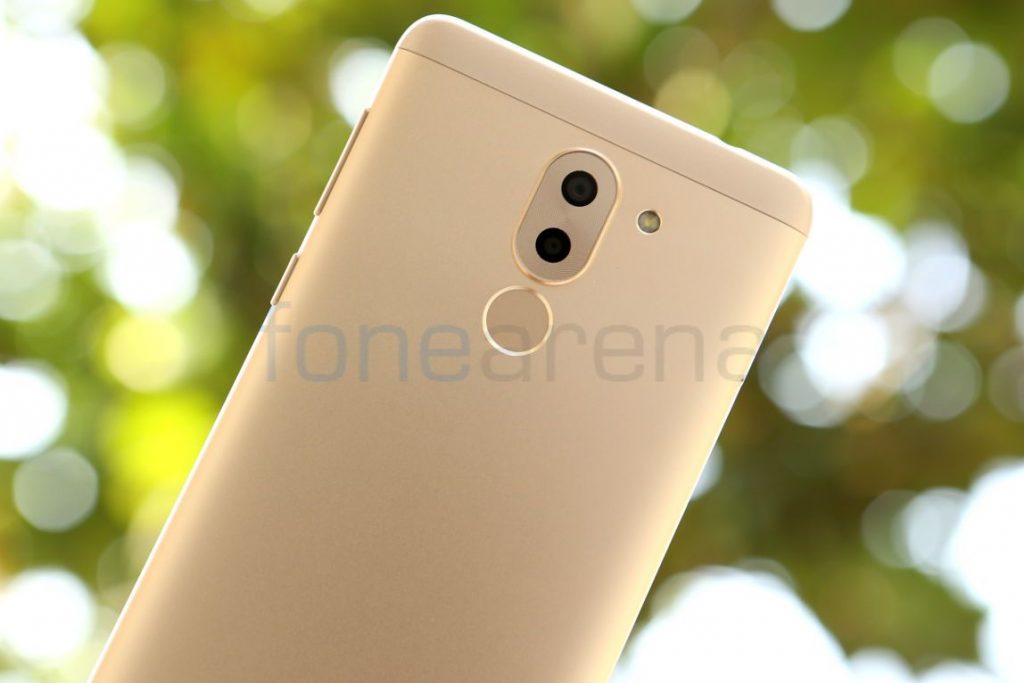 At the back, there is a dual camera setup with a 12-megapixel camera along with a 2-megapixel secondary camera to capture depth information. There is a LED flash next to it and the fingerprint sensor is present below the cameras.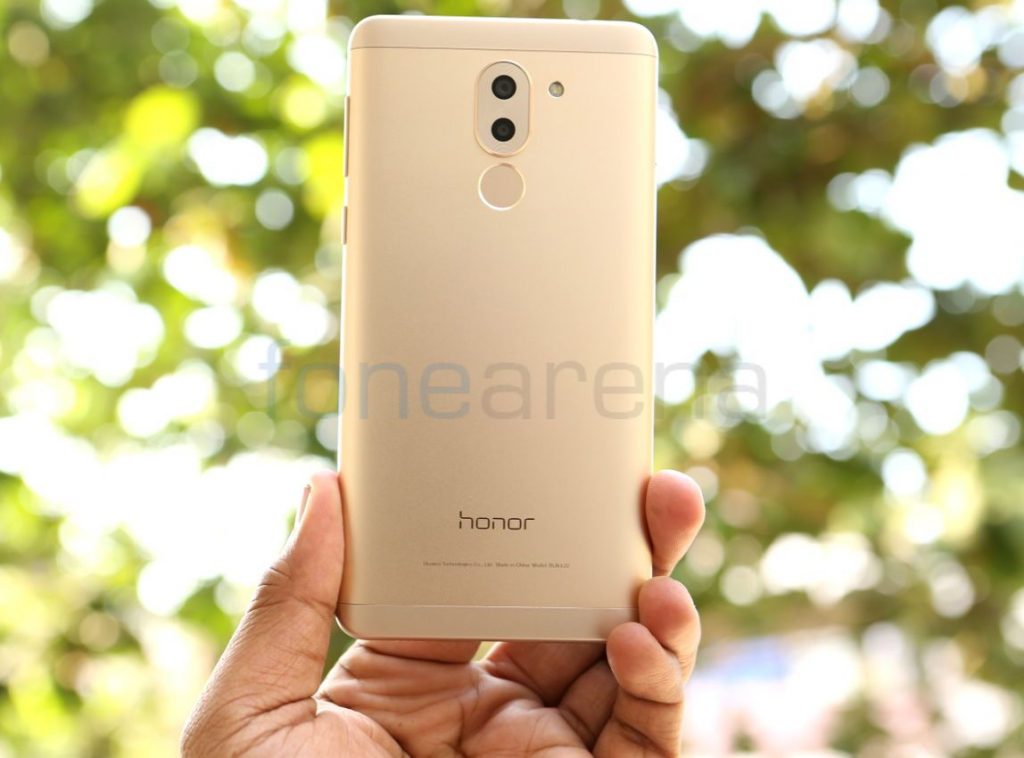 The phone has a uni-body metal design that has a solid feel when you hold it and also offers a premium look. The metal back might be prone to scratches if you put the phone in your pocket along with keys or place the phone on a rough surface. It is recommended to use a case. It weighs 162 grams since it packs a 3340mAh battery. Overall the smartphone has a good display and a solid build quality.
Camera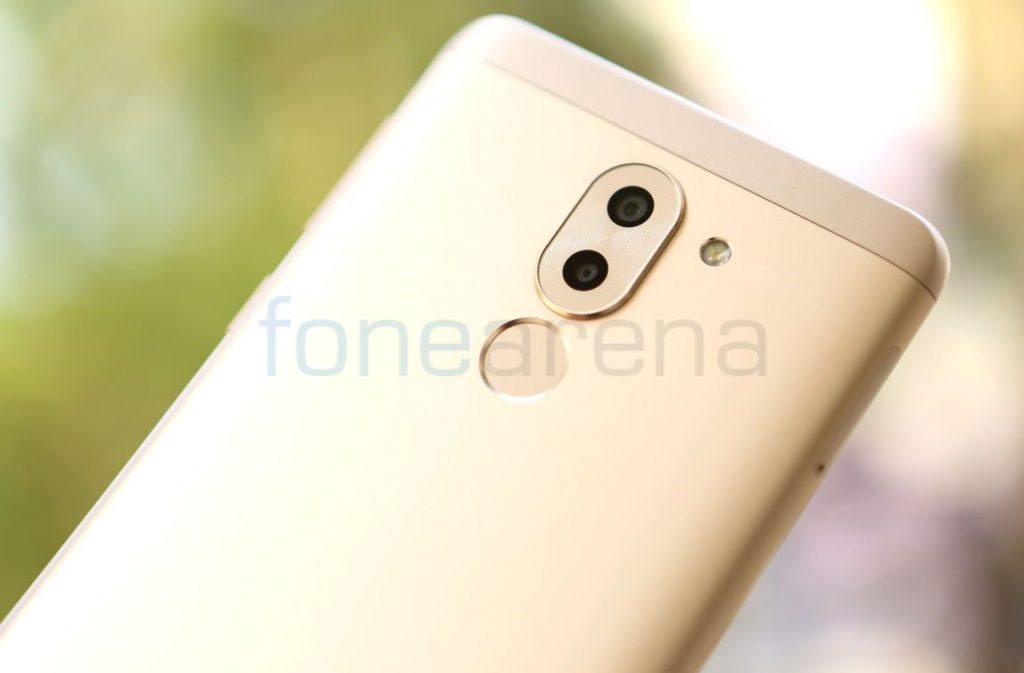 The phone has a 12-megapixel rear camera with Sony IMX386 sensor with 1.25um pixel size, f/2.2 aperture, 6P lens, phase-detection auto-focus (PDAF), LED flash and a secondary 2-megapixel camera for capturing depth information for taking wide-aperture photos.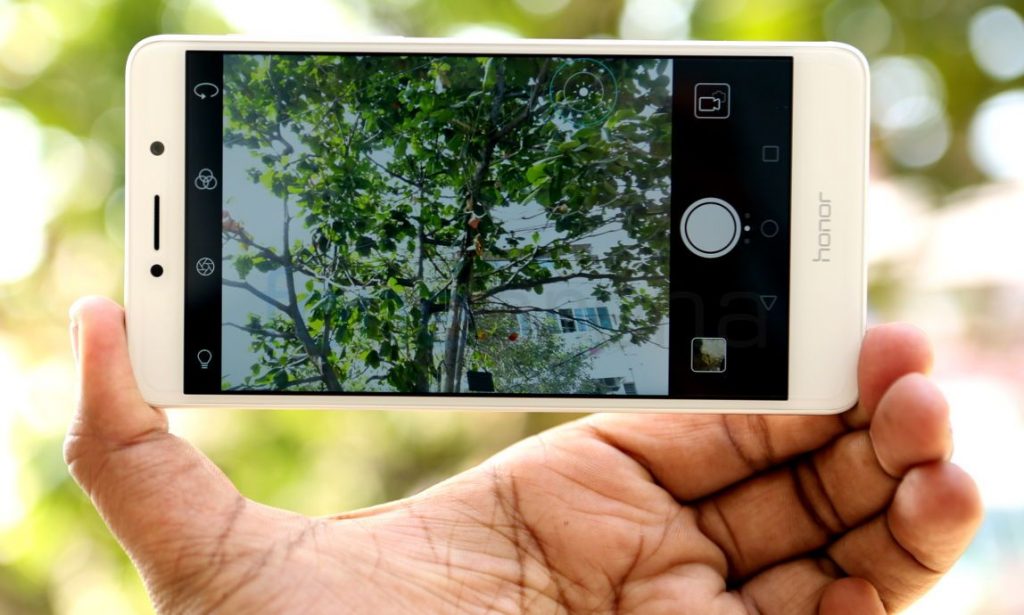 The camera UI is simple with toggle for front and rear cameras, different modes (mono, impact, ND, Valencia, Blue Halo, Nostalgia and Dawn), dual camera mode toggle for taking wide-aperture photos, flash toggle (auto flash, flash light, turn off flash), toggle for still and video camera, shutter button and gallery to view images that are captured recently. Slide from the left reveals several modes, including Pro photo mode that lets you adjust ISO (100 to 1600), Shutter speed (1/4000 to 8 seconds), Exposure value (-4 to 4), focus (AF-S (single area AF), AF-C (auto focus continuous) and MF (manual focus)) and white balance.
Other camera modes are Beauty mode (0 to 10), Pro Video that lets you adjust exposure value, focus and white balance in videos, beauty video, HDR, Night shot, Panorama, Good food, Light painting (Tail lights, Light Graffiti, Silky water and Star track), Time-lapse, Slow-mo, Watermark, Audio note and Document scan. Sliding from the right reveals camera settings that lets you adjust camera resolution (12MP / 8MP at 4:3 aspect ratio, 9MP/6MP at 16:9 aspect ratio, 9MP (2976×2976 pixels at 1:1 aspect ratio), timer ( 2, 5 and 10 seconds), touch to capture, capture smiles to take picture when smiles are detected, object tracking to focus on an object, burst shooting, ultra snapshot to capture image when the phone is locked by pressing the volume down button, and finally option to adjust saturation, contrast, brightness.
The wide aperture mode lets you shoot images with shallow depth of field using dual cameras. Once an image is shot using the wide-aperture mode, you can choose a part of an image and adjust the aperture between f/0.95 and f/16 to blur the background or foreground. Lesser the aperture, the image looks more artificial. You can also add different effects to the background that make the image look more interesting.
Coming to the image quality, the daylight shots are good with good details. HDR shots are nice as well with good dynamic range and macro shots are good as well with fast focus, thanks to PDAF. Images with flash doesn't spoil the picture since it has an ample amount of light that is not overpowering even in close-up shots. Low-light images are good as well even in poor lighting condition, thanks to the sensor with 1.25µm pixels that offers improved low-light performance. The Night shot mode is impressive in capturing perfect image even in poor lighting since the phone has adjustable exposure of up to 32 seconds in the mode. Both the low-light and light painting modes require a tripod since the phone needs to be steady. Both night shot and light painting modes shows live preview, which is impressive.
The front-facing camera is good for selfies and video calls. Overall the camera is impressive and offers several modes compared to other phones in the range.
Check out some camera samples below (Click the image for full-resolution sample).
HDR Samples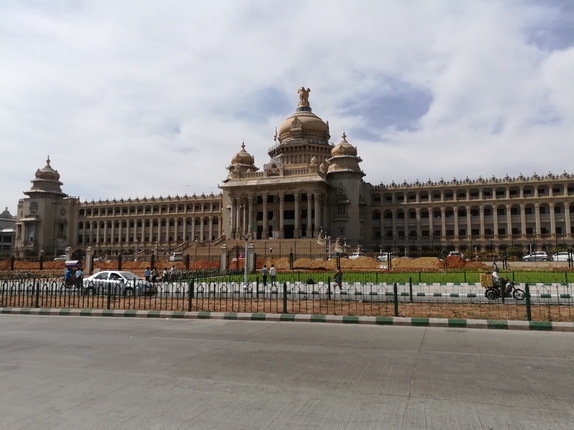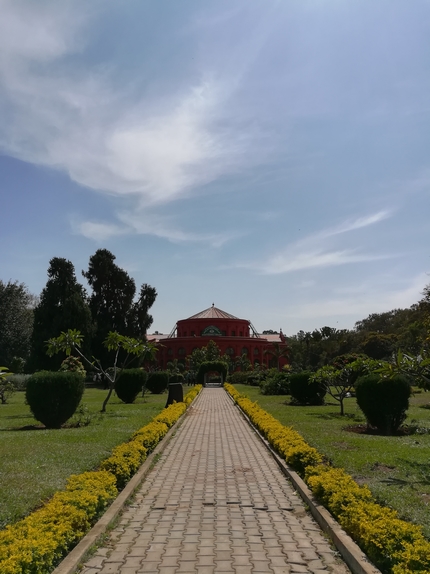 Wide Aperture Samples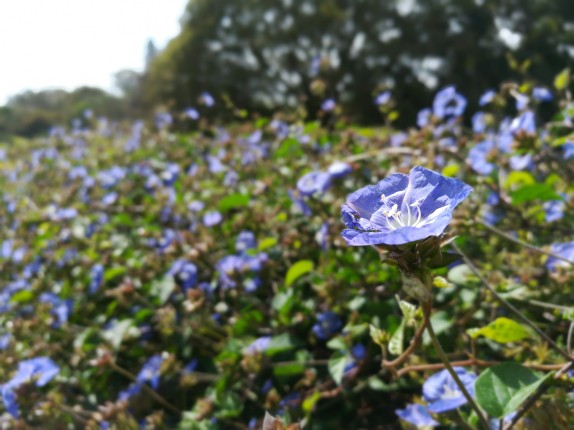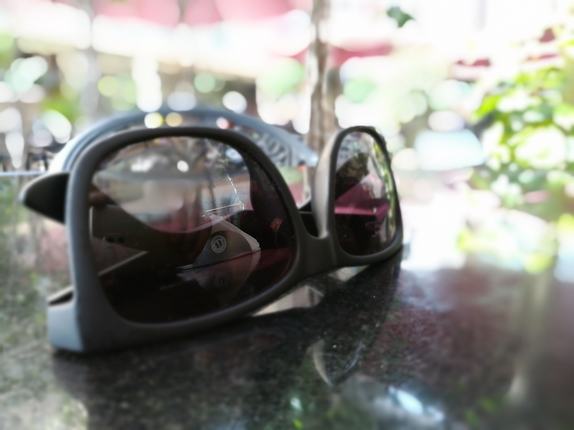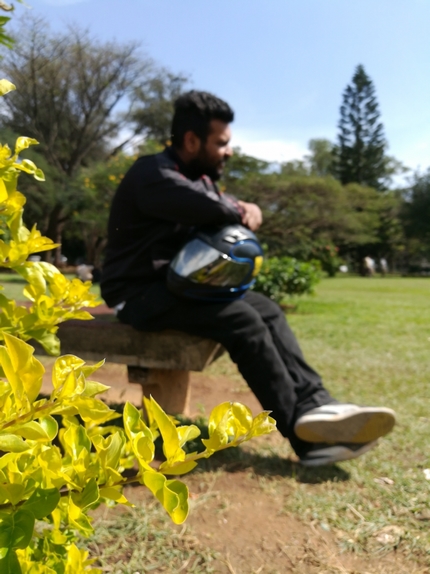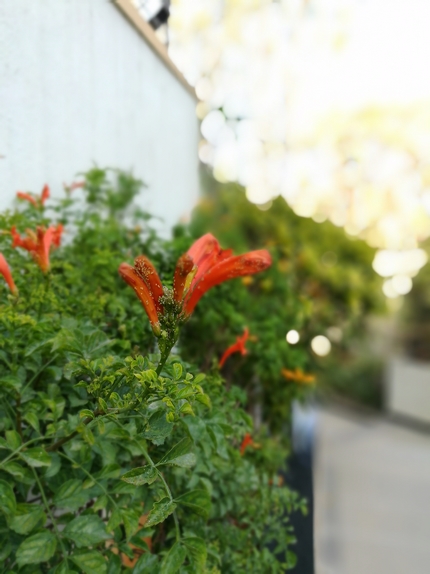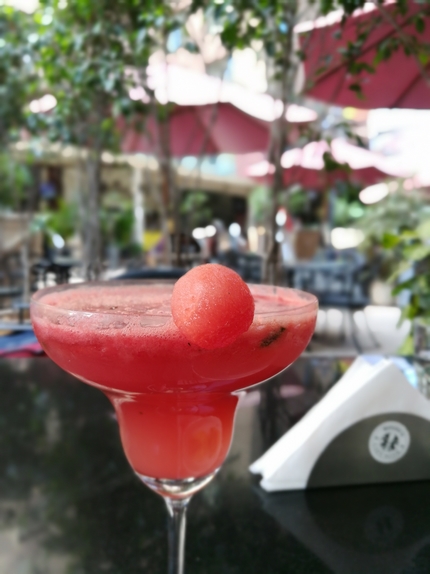 It can record videos at 1080p resolution at 30 fps. Video quality is good with clear details. Thanks to the secondary microphone audio is crisp. It can also record slow-mo videos, but only at VGA resolution.
Check out the 1080p video sample below.
Software, UI and Apps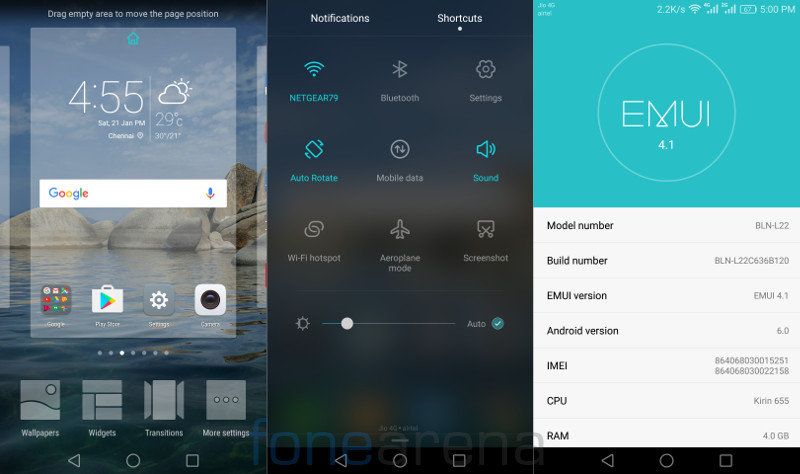 Coming to the software, the phone runs on Android 6.0.1 (Marshmallow) with EMUI 4.1 on top, similar to the Honor 8. The company has promised to roll out EMUI 5 based on Android 7.0 (Nougat) soon, but the time frame of the roll out is not available yet. EMUI lacks an app drawer but users can arrange the apps on their homescreen as per their preference and also group them into folders. There is a simple UI mode as well for those who are not quite tech savvy and those who are visually impaired.
Users can choose whether or not to display the battery percentage and whether they want to have it in the battery logo or next to it. You can also enable displaying the carrier name as well. The recent apps screen has a 2D layout which can be used to jump from one app to the other or clear apps individuals or close all at once by pressing the recycle bin icon. Drag actions option lets you show shortcuts tab when pulling down the notifications tab or show notifications tab by dragging from left or shortcuts tab when dragging from the right.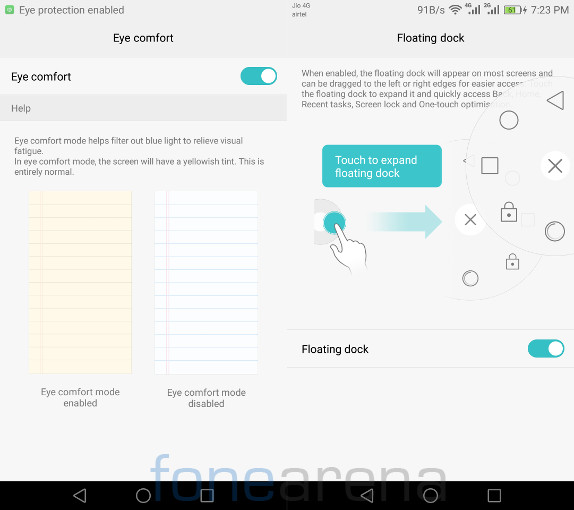 You can choose several combinations of navigation buttons from the settings, add floating dock to access Back, Home, Recent tasks, Screen lock and One-touch optimization. The dock can be dragged to the left or right edges of the screen. Motion control has flip to mute option.
There are two tools that can be used for people who have difficulty in accessing the large screen that's to the mini screen view and the shifting keyboard. There is voice control for quick calling using voice commands, and there are voice broadcasts for incoming calls when connected to headset. The smart cover option lets you choose different type of covers, and the smart headset control lets you use the buttons of the headset to add a song to favourites or switch playback mode, but this works only with the Huawei Music app.
The phone also has scheduled power on and off option so you can turn off the phone during night and turn it on in the morning to save battery. There is also a 'Do not disturb' mode similar to other Android phones running Android Marshmallow. Touch-disable mode disables touch when it detects the phone is in your pocket or bag.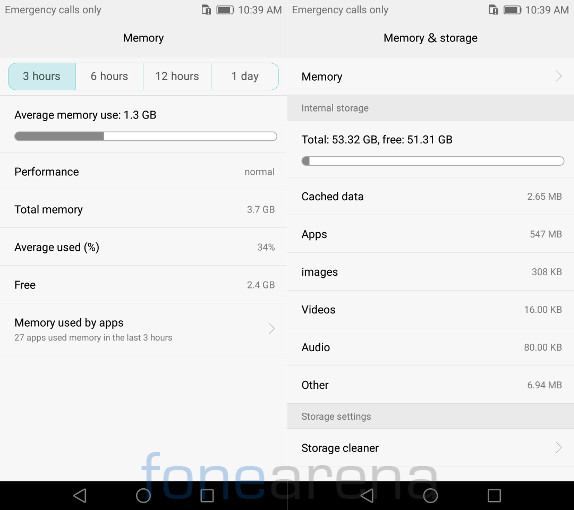 Out of 4GB RAM, 3.7GB of RAM is usable, out of which about 2.4GB of RAM is free when default apps are running in the background. Out of 64GB of internal storage you get about 51.3GB of usable storage.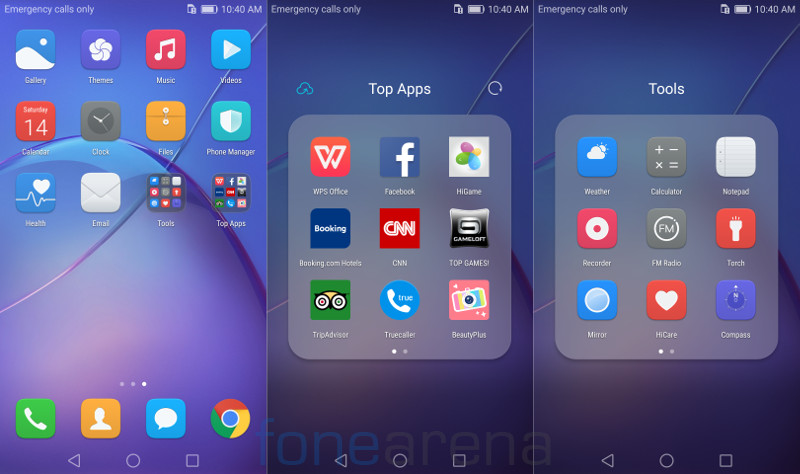 In addition to the usual set of Google Apps and Utility Apps, the phone comes with some third-party apps like Facebook, HiGame, Booking.com Hotels, CNN, Top Games by Gameloft, TripAdvisor, Truecaller and BeautyPlus. These apps can't be uninstalled.
Fingerprint Sensor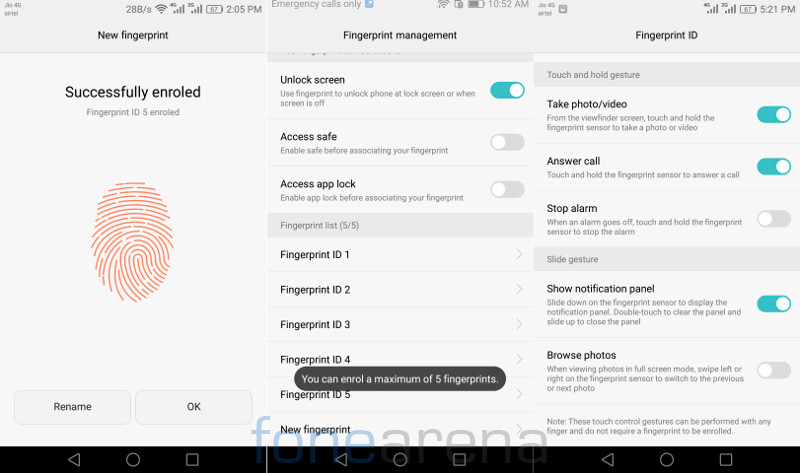 The phone has a fingerprint sensor on the back. Placement of the sensor on the back is perfect, since it is where your index finger rests when you are holding the phone. It is quick to unlock the phone immediately you place your finger on the sensor and also unlocks the screen. You can add up to 5 fingerprints. It also tells you if the fingerprint you add has already been enrolled. There is access safe and app lock that lets you lock files and apps with fingerprints.
There are also fingerprint gestures that let you take photo or video, answer a call or stop alarm when you touch and hold the fingerprint sensor. You can also bring down or slide up the notification panel by scrolling on the fingerprint sensor and double tap to clear notifications. You can also swipe left or right on the fingerprint sensor when using the photos app to switch to previous or next photo. All these fingerprint sensor gestures can be performed with any finger and do not require the fingerprint to be enrolled.
Music Player and FM Radio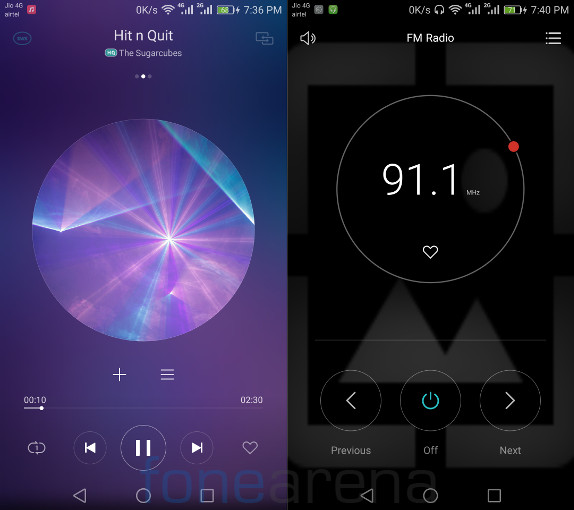 It comes with Huawei's own Music Player that has neat UI. It has a dynamic colour palette that changes based on your album art. Music can be sorted according to the song title, artist, album, folder etc. The now playing screen can display the album art, lyrics and also quick access to the various tracks. You also have the usual track controls, shuffle/repeat and favourite options. It doesn't have equalizer. It also has FM Radio, but it doesn't have recording option.
The output through the loudspeaker is decent but is a mono experience and won't really win any contest in terms of volume outputted. The output through the 3.5mm audio jack is not impressive and is low even with full volume.
Calling and Messaging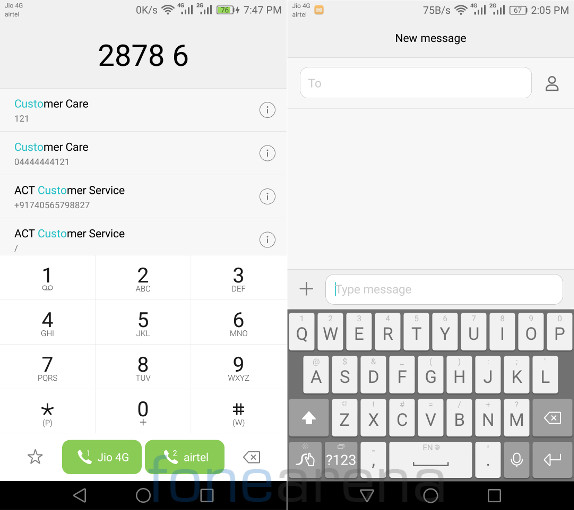 The dialer and messaging apps have option to choose either SIMs if two SIMs are inserted. It has Swype keyboard as default. We did not face any call drops, and the earpiece volume was loud enough to hear even in noisy environment.
Connectivity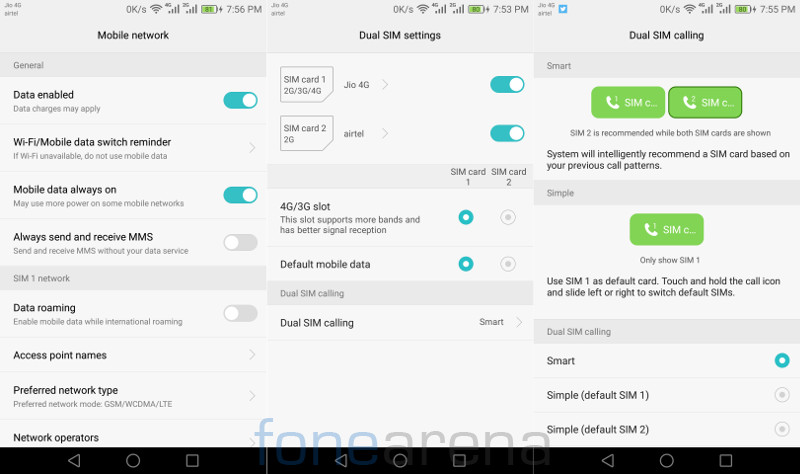 The phone supports all the 4G LTE bands in India but our review unit did not have support VoLTE. The retail unit might come with VoLTE support or it might gain this feature in the future through a firmware update. Both the SIMs support 4G, but you can enable 4G only in one SIM at a time, while the other goes to 2G. You can set the default SIM for data connection, and the Dual SIM calling option has Smart option to allow the phone to intelligently recommend a SIM card based on your previous call patterns and the simple option lets you select SIM 1 or SIM 2 as default to make calls.
It has WiFi 802.11 b/g/n, Bluetooth 4.1, GPS and also has USB OTG support to connect pen drive and other accessories.
Performance
Coming to the performance, it is powered by an Octa-Core Kirin 655 processor with four ARM Cortex-A53 cores clocked at 2.1GHz per core while the other four Cortex-A53 cores are clocked at 1.7GHz per core. Since this is based on 16nm FinFET+ processor technology, it is more power efficient. Performance is good without any lags in the UI even though the UI consumes more RAM.
Thanks to 4GB of RAM, multitasking is smooth. The 3GB RAM version should also be smooth, but having more RAM offers better multitasking. We tried several games, and the gaming performance and graphics were good as well, thanks to Mali T830-MP2 GPU. We also did not face any heating issues during gaming, video recording, camera use and 4G use.
Battery life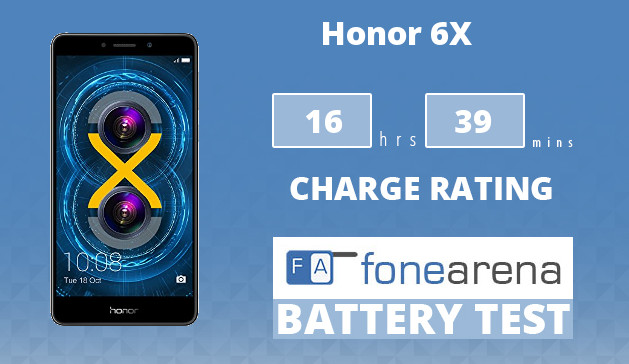 Coming to the battery life, the 3340mAh built-in battery offers brilliant battery life. On full charge, it lasts for a whole day with heavy use such as 4G, video recording, image capturing and gaming. It lasts for two days with average use and three days with minimal use. It has power saving mode that reduces the screen and GPU power consumption to improve the battery life. There is also ultra power saving mode that has only call and message feature to extend the battery more. It also warns about power intensive apps so that you can kill them easily. Based on my use with about 4 hours of screen on time, it lasted for 2 days before it dropped below 10%. This might vary depending on your use.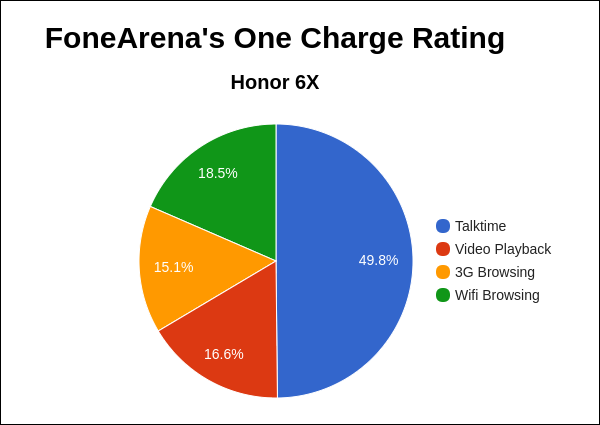 It achieved One Charge rating of 16 hours and 39 minutes, which is impressive for a phone with a 3340mAh battery. It takes about 2 hours to charge the phone since it doesn't have any dedicated Quick Charge or Turbo Charge technology. Check out the complete set of battery test results here.
Conclusion
Overall, the Honor 6X is a good mid-range smartphones with several impressive aspects such as dual rear cameras along with several camera features, impressive battery life and a solid build quality that you rarely see on a smartphone in the price range. It also has a fast fingerprint sensor and the 2.5D curved glass screen offers a premium look. Sure, there are a few kinks like hybrid dual SIM support but perhaps those are things that you can live with considering the pros that the smartphone offers.
The Honor 6X starts at Rs. 12,999 and is available exclusively from Amazon.in starting from February 2nd. To summarize, here are the pros and cons of the smartphone.
Pros
Good build quality
Great rear camera with several modes, dual-lens for wide-aperture photos
Brilliant battery life
Fingerprint sensor is fast and accurate
Good performance
Cons
No VoLTE Support (Currently)
Hybrid dual SIM might not be preferred by everyone
Audio through headset is low