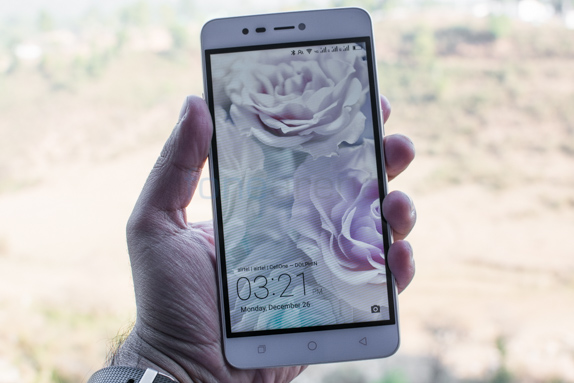 They say that necessity is the mother of invention and true to that, Dual SIM smartphones were born out of the needs of business users, users who travelled a lot and those who often faced signal issues with specific networks. The uptake has been slow but today, a vast majority of phones across categories ship with Dual SIM support. You could say that it is a prerequisite for budget smartphones in India. With the advent of new telecom players like Jio though, those users are now in a dilemma of which SIM card to replace with a Jio SIM. Jokes apart, that certainly seems to be the thought behind the Coolpad Mega 3 as the company recently launched its first Triple SIM device in India. We've been using the device for a couple of days now and here's what we think of it.
Coolpad Mega 3 specifications
5.5-inch (1280 x 720 pixels) HD display
1.25GHz Quad-core MediaTek MT6737 processor with Mali-T720 GPU
2GB RAM, 16GB internal memory, expandable memory up to 64GB with microSD
Android 6.0 (Marshmallow) OS with CoolUI 8.0
Triple SIM
8MP autofocus rear camera with LED Flash, f/2.2 aperture
8MP front-facing camera with LED flash,  f/2.2 aperture, 80.1-degree field of view
Dimensions: 154.4 x 76.8 x 835mm; Weight: 170.5g
4G VoLTE, WiFi 802.11 b/g/n, Bluetooth 4.0, GPS, USB OTG
3050mAh battery
Design
In a market where phones are homologous in terms of design, the Coolpad Mega 3 brings with it an interesting twist to the design game. This is particularly evident over at the rear of the device but for now, let's focus on the front.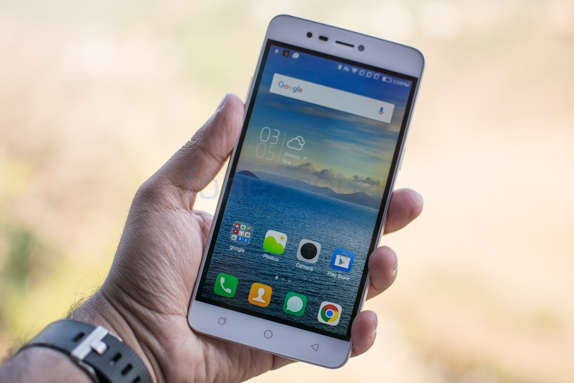 The Coolpad Mega 3 doesn't stray too far from the tried and tested formula pioneered on previous Coolpad phones and for good reason. The phone looks visually appealing though the large black bezels around the display area might be off-putting to some. The white trim around the black bezels further extends the size of the phone making it a bit larger than similarly specced devices. Moving on, up top you'll find an 8MP camera module with an LED flash module. The phone continues to have capacitive keys below the display area and these correspond to back, home and menu functions respectively.
The port selection is pretty standard with a 3.5mm audio jack placed at the top while the micro USB charging port lies along the bottom edge of the device. The power button and volume rockers lie on the right and left side of the phone respectively. The Coolpad Mega 3 is a budget device and this is noticeable in smaller aspects like the tactile feedback which is a bit too springy and doesn't have a very defined action.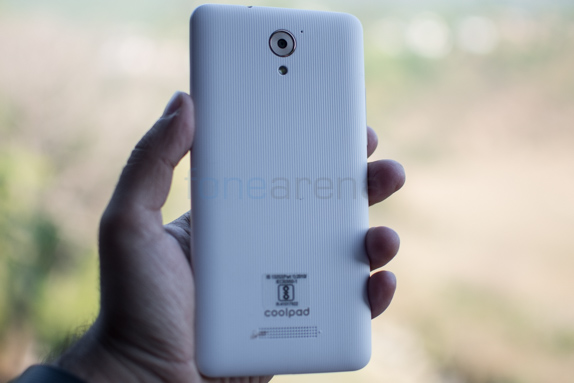 Moving over to the back, the removable panel has a very unique design going for it. The matte plastic panel has ridges running from the top to bottom which makes it very grippy and for the most part, you'll find it quite comfortable to old. We suspect that the grooves will start attracting a bit of grime over time but we haven't noticed that in our review period. The cover itself flexes very easily and isn't of the highest quality so we'd advice not taking it off too often. Under it of course are the three SIM card slots as well as a microSD card slot. You'll also observe the 8MP camera module alongside the single LED flash.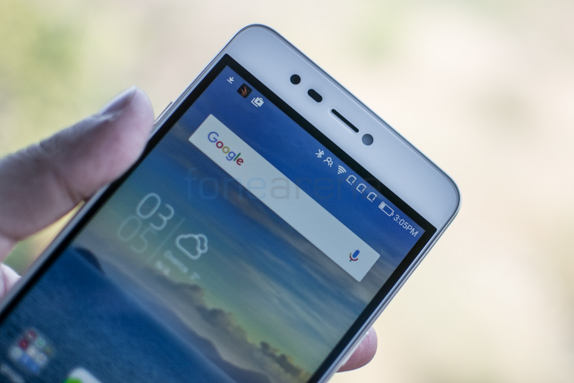 All in all, the Coolpad Mega 3 punches above its weight and has a slightly conservative design that still manages to look good. Some corners have certainly been cut but we can't really complain about it given the price of the phone. The dimensions of the device are 154.4 x 76.8 x 835mm and as we said earlier, we wish that Coolpad had cut down the bezels a bit but the phone continues to be pocketable. The 170grams weight on the other hand is on the heavier side for a device of its class.
Software
If you've used a Coolpad device, you know what to expect in terms of software. Running on Android 6.0.1, Cool UI brings fairly heavy customization in terms of the icon set and more. Unlike many previous Coolpad phones, the device uses an iOS style layout which eschews a separate app drawer.
The lockscreen displays notifications and has time, date information at the bottom. Along the right edge is a shortcut to dive into the camera directly. Swipe up to unlock the phone and you'll notice that the lockscreen doesn't have a sub drawer to access all the apps. What this means is that all applications and widgets co-exist here on the homescreen itself. You always have the option to switch to a third-party launcher which can alleviate these issues. The brightness slider and notification bar toggles have been segregated into a separate UI action that involves sliding up from the bottom of the display. We've seen this before in a couple of phones and find it to be fairly intuitive as swiping up from the bottom of the screen with your thumb is often more convenient that stretching all the way till the top.
The launcher brings with it a range of customization options including the regular widgets, wallpapers to page scroll effects. You can also change the grid size. Other customization options include Wake Up Gestures that let you double tap to wake, draw icons to launch specific functions. There's a surprising depth to level of customization on offer which also includes an auto-run manager, auto-clean whitelist and auto-freeze whitelist. While these aren't unheard of, you don't see these features all that often at such a price point. Play with them enough and you should be eke out more performance and battery life too.
In terms of pre-installed apps, the Coolpad Mega 3 sits somewhere around the middle of the  bench. Not entirely devoid of bloat, you get apps like the Cool Manager, Cleaner, UC Browser and more. This isn't as bad as what you get from many other OEMs but we would still prefer a cleaner build of Android.
Performance
If you're expecting all out performance, you should probably stop reading the review right about here. The Coolpad Mega 3 just isn't meant for performance oriented users. The 1.25GHz Quad-core MediaTek MT6737 processor with Mali-T720 GPU offers a decent balance between battery sipping capabilities and performance. Day-to-day usage was alright and other than a rare stutter or two, we never really experienced performance issues. Games aren't really the device's forte and we observed long loading times and lackluster performance here. We've included a number of synthetic benchmarks below that'll give you a better idea of comparative performance.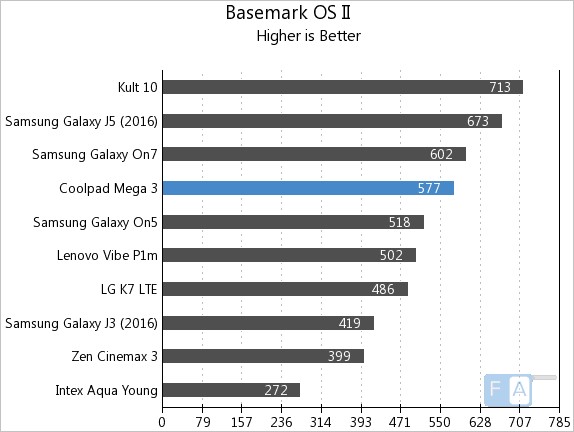 In the Basemark benchmark, the Coolpad Mega 3 scores 577 points.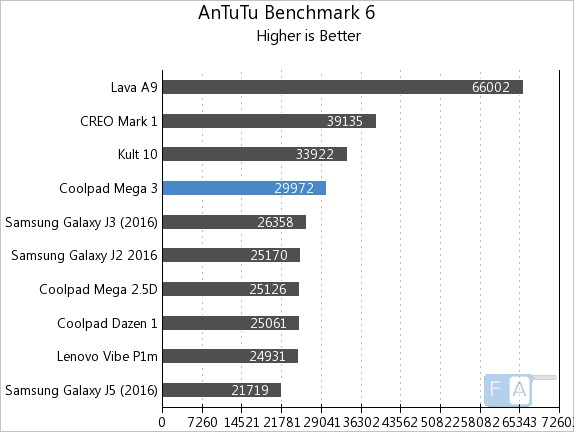 The phone scores 29972 points in the AnTuTu benchmark which is in line with most of the competition.
In the 3D Mark Ice Storm benchmark, the Coolpad Mega 3 scores 3777 points. Overall, the Coolpad Mega 3, delivers decent enough performance but high end tasks and gaming certainly aren't its strong points.
Display
The Coolpad Mega 3 is equipped with a 5.5 inch 720p displays which puts it at a relative disadvantage to its competitors. Where most phones are switching to Full HD panels, the 720p panel seems a bit lackluster on paper.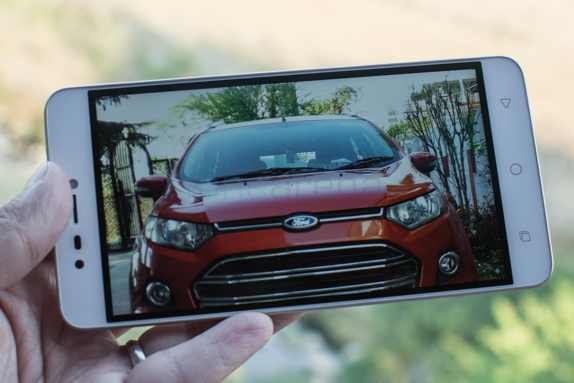 Spending some time with it, we observed the panel to be bright, vibrant and usable for the most part. Of course, look at it closely and you'll notice the rough edges around icons, text but it isn't bad enough to be a deal breaker. Generally speaking, we've found the display panels used on Coolpad phones to be very decent and that continues here. Sunlight visibility is good and we had no issues with viewing the phone outdoors though we did have to crank up the brightness. Similarly contrast levels are quite decent for the category and you won't really be disappointed if you're planning to watch a lot of media content on the device.
Camera
The 8MP rear facing camera on the Coolpad Mega 3 is about par for the course. Below it you'll notice a single LED flash which may come in handy in a jiffy but you should probably keep that switched off.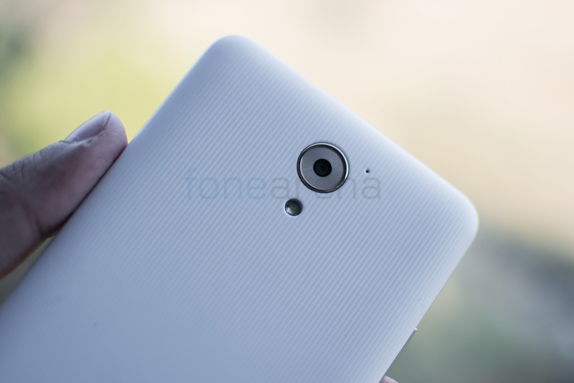 The camera app is as robust as they come at this price point. A Pro mode built into the software allows you to manipulate focus, exposure and ISO though we suspect most users will stick to the automatic mode.
Camera quality on its own is fairly average. The heavy-handed noise reduction gives everything a slightly blurred out look. Dynamic range is predictably limited which means that more often than not, the highlights will be blown and you'll lose details in the shadow region. The camera is definitely not the strong suit of this device.
Connectivity & Battery Life
Connectivity options on the phone include 4G VoLTE, WiFi 802.11 b/g/n, Bluetooth 4.0, GPS and USB OTG. But there's one aspect of the Coolpad Mega 3 that really sets it apart. The phone supports three SIM cards. Let that sink in, you can put in three separate SIM cards on your phone simultaneously. Relatively unique, the implementation is pretty good and once you start using it, not that outlandish either. You can set any of the SIM cards to use 4G data which is certainly handy. Do note that this is not triple SIM active device which means that you won't be able to receive a call on an alternate SIM if you are already on a call. There's about 10.29 GB of the 16GB of storage available on board. You can expand this via the dedicated microSD card slot as well as USB OTG.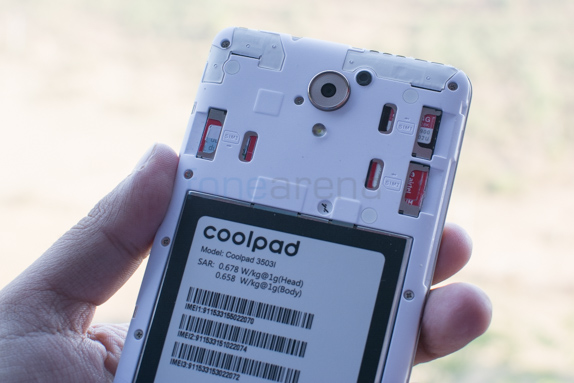 The 3,050 mAh battery on the Mega 3 delivers all day longevity but isn't as good as some of the 4,000 mAh toting competition. We usually got about a full day of battery life but on several occasions we had to top off the device to get through the evening. We wish Coolpad would've opted for a slightly larger battery to compensate for the three SIM card slots and large display. Power users might be able to extend battery further by playing around with the app free settings.
Conclusion
The Coolpad Mega 3 is a very peculiar device. Really, there's not much of a competition for the phone given that hardly anyone makes triple SIM devices. If that is not something that you are looking for then Coolpad's other devices or Xiaomi's Redmi series might prove to be a better bet due to the larger batteries and generally higher degree of refinement.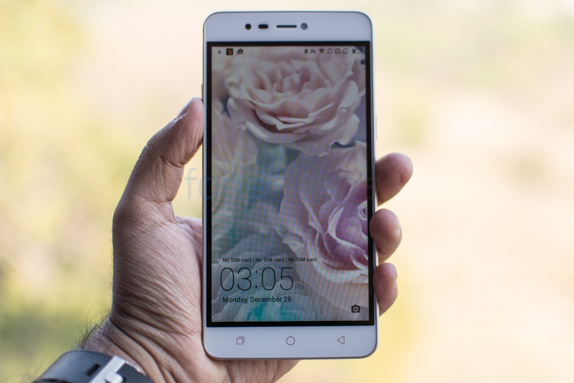 However from a sheer communications perspective, the Mega 3 delivers a very decent experience and for the most part, you won't find much to complain about. The phone is not really meant as a photography tool and the camera will just about suffice if you really need to capture a shot and little else. Same goes for the multimedia capability where the display is good enough for binging on YouTube content. Priced at Rs. 6,999, the Coolpad Mega 3 is a pretty solid communications device.
Pros
Cons
Camera
Underwhelming battery