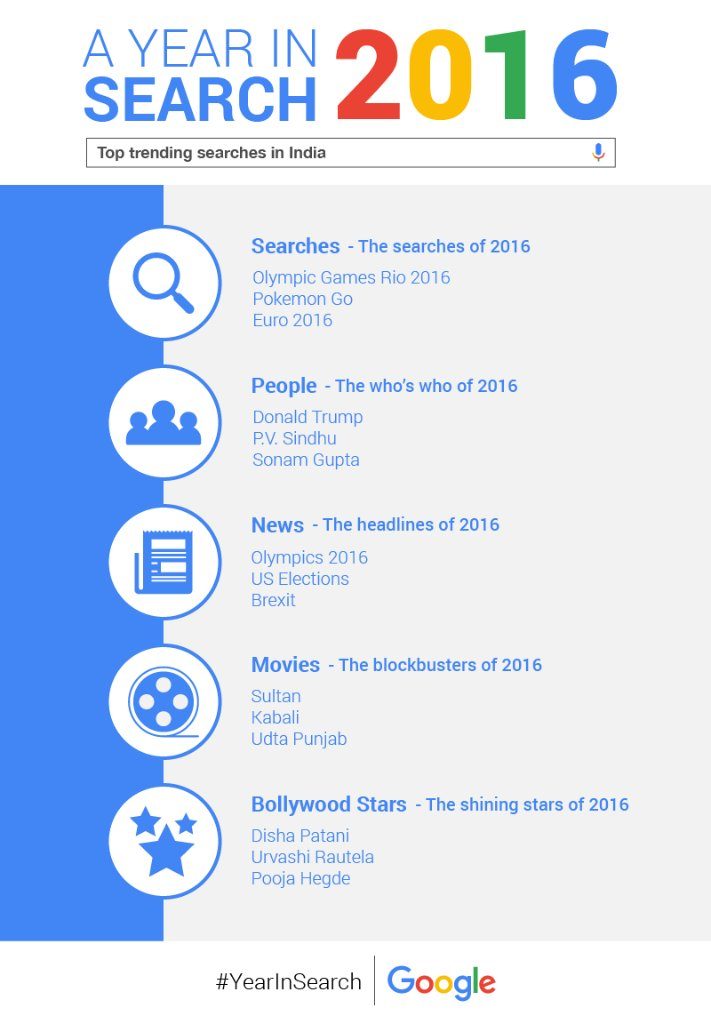 After Twitter and Facebook, Google has released the list of top trending searches in India in 2016. The recap highlights all the biggest moments, major events and users interests based on trillions of searches made by Indians on Google this year.

Rio Olympics 2016 emerged as the top trending search query on Google in 2016 followed by Pokemon Go and Euro 2016. Donald Trump was the top most search in case of trending people followed by P V Sindhu and Sonam Gupta (Sonam Gupta bewafa hai fame). Meanwhile, in case of top trending movies, Sultan grabbed the top spot followed by Rajnikant's Kabali at second spot and Udta Punjab at third. Sushant Singh Rajput was the top trending Bollywood male actor while Disha Patani was top trending Bollywood female actor. Rio Olymics 2016 was also the top trending news events followed by US elections and Brexit.
The 7th Pay commission, Demonetization, and the strategic surgical strike on terror groups caught everyone's attention and generated a great deal of search curiosity among Indian users. Click here to see more information about Year in Search across the globe.