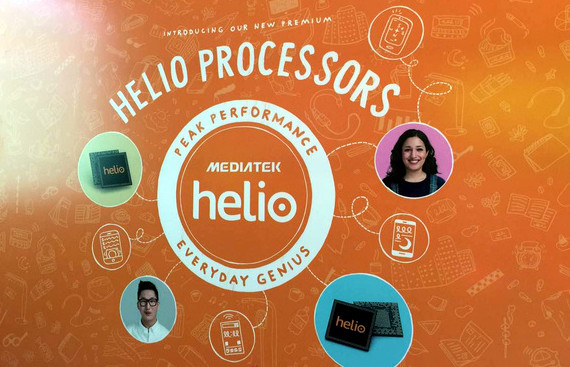 MediaTek today announced Helio X23 and Helio X27,  an upgrade to Helio X20 and Helio X25 processors in the Helio X20 family. The company says that these processor have better overall performance, camera quality and power consumption compared to its predecessors.
Both the MediaTek Helio X23 and X27 feature Mediatek Tri-Cluster Deca-core architecture (2x ARM Cortex-A72 + 4x ARM Cortex-A53 + 4x ARM Cortex-A53) and MediaTek CorePilot 3.0 technology. Both these have ARM Mali T880 MP4 GPU and support up to 4GB 2x LPDDR3 800MHz RAM.
"MediaTek Helio X27 offers a speed upgrade over the currently highest-end X25, operating at 2.6GHz for the ARM Cortex-A72 cores and 875MHz for the ARM Mali GPU. Both products deliver more than a 20% overall processing improvement and significant increases in Web browsing and application launching speeds based on MediaTek-engineered advancements in the CPU/GPU heterogeneous computing scheduling algorithm," said MediaTek.
Both these fully support dual camera photography with the upgraded MediaTek Imagiq image signal-processing solution and boast significant improvements in image clarity, saturation, exposure control, portrait performance, and large aperture applications optimized through the color+mono smart dual camera and dual phase-detection systems.
These also include MiraVision EnergySmart Screen power-saving technology that effectively modifies the smart display parameters based on the on-screen content and ambient lighting for up to a 25% reduction in display power consumption. Combined, these features give users the best visual experience possible. These have Envelope Tracking Module that provides further power-efficiency by dynamically adjusts the output voltage based on signal strength from the power amplifier, averaging a 15% reduction in power consumption during peak output.
Check out the complete specifications and comparison with the other X20 series of processors below.