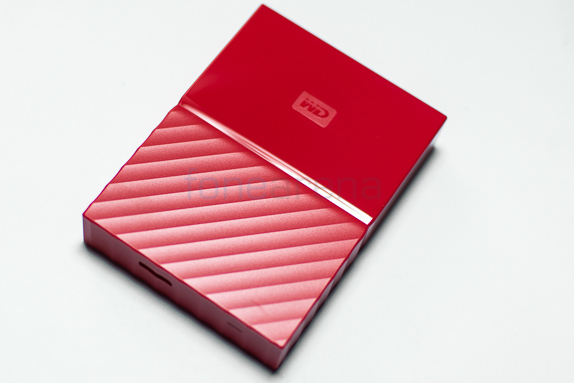 Western Digital or WD as it is commonly called is a house hold name when it comes to storage products. From the old full size external hard drives, cloud connected drives to the present day 2.5″ Passport sized drives, the company has a product for everyone. With the colorful new My Passport refresh, WD seems to be aiming at a more youthful demographic. Read on for the review where we'll talk about both the design element as well as the drive performance.
Design
As we saw with in our Seagate Backup Plus Ultra Slim review, it is quite evident that design is fast becoming a premier element for a product that has traditionally been just a spinning drive in a black box. Designed by Yves Behar, the design is quite unlike anything else on the market. You wouldn't mind this hard drive lying around the living room.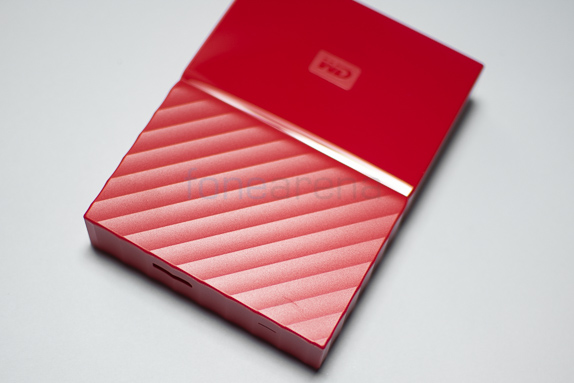 With the 2016 edition My Passport drives, WD is giving their already good-looking and slim portable drives a complete makeover. Dressed up in pastel shades and chunky designs, the My Passport drive almost looks like a lego brick from afar. The chunky feel makes sure that it is very grippy and looks really unique albeit a bit thicker than the competition.There's a two-tone gradient on the face of the drive that further accentuates design. The parts are segregated by matte and glossy finishes with the latter being a fingerprint and smudge magnet. Unfortunately, we see this getting scratched really quickly.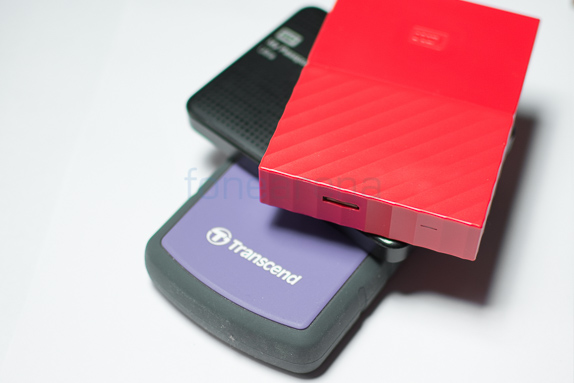 The drive isn't the slimmest around but with 3 terabytes of storage on board, it is hard to find fault with this. Compared to a previous generation 1TB WD My Passport Ultra and a 2TB Transcend drive, you'll observe that the new 2016 edition My Passport drive sits right between the two.
WD has clearly paid a lot of attention to detail as is evident in the rubber feet built into the lower half of the drive. This allows you to place it conveniently on a desk without fear of it slipping off. Additionally, it'll lift up the glossy surface ensuring it doesn't get scratched.
Performance
The hard drive interfaces over USB 3.0 and so theoretically has a maximum transfer rate of 5gbps but that of course does not correspond to real life performance.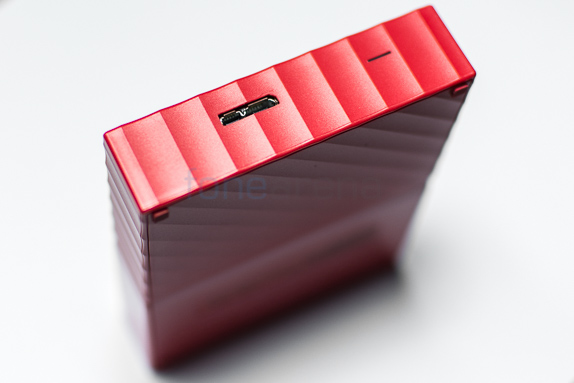 We performed a series of hard drive benchmarks on the WD My Passport 3TB and pitted it against some other drives like the Seagate Ultra 1TB, Transcend StoreJet 2Tb and WD Ultra 1TB. Since hard drives perform very differently when you are transferring multiple smaller files versus larger single files, we accounted for both when performing our read / write speed tests.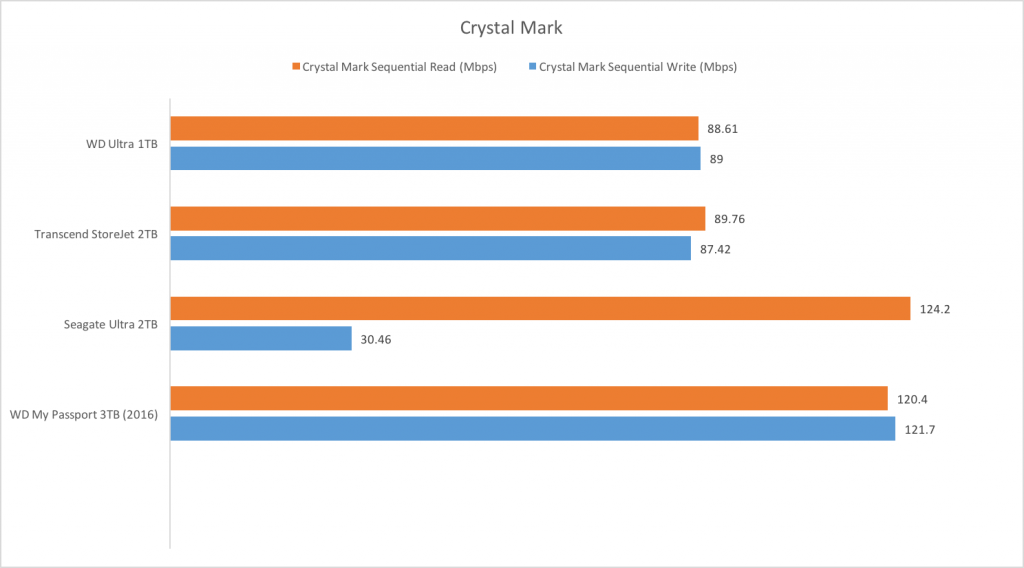 In Crystal Mark, the new WD My Passport 3TB scored amongst the highest speeds in our test bench. With a simulated mixed file transfer load of 4GB, the My Passport drive achieved write speeds of 121.7Mbps and read speeds of 120.4Mbps. This is well ahead of our previous generation WD Drive that achieved 89 and 88.61 Mbps respectively on the benchmark. The Seagate drive performs rather poorly in contrast with write speeds of just 30.46Mbps.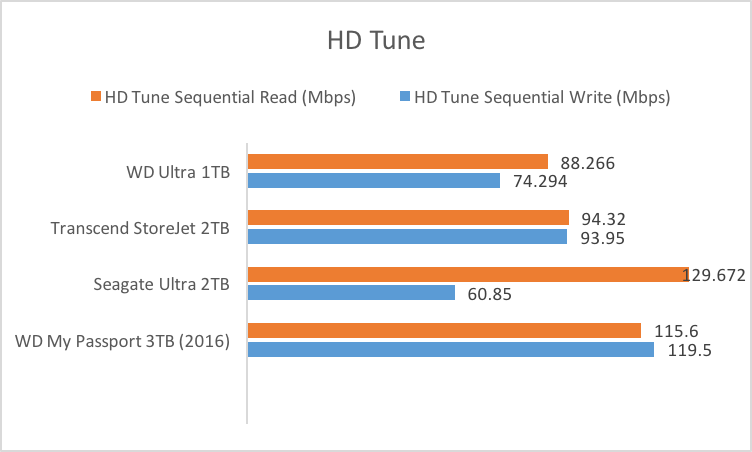 We performed a similar test in the HD Tune benchmark as well where the simulated file transfer size was 2 Gigabytes for the read and write tests. Once again, the WD My Passport 3TB drive performed well with write speeds touching 120Mbps and read speeds of 115Mbps. The healthy speed boost on both parameters suggests that the latest drives would be a good upgrade for someone running an older hard drive.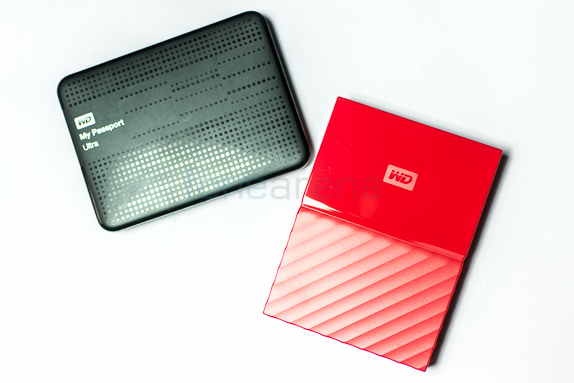 Across our tests, we observed that the latest generation of My Passport drives are amongst the fastest in both read and write speeds. Yes, in read speeds, the Seagate Ultra often overtook the My Passport however the difference is minimal. Additionally the poor write speeds when placed against the My Passport 3TB make the Seagate drive a non starter.
Miscellaneous
A color coordinated USB cable ships in the box alongside a range of software. These range from back up utilities to encryption software however you'll be better served by more robust third-party software. The drive ships formatted in the NTFS file system but formatting to exFAT is quick and painless and will allow you to use the drive on both Windows and Mac.
Conclusion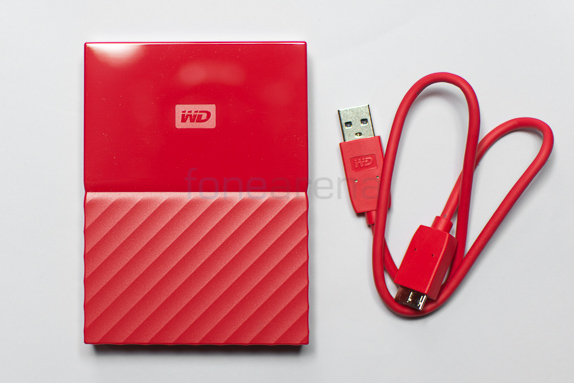 It is impressive to see innovation in the storage industry and the My Passport drive is a testament to that. A 3 TB drive in such a form factor would have seemed like science fiction just a few years ago but such is the pace of technology. The My Passport 3TB (2016) is one of the fastest spinning disk portable drives around. While not the most compact, it'll easy fit any bag and most pockets too unless you opt for skinny jeans!  For most of us, we're stuck on spindle based drives till the time terabyte class SSDs become affordable. Keeping that in mind, the WD My Passport range offers tremendous value. The range starts at Rs. 7,980 for the 1TB drive and goes up to 17,140 for the 4TB drive.