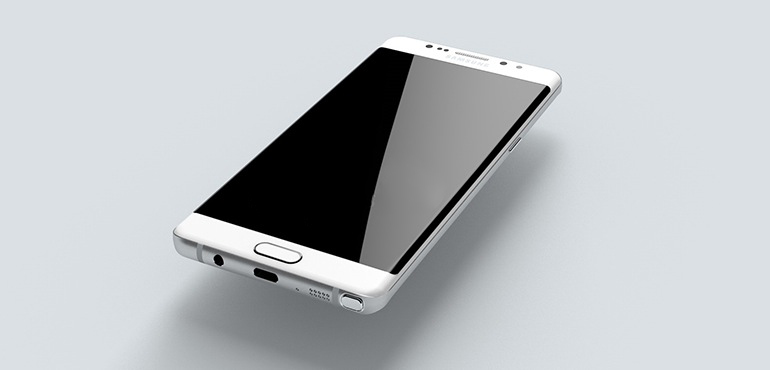 The design of the upcoming Samsung Galaxy Note6 or Note7 has just surfaced in a new blueprints video. The design is pretty much what you would expect from the successor of the Note5 as it refines the design and also take elements from the Galaxy S7 Edge.
You can see the dual curved display up front as well as the curved back edges. The main difference though is that the basic shape isn't as rounded as say the Galaxy S7 or S7 Edge but more of a rectangular shape with rounded corners just like its predecessor.  The main difference that will catch your eye is perhaps the USB Type-C port at the bottom which suggests that the new Note will be Samsung's first device to break free from the microUSB standard. In the past, Samsung have experimented with USB 3.0 on the Note 3 first and subsequently with the S5. However, that was met with criticism so perhaps they wanted to make sure that this implementation would be done well.
It also explains Samsung's interest to sell or get rid of as many Gear VR headsets as possible. They had an offer which would allow customers who pre-ordered the S7 or S7 Edge to receive free units of the headset. They later made the device available at heavily discounted prices especially in India where it was available for a measely sum of Rs 990. This could mean that we will see a new Gear VR headset launching aside the Note with a USB Type-C port.
Aside from this, the Note will have either a 5.7 or 5.8″ display which measures 153.5mm x 73.9mm x 7.9mm compared to the Note5 that measures 153.2 x 76.1 x 7.6mm. That means that the overall footprint is reduced but it will be a tad bit thicker mostly owing to a larger battery that Samsung could be bundling inside the device just like they did with the S7 lineup. The Note in the leaks is something that seems to feature a dual-curved display but the display doesn't seem to curve as much as it should and the back only shows a single lens module. Since rumors indicated that the Edge variant might have a dual lens setup, this could very well be the regular version as well.
Overall, the design seems to be an evolution over the previous gen just like the S7 lineup including the smaller camera bump. We shall know more details of the device soon as it is expected to be announced during IFA 2016 in September or even as early as August just like they did last year with the Note5 to compete against the upcoming iPhones.