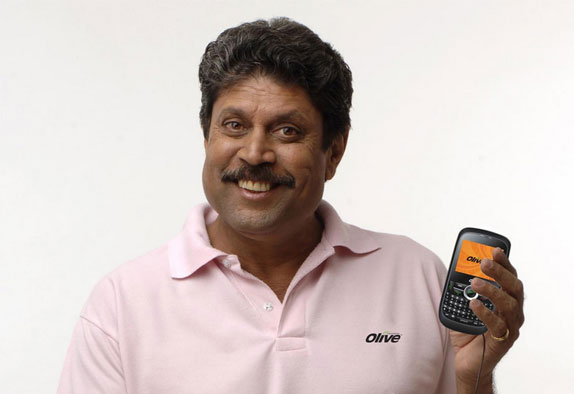 We had reviewed Olive Phones few weeks ago and we have to say we were quite impressed with value for money the handsets offered . Now Olive Telecommunications has announced that Cricketer Kapil Dev would be the goodwill ambassador for Olive Mobile Phones which OliveFrvrOn which runs a spare AAA battery and OliveWiz- triple sim QWERTY phone.
Announcing Kapil Dev as the Goodwill Ambassador, on the occasion of the Delhi launch for the dealer fraternity, Arun Khanna, Chairman, Olive Telecommunication said, "Kapil is the epitome of cricket in India and regarded as the greatest all-rounders the sport has ever seen. Somewhat like the Olive devices, completely all round in their usability, devices ranging from the entry level to sophisticated offerings for the digitally connected. Olive products are designed keeping in mind the extensive usage of mobile phones countrywide. We are confident that our association with Kapil will definitely lend an edge to the positioning of our offerings."
Delighted to be associated with Olive, Kapil Dev said "It is a pleasure to be associated with a brand like Olive because of its innovative cutting edge technology and the significant role that the company is playing in bringing innovative convergence devices for its users; Olive Telecommunication has carved a niche segment in the telecom consumer space."
What do you think about this move by Olive ?