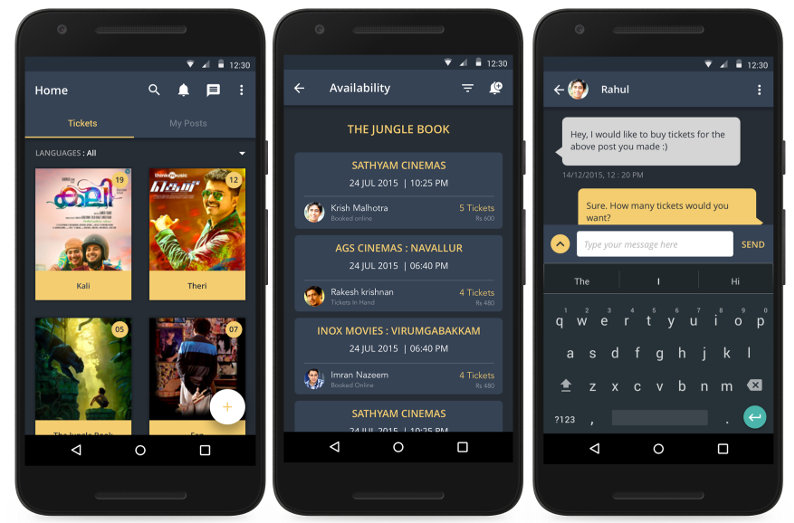 BuySell Tickets, a new Android app from NFN Labs, based in Chennai lets you sell extra movie tickets easily without revealing your personal information such as contact number or email. If you are looking for tickets for a movie, you can easily search for a movie by name, language, number of tickets and theaters they are available in.
You can pay for the tickets by recharging the person's mobile number or in cash. The company is in talks with Wallet companies to integrate wallet into the app. The beta version is now live in Chennai and will be expanded to other cities soon.
Features of BuySell Tickets for Android

Filter Movies Easily: You no longer have to scroll through an endless list of movies. With BuySell Tickets, you will be able to filter movies by movie name, payment mode, showtime, dates, language and even number of tickets.
Protect Your Privacy: You'll be able to chat with a seller or a buyer with in our in-built chat feature. This would allow to conduct the exchange without disclosing your personal details.
Enriched Selling Experience: You can easily upload details of the movies that you have extra movie tickets for. It is simple, quick and easy to use.
Download BuySell Tickets (Free) – Android
Regarding the new app, NFN Labs, in a medium post, said:
While we want to create a great experience for both the seller and the buyer, few areas are closely monitored by the BuySell Tickets Team. A seller cannot charge more than the purchase price. This is easy to manage when we are starting off with Chennai as base with specific theaters. Also if a particular user is reported by other users for overcharging or inappropriate behavior, their account will be immediately disabled till the issue has been resolved.