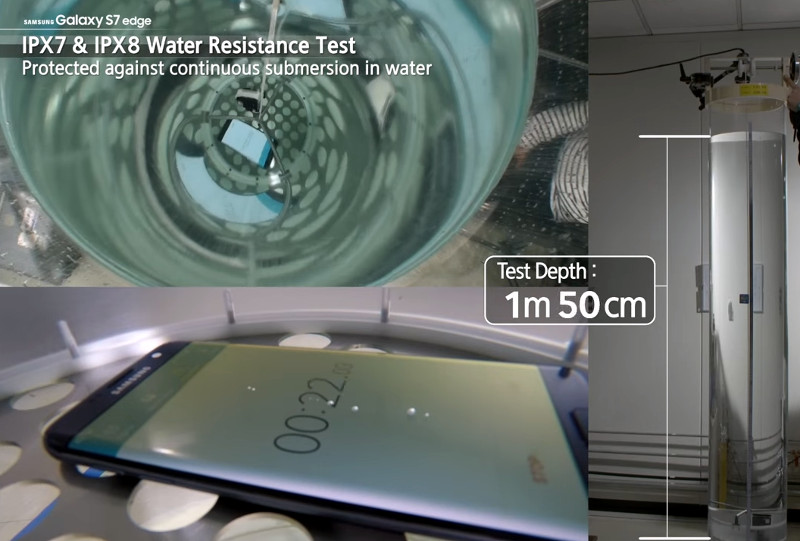 Samsung has published a new video to test the water and dust resistant abilities of its new Galaxy S7 and S7 edge smartphones. In the tests IPX1 & IPX2 water resistance first against dripping water, IPX5 water resistance against water jets and IPX7 & IPX8 water resistance against continuous submersion in water. It also tests IP6X dust resistance. Check out the video.
httpv://www.youtube.com/watch?v=kCHL-4ZJMLI
Samsung's Jong Min Choi, senior engineer of the Mechanical R&D said that they have used Non-corrodible materials like Nickel and Platinum for frequently used parts such as an USB port or an earphone jack. They have also used special elastic material during assembly for sealing to block the moisture. "When assembling individual parts like USB port, earphone jack or SIM card tray, there has to be a slight hiatus. Special silicon-type material is used to close that gap to prevent water from getting into the phone", he said.
Regarding the implementation of water protective tape around the edge of the Galaxy S7 edge, which has an extremely narrow bezel and curved display, another engineer, SukChul Park said, "The material and location of the water protective tape were changed and liquid sealing material was used for the curvy area and to connect the taped part. Also, curved display itself is made up with water resistant material."