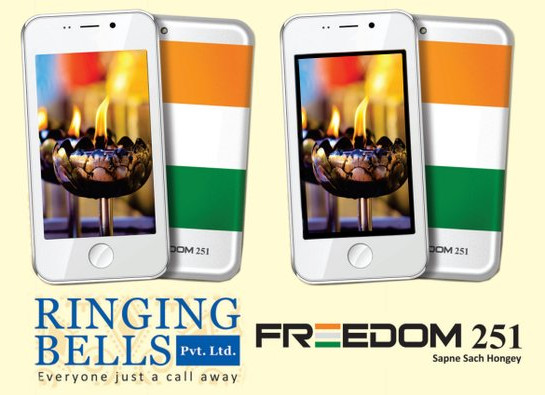 A day before, we reported some concerns about India's cheapest Android smartphone Freedom 251 and why it seems like more of a 'Publicity Stunt'. We reached out to Ringing Bells with some of your FAQ's (frequently asked questions) and company's President Ashok Chaddha has replied to many of them in an email statement.
First and foremost, Ringing Bells has officially provided some data about number of registrations till Day 2 (19:49 hrs). company says that it received 3.70 Crore registrations on Day 1 (February 18) and 2.47 Crore on Day 2, which makes it 6.17 crores in total (over 60 millions). But that's different from how many Freedom 251 handsets have been sold so far,and it is only 30,000 plus officially. On Day 1, Payment Gateway crashed after 30,000 transactions and on Day 2 (February 19) company changed its policy and now people can register upfront but they will only get an email with payment link to process after 48 hours of registration.
1. There seems a problem with the payment gateway while ordering the phone from the freedom251.com website. Why? How soon will it be resolved? Has the sales stopped permanently?
This problem occurred on first day morning (February 18) consequent to the pleasant deluge of viewers where even the high performance Servers of our Payment Gateway and our main Server Providers could not cope !! [There were 20 lakh requests on February 18 at the peak load and the total number of Registrations received on the day were 3,70,15,000]
2. How is Indian government partnering with a company with no proven track record?
The Indian Government is not partnering the Company (Ringing Bells Pvt Ltd).
3. Why has Freedom 251 got Adcom branding on the front panel? Is it being manufactured by Adcom? And why was the branding covered by a whitener? What was that for? Even if it was just for demo and a sample phone why did the company fringe into other company products for that, why could not they just order fresh samples from where ever they were trading?
We just wanted to show a sample/prototype of what the Handsets will look like. This is not the final piece Hence :

We obviously wanted to provide "Made in India" Handsets as that is the core of our Vision.
We did a quick and intensive search and located the components but re the Touch Plate, we faced a problem in view of the fragile nature in addition to the scratch-proof requirements of the piece.
ADCOM is an India Company and we were able to source from them.
In view of the shortage of time and given that these were to serve only as prototypes given FOC to a limited List of persons, we went ahead.
We would clearly mention that the Final Freedom 251 manufactured/ assembled in India would be to identical specs – i.e. no change !
There maybe some changes in curvature/ buttons placements for aesthetics, if at all.
4. If the actual phone is not ready why a rebranded different phone was given to the media. Is the much hyped Freedom 251 a concept in the air only?
When we design a concept, we produce a Prototype to demonstrate. Then we test the acceptability from the Target Audience. Once this is accepted, we take this Prototype to the Design House to design the Chipset; the mold and then we decide on the actual add-ons like the buttons – the colour – screen quality etc.
5. Freedom 251 comes with 1 year warranty, but where are the service centres and how many?
There are 604 service centres across country and check complete list with address, phone numbers and more here.
6. The phone is not listed on the BIS certifications page, why is this?
Application is under filing and we expect to have the Certification in hand well before delivery commences.
7. The phone is running on Android, but is not showing in a list on Android partners either. Why is this?
We are registered with Google Android Developers Platform.
8. What about the other handsets? People have been complaining about no delivery or even an order confirmation? Is this just a con game?
We have delivered Rs 1.7 Crores worth of phones so far. In addition, PayU [Payment Gateway] has received Rs 1.75 Crores against our handset online bookings of Phase 1 and here, as we have committed, we will claim our money only after we complete delivery on Feb 25, 2016 and after we submit Proof of Delivery.
While company has presented its defense against media scrutiny, we think it will still remain a question until they deliver. To remind you, BJP MP 'Kirit Somaiya' has raised questions and written to both TRAI and Ministry of Telecom to investigate the issue (as we have reported earlier too). This follows mobile industry body Indian Cellular Association (ICA) letter to Telecom Minister Ravi Shankar Prasad yesterday to get into depth of the issue, saying the rate could not be below Rs 3,500 even after a subsidized sale.