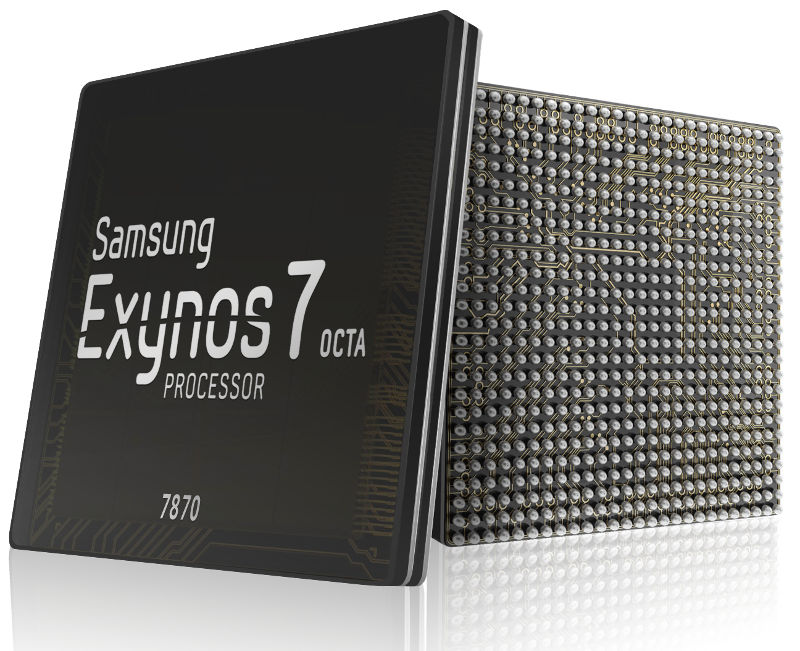 Samsung has announced Exynos 7 Octa 7870 processor based on 14-nanometer (nm) FinFET process technology for next-generation mid-range smartphones, few days after Qualcomm introduced its Snapdragon 625 Octa-Core 14nm SoC. It has built-in LTE Cat.6 modem that would offer download speed of 300Mbps and FDD-TDD joint carrier aggregation.
"The new Exynos 7 Octa 7870 processor consumes over 30 percent less power than mobile SoCs built with 28nm High-k Metal Gate process technology at the same performance level," said Samsung.
Highlights of Samsung Exynos 7 Octa 7870 SoC
1.6GHz x 8 ARM Cortex A53 CPUs
14nm LPP FinFET process technology
Cat 6 speeds of up to 300 Mbps. carrier aggregation in the downlink and uplink on LTE FDD and LTE TDD
up to WUXGA (1920×1200) display resolution
1080p 60fps video playback
Up to 16 MP for both rear and front cameras, or 8MP each in dual camera mode
GNSS solution for more accurate and rapidly transitioning location based services.
The Samsung Exynos 7 Octa 7870 will be in mass production in the first quarter of 2016. Samsung said that the 14nm FinFET process will be adopted by its Exynos 7 Octa, then expanded to other products throughout the year.
Ben K. Hur, Vice President of System LSI marketing, Samsung Electronics, said:
With increased performance and power efficiency, we anticipate widespread adoption of our new Exynos 7 Octa 7870 into mid-tier mobile devices.Consumers will experience enhanced performance as this is the first time a mobile application processor built on advanced 14nm process is available for these types of smart mobile devices.