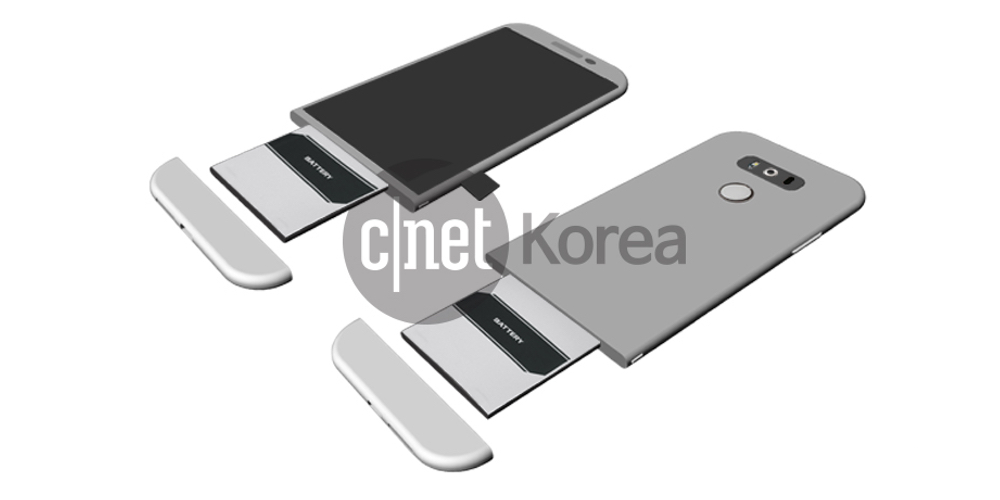 Smartphones of late have often resulted in both companies and users having to make choices. You either get superior materials, build quality and design or have features such as removable battery and microSD expansion. Companies like Samsung went for the former while LG chose the latter and it affected their sales as a result. It now appears as if LG have a new trick up their sleeve that combines the best of both worlds.
The LG G5 has been rumored to feature a semi-modular sort of design and these renders do indicate just that. The LG G5 might feature a metal unibody but one that has a detachable bottom portion. This would allow for superior build quality and materials while at the same time giving users the ability to swap batteries. The bottom part could be detached by using buttons that unlock the latches that hold the portion in place. You can then take out or replace the battery for a fresh one and lock it back in place.
The device in the renders also seems to have quite a slim design that is unlike previous models in the series. It has quite a resemblance to the current iPhone lineup in fact. However, we can't be certain whether this actually is an accurate representation of the G5 itself or whether it is just a mockup to demonstrate the removable battery construct especially since the renders are missing the rear mounted volume controls and power button that has been LG's trademark in the recent past. The same compartment could possibly house a microSD slot as well. Judging from these renders, it seems like a win-win situation for consumers. We just hope that the phone will live upto expectations when it is revealed on the 21st of February in Barcelona.