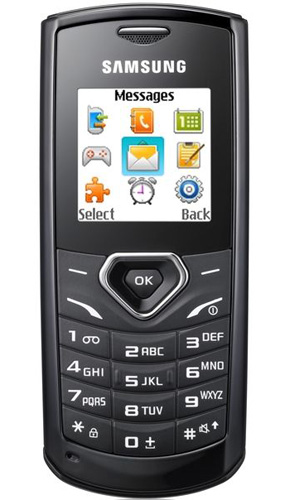 The Guru 1175 is the latest member of the Samsung Guru handset family. Nothing great about this handset but it does offer 23 hrs playback via FM Radio and 12 hours of talk time. It has a curvy design and a ergonomic grip. It packs the famous bike mode and fake caller found in most guru phones from Samsung.
The handset even packs a torch light which can run for around 38 hours on a single charge.
During the launch, Mr. Ranjit Yadav, Director, Mobile & IT, Samsung Indian Electronics Pvt. Ltd said, "The new, stylish Guru 1175 is a valuable addition to the popular Guru series of Samsung phones in the essential phone segment. The Guru series stand differentiated in the market on account of their longer battery life, bright torch light, regional language display and advanced mobile tracker. The feature–packed Guru 1175 introduces style to the series along with all the features the Guru series is known for and more".
Samsung Guru 1175 Features
1 MB memory with 1000 phonebook contacts
500 SMS Memory
9 regional languages support
Indian Calendar
Games – Carrom ,  Sudoku, Cricket
Mobile Tracker
1000mAH battery
128×128 color display
Samsung Guru 1175 Price
The handset is priced at Rs1690 MRP and is available at leading mobile retailers across the country.