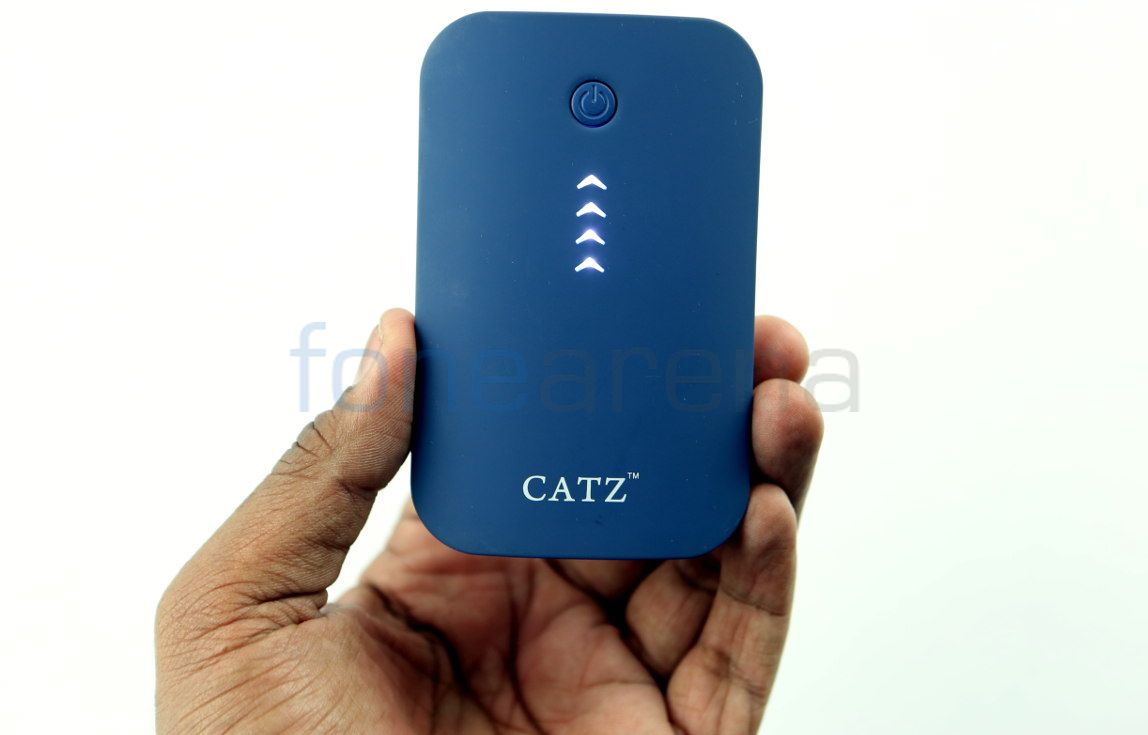 CATZ introduced its 7800mAh power bank in India few months back for Rs. 1999, along with the 13000mAh power bank that we reviewed recently. The power bank also has a built-in flash light and is compact. Is the power bank worth the price? Check out the review to find out.
Box Contents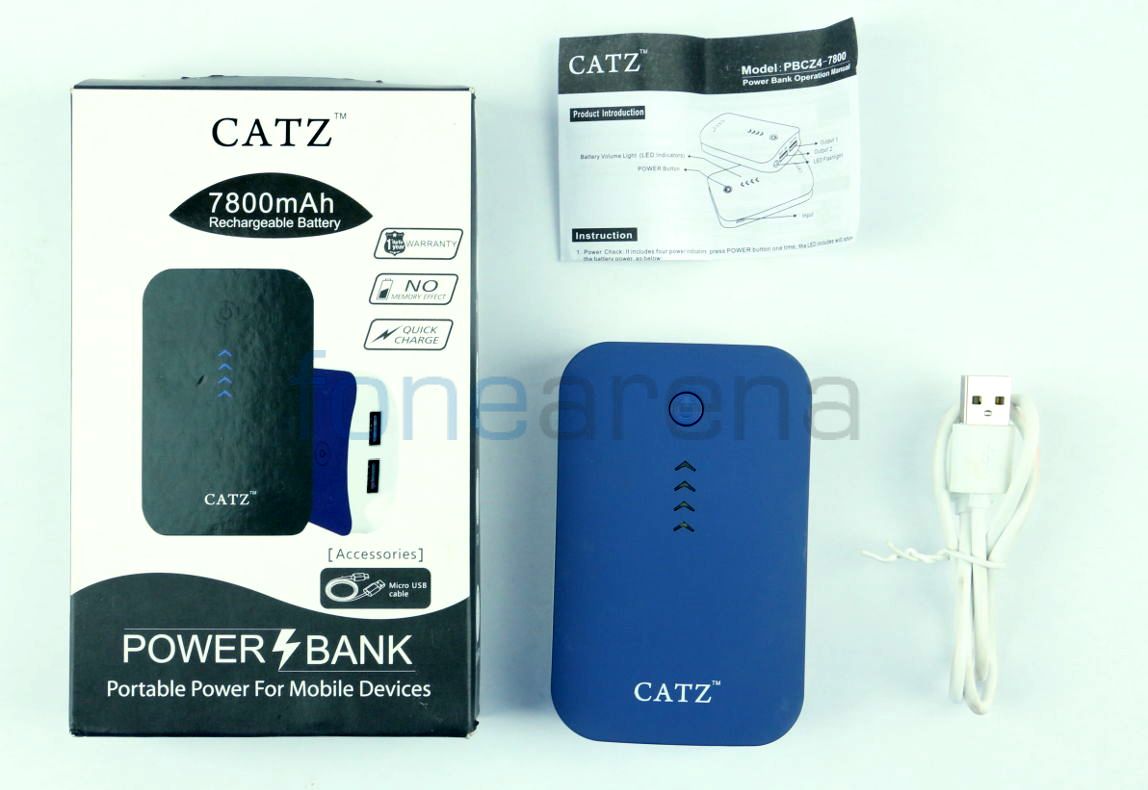 CATZ 7800mAh Power Bank in Blue color
Micro USB cable
User manual
Design and build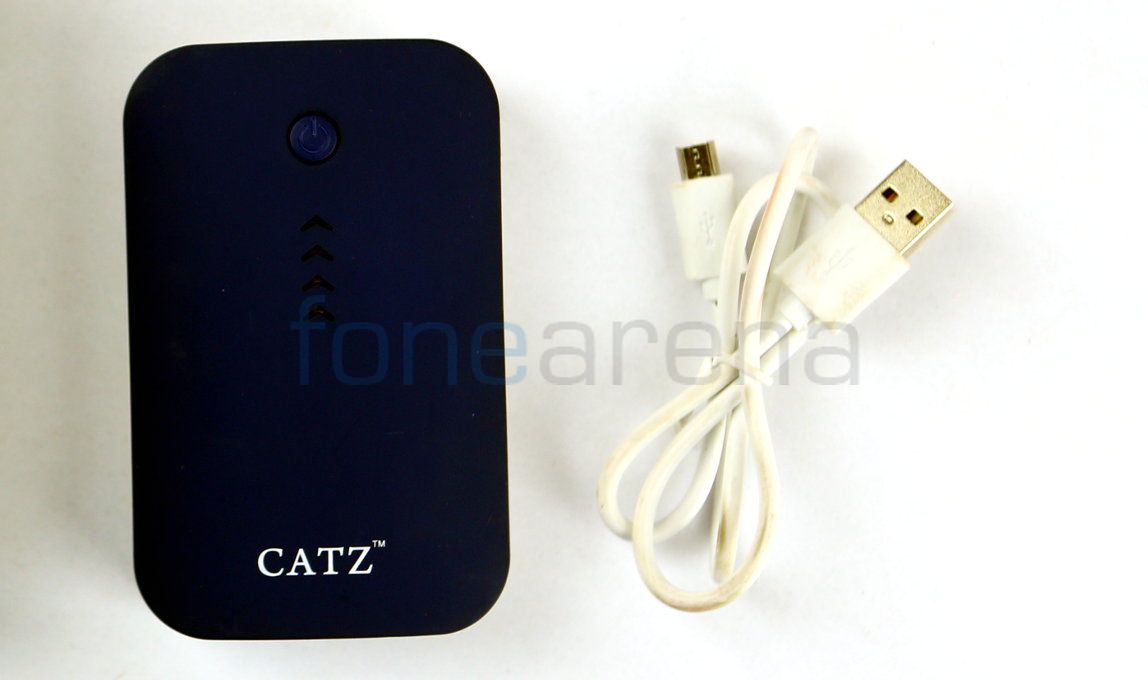 The CATZ PBCZ4-7800 power bank has a soft matte finish, similar to the 13000mAh power bank. It offers a good feel in hands and is not prone to smudges. It has four LED indicators on the front that are cut out in 'V' shape. These glow in white color and show the remaining battery left when you are using it, and the remaining battery that needs to be charged when it is charging. These are bright and don't turn off when you are charging devices using it, similar to the 13000mAh power bank, so it might be a disturbance when you are using it the dark. There is a power / function button above the LED indicators. It shows the remaining charge left when pressing it.
When four lights are on, 75 to 100% charge is left, when three lights are on, 50 to 75% charge is left, when two lights are on, 25 to 50% charge is left and when only one light is on, 0 to 25% charge is left. When the power is below 10% it glows in red color, which is an unique way to alert users that it needs to be charged.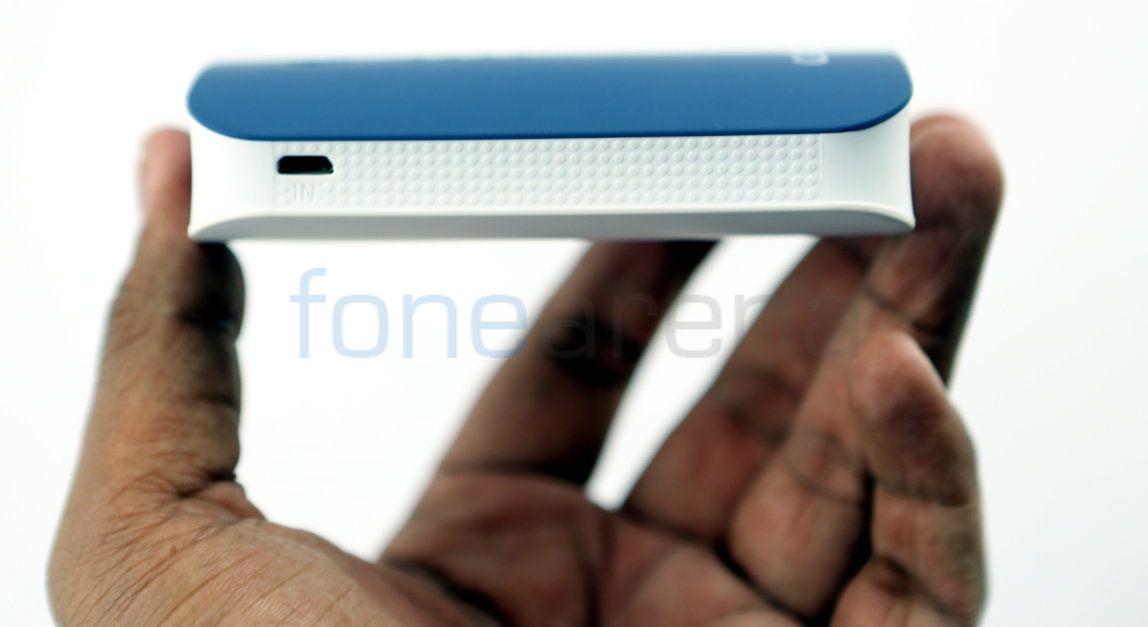 On the left side there is a micro USB slot for charging the power bank that takes in 5V/1A input. CATZ says that it is recommend to use only 1A charger and not more that, so it takes a lot of time to charge. This is major drawback since you might have to charge it overnight to use it in the morning if the power bank is completely drained. The company says that it will take 7 to 8 hours for the power bank to charge fully. We managed to charge it fully in about 7 and half hours using a 5V/1A charger.
Even though it packs a huge 7800mAh battery, it has a compact design. It measures 100x65x25mm and weighs just 120 grams. It terms of size, the Asus 10050mAh power bank is more compact, but this is lighter than most power banks in the market. It also has rugged texture on both the sides for a comfortable grip and it doesn't slip out of your hands easily.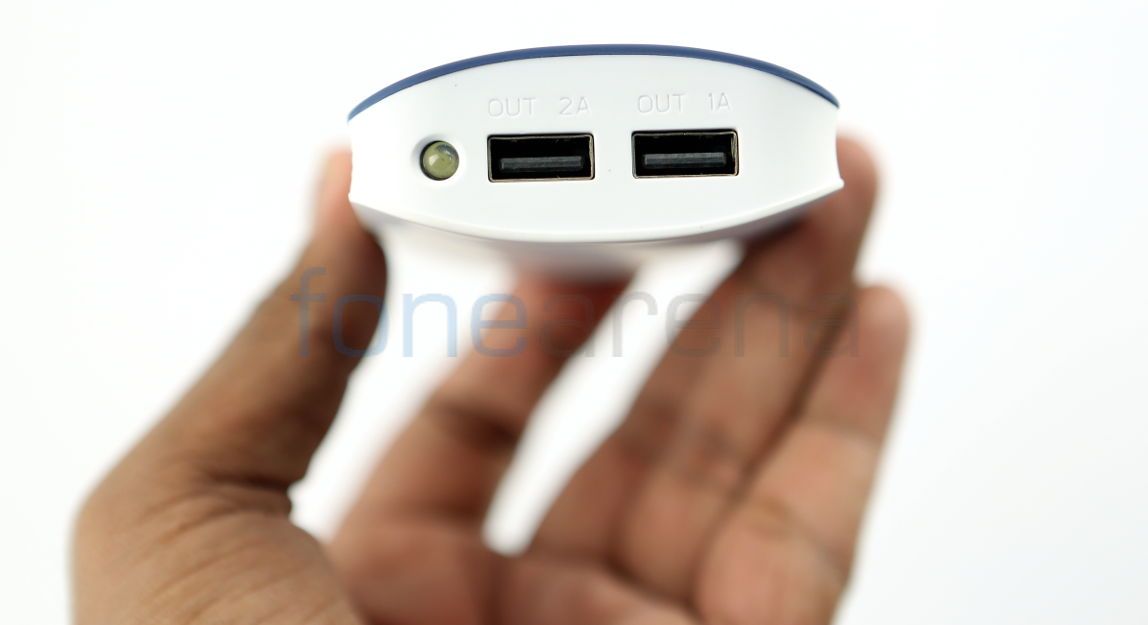 On the bottom there are two USB slots, the first one offers 5V/2.1A output and the second one offers 5V/1A output. There is also a LED light before these USB slots.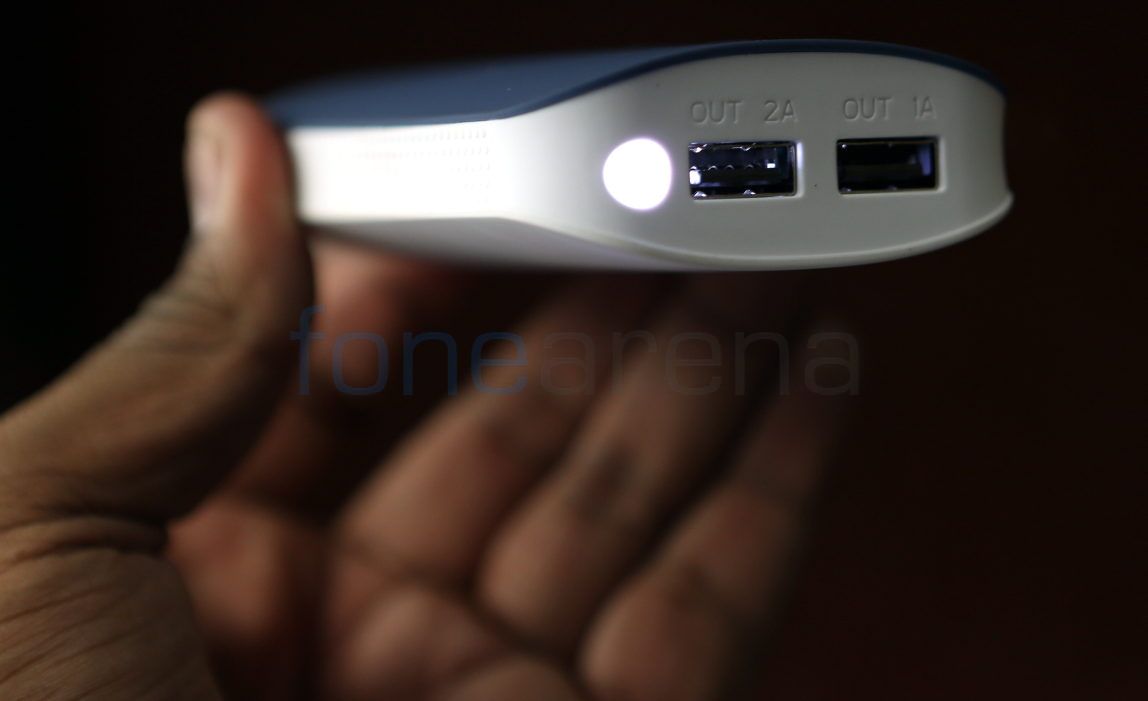 You can press the function button on the side twice to turn on the LED light. The light is bright and comes in handy when you are travelling in dark. It doesn't have different brightness modes or strobe mode like the CATZ 13000mAh power bank. You can press the button twice anytime to turn the light off.
Performance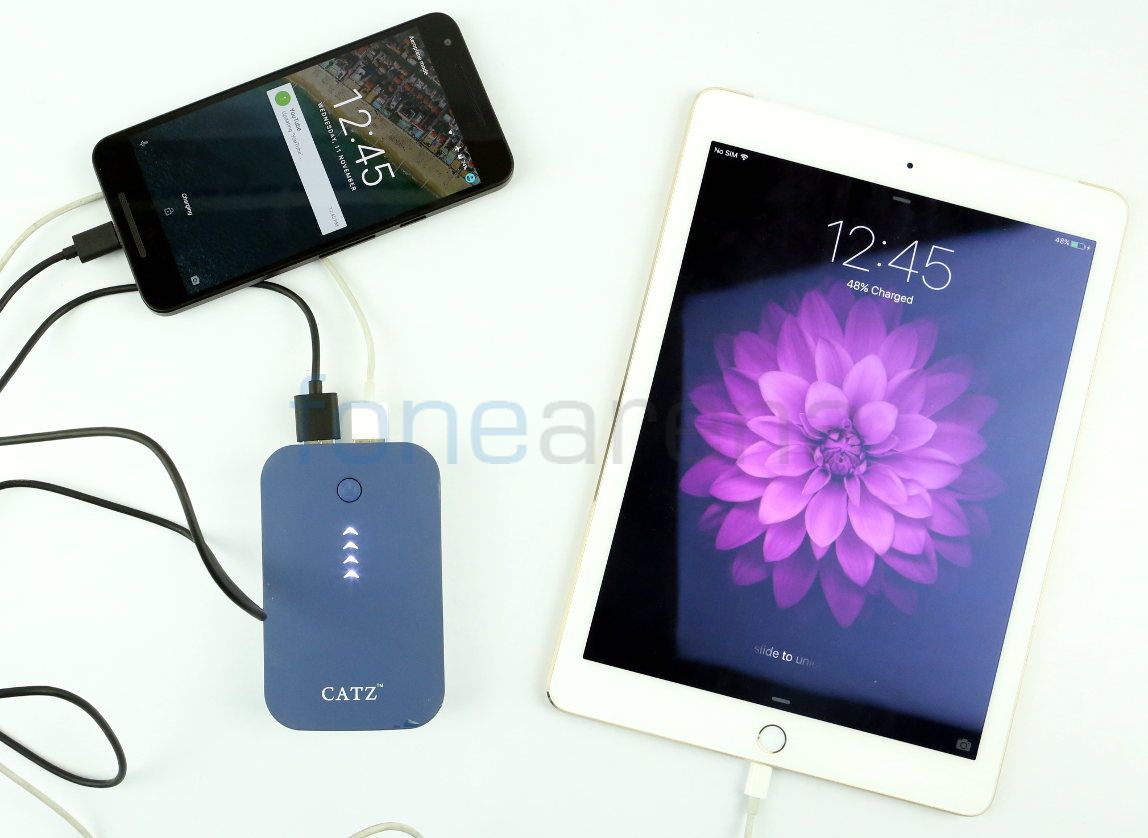 The 7800mAh power bank can charge even an iPad and offers 2A output to charge devices quickly. It automatically recognizes the device you plug and offers an ample amount of power required. Power lost during voltage conversion is a common problem in power banks. CATZ doesn't reveal the charging conversion rate for the power bank. It could to be somewhere between 80 to 85% based on our usage. Since it has a polycarbonate body it doesn't get heated even after several hours of usage.
Conclusion
Priced at Rs. 1999, the CATZ 7800mAh Power Bank is slightly costly compared to other power bank with similar capacity or other 10000mAh power banks available in the market, but it has a built-in LED flash light and comes in a compact design in a durable body. It is available offline and is also available online from Amazon.in in Blue and Grey colors. To summarize, here are the pros and cons of the power bank.
Pros
Compact, lightweight design
Solid build quality
1A and 2A USB ports for charging two devices at a time
Built-in LED flash light
Cons
Takes a lot of time to charge