Microsoft has officially launched the Arrow launcher for Android. The app that comes from Microsoft Garage Project  makes it easy to find, launch and get back to your favorite apps instantly.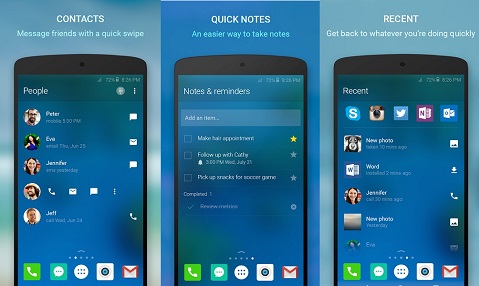 The Arrow Launcher was available in closed beta for Android since July this year. It comes with three screens – People, Apps and Notes & Reminders. The People screen shows recent and frequent contacts, a dialer on the top and a menu to open contacts app while the Apps screen shows recent and frequent apps. Finally, Notes & Reminders screen lets you quickly add notes and add a reminder for them. All the screens have a row in the bottom for user-selected quick access apps.
In addition, Arrow lets you re-arrange pages, show/hide a particular page, and set a specific page as your home page. It even supports third-party icon packs and offers a new wallpaper every day or enables you to customize your own. Microsoft has been offering few productivity apps from Garage for some time now. Last week it rolled out quick note taking app Parchi for Android. Some other apps from Microsoft Garage are Tossup, Picturesque Lock screen app, email app Send.
Play Link –  Arrow Launcher