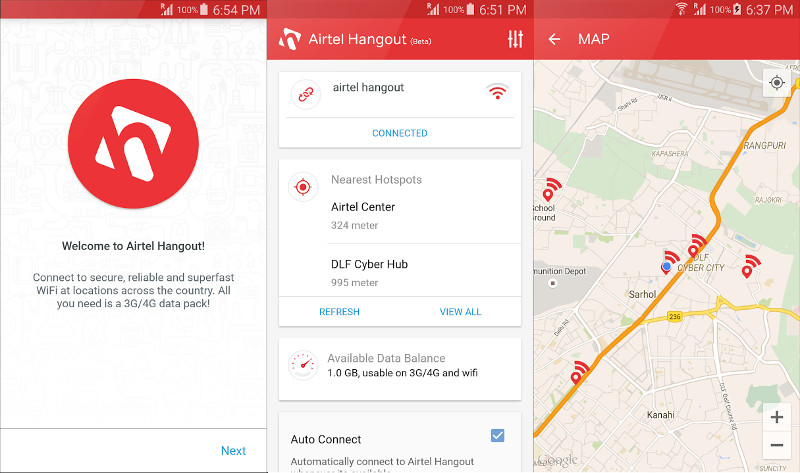 Airtel recently released its Hangout app for Android and iPhone that allows its 3G/4G customers to seamlessly latch on to the network in Wi-Fi zones to experience faster internet speeds. Today it has announced the launch of the app officially. Airtel Wi-Fi zone is already live across 8 locations in Delhi/ NCR region and the company plans to roll out nationally soon. Airtel recently announced that it had won contract from Municipal Corporation of Gurgaon (MCG) to launch Wi-Fi services in Gurgaon.
After installation of the app customer needs to validate their phone number to start the session on Airtel Hangout. Once validated, every time the customer is near an Airtel Wi-Fi zone, they will automatically connect to the Wi-Fi network if auto connect is enabled otherwise there will be notification to connect to the network manually. Customers will need to have an active Airtel 3G/4G pack/plan since the Wi-Fi data consumption will be charged from this pack/plan, said the company.
Wi-Fi zone will go live in DLF Cyber Hub in Delhi/NCR from tomorrow. Airtel will also offer users a free quota limit of 25MB per day per device by connecting to AirtelWiFiZone. Post exhaustion Wi-Fi will be available exclusively to Airtel customers via the Airtel Hangout app.
Airtel Wi-Fi zone locations in Delhi/NCR include Khalsa College, Gangaram Hospital, DLF Star Mall, DLF Grand Mall, Supreme Court, Delhi High Court and Khan Market. It will soon launch Wi-Fi zones in MG Road, Sadar Bazaar, Sector 29, Sirhaul Village and Leisure Valley Park from the Municipal Corporation of Gurgaon (MCG).
Airtel Hangout (Free) – Android | iPhone
Commenting on the launch, Ajai Puri, Director – Market Operations, Bharti Airtel said:
We constantly innovate to find newer ways to enrich the lives of mobile users in the country. With the Airtel Hangout app, we aim to enable more & more users to experience superior and superfast mobile internet speeds by seamlessly latching on to our Wi-Fi zone and enjoy many more internet capabilities on their mobile device on the move.