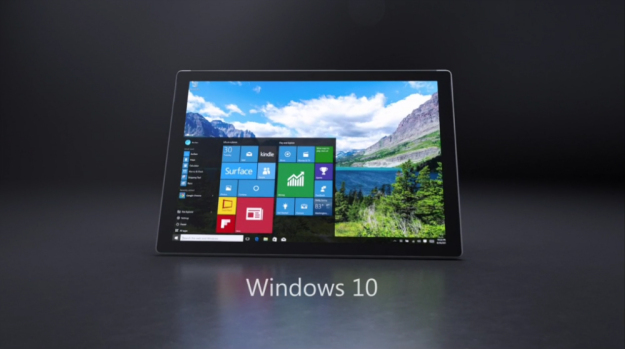 Microsoft has unveiled the latest generation of their Surface Pro 2 in 1 – the Surface Pro 4. It brings on board the latest Intel Skylake processors and Windows 10 in a thinner and lighter yet more powerful form factor that starts at US$ 899.
The Surface Pro is indeed a really interesting device and one that has a lot of potential. This is the reason why Apple and Google have "borrowed" a lot from its design for their own devices such as the iPad Pro and Pixel C respectively. The Surface Pro 4 looks very much identical to the Surface Pro 3 from last year however, it does manage to pack a larger 12.3″ screen in the same footprint.The display has 5 million pixels (2160×1440 pixels) that translates to roughly around 267PPI.
https://www.youtube.com/watch?t=2&v=6Gh4o9IqeEU
It is also thinner at 8.4mm compared to the 9.1mm of the Surface Pro 3. One of the methods it does this is by ditching the fan for a silent operation. The reduction in size doesn't compromise on performance however as the Surface Pro 4 is 30% faster than the Surface Pro 3 and 50% faster than the Macbook Air. The display is a new technology that Microsoft is calling PixelGlass that has 1024 different pressure sensitivity levels. There is a new Surface Pen to properly utilize that and it can attach magnetically to the device. It also has an eraser tool now. There is an 8 Megapixel camera at the back and a 5 Megapixel camera at the front. It supports Windows Hello face authentication using the camera as well as a fingerprint sensor for authentication.
Likewise, the Type Cover for the Surface Pro 4 is also lighter and thinner but features a larger trackpad and more space between keys, thus making it easier to type. There is a new Surface dock as well that has 4 USB 3.0 ports, 2 Display Ports (Upto 4k) and an ethernet port. Both the Type Cover and new dock are backwards compatible with the Surface Pro 3 as well. The device will support upto 16GB of RAM, 1TB of storage and will start at US$ 899 when it becomes available from October 26th onwards.