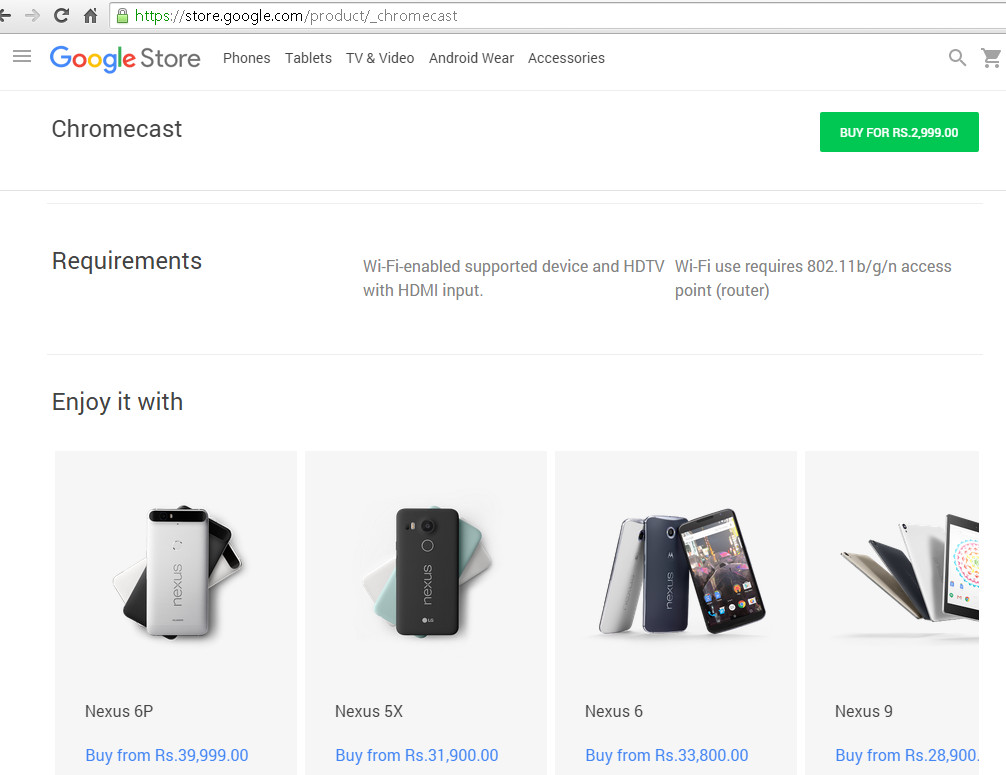 While Google just announced the new range of Nexus phones in an event in USA, it did not reveal if the devices were launching in India. Google has officially started taking pre-orders for these devices in US,Canada,UK,Ireland, Japan and Korea.But we found something interesting while browsing through the Google Store in India, we found Indian prices listed for the newly announced devices.These could very well be placeholder prices for Nexus 6P and Nexus 5X which could potentially launch in India pretty soon.
The Nexus 6P was listed for a mighty Rs.39,999 (US Price is 499 USD )while the Nexus 5X was listed for Rs.31900.(US price is 379 USD). These could be the prices for the base models. While these are not the official prices, the launch prices could be similar considering import duties and a strong dollar which is almost trading at Rs.66.
Update: The HTML source in the Nexus 5X and Nexus 6P Google Store listing (discovered by TechPP) reveals price of all the variants of the new Nexus smartphones.
Nexus 6P 32GB: Rs. 39,999 (US price is $499)
Nexus 6P 64GB: Rs. 42,999  (US price is $549)
Nexus 6P 128GB: Rs. 47,999 (US price is $649)
Nexus 5X 16GB: Rs.  31,900 (US price is $379)
Nexus 5X 32GB: Rs.  35,900 (US price is $429)
Google chose to go with Huawei for the Nexus 6P while it decided to stick with LG for the Nexus 5X which made Nexus 5 and 4 phones in the past.
It could be worth mentioning that the US model does not have support for all the Indian LTE bands but the India page does list support for all the LTE bands in India.
Are you looking forward to the new Nexus devices in India ? Would you like to buy one ? Which one impresses you ? Nexus 6P or 5X ?