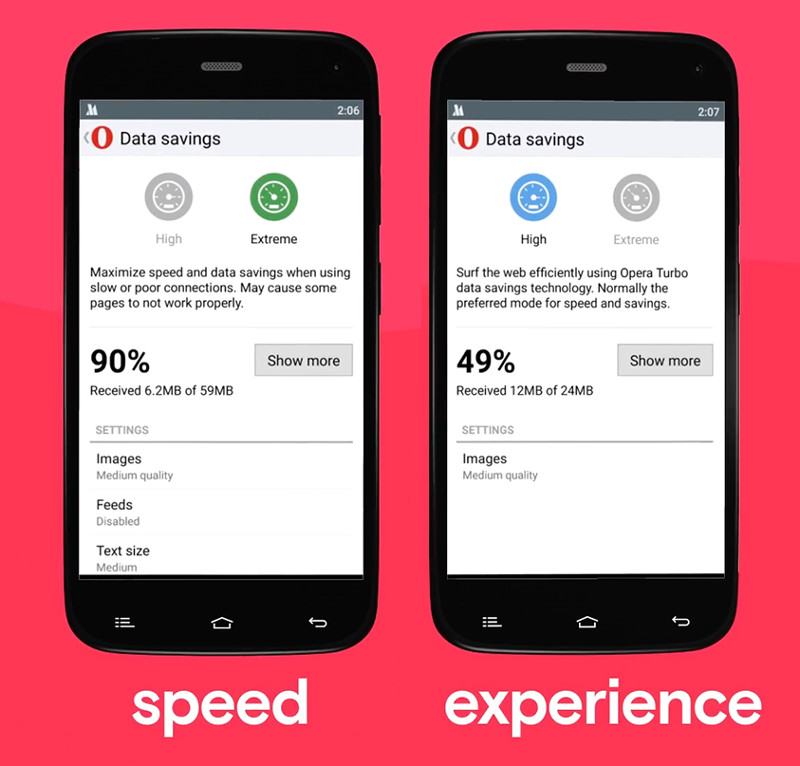 Opera has updated its Opera Mini app to version 11 that brings option to swtich between two compression modes, high and extreme. The High-compression mode offers richer experiences and to see webpages how they are supposed to look, without any hefty compression, but it still offers the old data savings, says Opera.
The Extreme-compression mode compresses web-pages extensively, giving users a faster browsing experience while using very little mobile data, which is suitable for slow or unreliable connections. This mode can affect the layout of the web-pages. The update also brings several new features. Check out the complete changelog below.
New features in Opera Mini 11 for Android
New and improved UI for saved pages and bookmarks
Better handling of bigger downloads in High-compression mode
Overhauled tab switch
Download improvements
Options to customize the browser layout for more thumb-friendly surfing
A scalable interface with higher resolution for tablets and large phones
Updates to the Discover news feed to provide more of the latest content across the web
A data counter to show daily progress on data savings, helping users keep data costs under control
Various stability and usability improvements
Download Opera Mini (Free) – Android
Regarding the new Opera Mini update, Christian Uribe, Product Manager of Opera Mini at Opera Software, said:
Opera Mini has for a decade helped hundred of millions of users across the globe to access their favourite content on the internet no matter which mobile phone they had or how slow their data connection was. With the rise of better smartphones and better network conditions our users now want the option to have a less aggressive data compression mode so they can experience the full internet when network conditions allow for it.
Sunil Kamath, Vice President- South Asia & South East Asia, Opera Software, said:
In India, a lot of mobile users struggle with sluggish networks and handsets with limited capability while accessing the internet. Opera Mini's compression technology has been a savior in those times. At the same time, more than half of our 55 Opera Mini users in India use smartphones and live in areas with good network connectivity. With this upgrade, we have made Opera Mini relevant to both type of users. Now our users can choose between high or extreme savings in the new Opera Mini for Android and get the best web experience.