A latest leak from @evleaks about the BlackBerry Venice, an upcoming Android Slider phone from the company, has surfaced offering more details regarding the phone. The first Android phone from the company will come with a slide out QWERTY keyboard.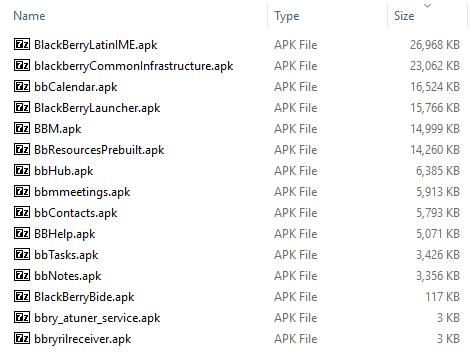 Previous image and video leaks had shown the phone's hardware and the slider in action. Now, the newest ones from @evleaks suggest that the the BlackBerry Venice will come with the BlackBerry Productive Suite. One of the leaks shows a screenshot that comprises of a number of BlackBerry related .apk files. Second leak is a video that appears to be a demo of the BlackBerry Productivity Suite running on the Venice slider. This could mean that although, BlackBerry is bringing a Android device to the market, it is installing some of its important BB10 features and bundling its own offerings to differentiate the phone from other Android devices. It looks like the company wants its user to have 'best of both worlds'.
BlackBerry announced the BlackBerry Experience Suite for iOS, Android and Windows Phone at the MWC 2015. It comes with BlackBerry Productivity Suite, BlackBerry Communication Suite and BlackBerry Security Suite, with each package offering something special to other platforms. As per previous rumors, the BlackBerry Venice will have a 5.4-inch Quad HD display, powered by a 1.8 GHz Hexa-core Snapdragon 808 64-bit SoC, 3GB RAM, come with a 18-megapixel rear camera and a 5-megapixel front-facing camera. It is said to be available through Sprint, T-Mobile, AT&T and Verizon in November.
https://twitter.com/evleaks/status/635180959353188353/photo/1