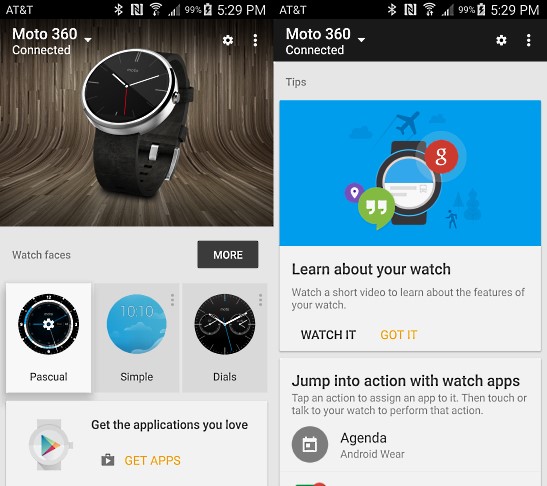 In-line with Android Wear firmware update announcement on Monday, Google on Tuesday started pushing out an updated Android Wear companion app (v1.1) to users, which brings support for multiple Android Wear watches, and list of new features along with major visual and functional improvements.
The updated Android Wear app version 1.1 currently isn't available to Google Play India. The folks over APK Mirror (via Android Police) have got the Google-signed apk for sideload.
The first thing that users will notice is a much-cleaner UI and completely revamped design, according to Android Police. The new dropdown menu on the top-left now allows users to pair multiple Android Wear devices at once, and lets them quickly switch from one to another without having to pair again.
The overall new settings in the updated Android Wear companion app are in sync with upcoming Android Wear firmware update. It now allows you to block notifications, select which calendar will be shown on you smartwatch, access Google Play with a new shortcut, and more. Another option of previewing cards on your watch has also been included. Users can choose to keep the watch face to "always-on" from the app as well. The section for voice actions is changed to a small list instead of a full list, but there is a shortcut access the remaining options.
Lastly, there is new "Cloud sync" feature in the settings, which will only work once Google ships the latest Android Wear firmware. The Cloud sync is said to turn off Wi-Fi on all of your Android Wear devices when it's been turned off and similarly to turn on the Wi-Fi, Cloud sync is said to be turned back on first. Also, your Android Wear smartwatch will automatically get connected to Wi-Fi network that is already configured to your phone, but not to you smartwatch.
Image credits: Android Police