popSLATE has launched cases for iPhone 6 which is essentially a second screen platform that is flexible, full-size, always-on e-ink display to images, data and apps on the second-screen on your phone.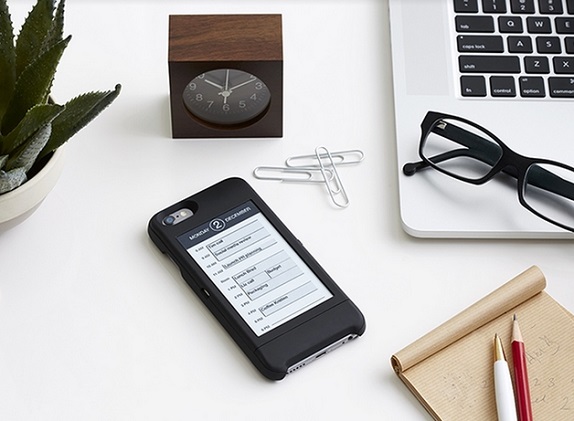 The e-ink display that is similar to the technology used on a Kindle, takes zero power to constantly display any image. popSLATE uses plastic screen technology, making the display more rugged, including shatter and crack proof. As the screen is always on, you can display anything on the back of your phone with pictures, a boarding pass, a daily schedule, to do list, and more, without ever draining our battery to access the information. The display communicates wirelessly via Bluetooth with your phone via the popSLATE app, which enables you to 'pop' content from a variety of sources for display, including your photo gallery on your phone and Instagram. Further, the display is physically integrated into a stylish black or white case to seamlessly attach to, and protect, the phone.
To customize your popSLATE, you can instantly 'pop' anything, anytime – from your camera, gallery, your friends, and Instagram.  Any image 'popped' to the second screen will remain there until you choose to change it. The $129 Popslate case puts an E Ink display on the back of your iPhone, which can be used to display images and text in a black-and-white format that doesn't drain your phone's battery. Popslate won't drain your phone battery because it uses no power to hold an image and very little power to change an image.
popSLATE for iPhone 6 will ship to pre-orders from April 21 for $129 USD and can be ordered on the popSLATE website.The product is available in white or black . While popSLATE will be in premium retailers later this year, it is currently only available online.