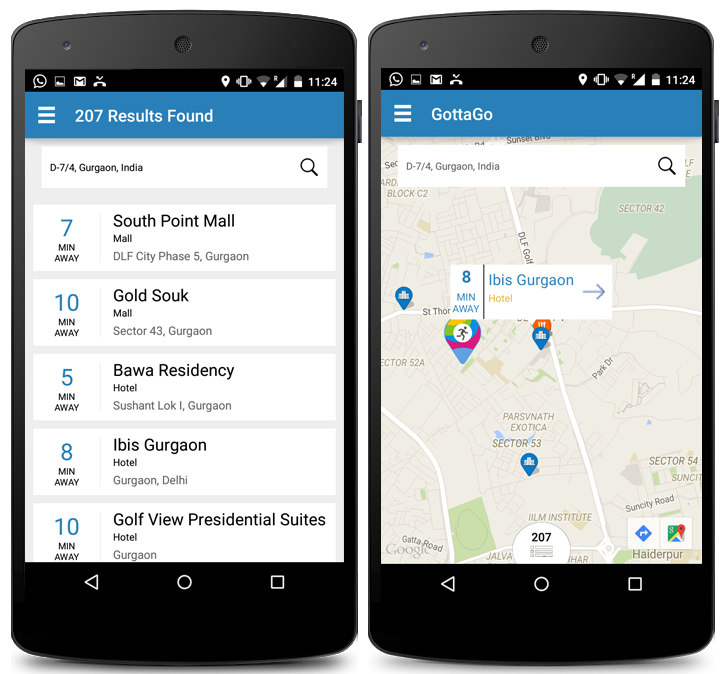 GottaGo is a new app that lets you find nearby public restrooms and will direct you to it using GPS. These restrooms are displayed on a map with the distance from your location and directions of how to get there. This is definitely a useful and much need app for a country like India where it is hard to find restrooms.
The idea was born when the founders recognized the importance of finding a clean restroom when traveling within the city for shopping or simply hanging out with friends and family, says the company.
Features of GottaGo
Display nearby toilets in a List or on the Map
1000's of toilets listed and Geolocated, with address and direction guide.
Malls, Hospitals,Hotels, Restaurants, Railway Stations, Museums all mapped.
Ranking by users and the expert team.
Regarding the app, Kunal Sheth, the tech entrepreneur behind the idea of GottaGo, said:
We started a website that listed information of restrooms, area-wise on a website called p911.in back in 2010. With the smartphone medium, the experience got better with detecting the location of the user using GPS and then directing the user through navigation that they are already familiar with.

With the growing risk of infectious diseases such as urinary tract infection or other infections, we wanted to only list the cleanest options available. We had a few evangelists in every city go and check out these places before we listed them. We also built user feedback into the app which allows users to rate the options provided once they use the facility. They can also let us know if a restroom isn't working any more or is shutdown.
GottaGo is now available on the Google Play Store for free and will be available on the Apple App Store soon. The service is currently available in Mumbai, Pune, Delhi NCR, Bangalore and Chennai. The company plans to expand the service to other cities in future.