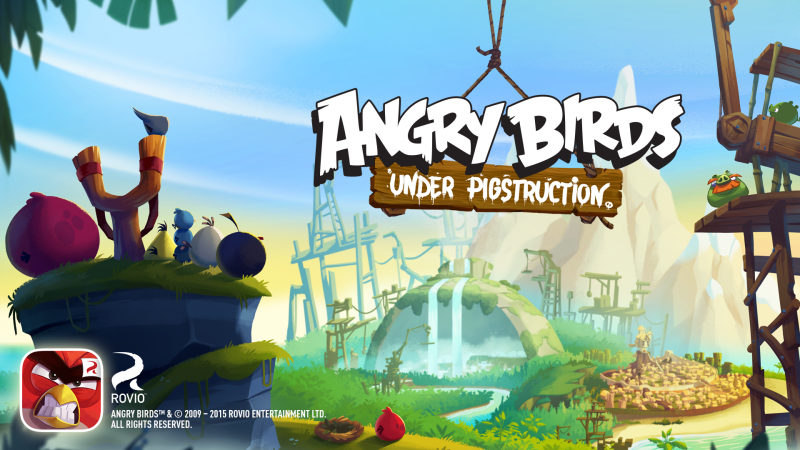 Rovio is still continuing its Angry Birds legacy with new games, even after 6 years. The Finnish game developer has released Angry Birds Under Pigstruction, a new game that involves the usual piggy rivals. The island is under pigstruction and the pigs are building super challenging multi-stage levels that require new ways of logic, skill and force to win.
Features of Angry Birds Under Pigstruction

CHOOSE YOUR BIRD! – It's the ultimate slingshot strategy – you get to choose which bird to fling next! "But that makes it easier" "WRONG!" You'll need to master new spells and strategies if you're going to stop those eggs getting scrambled. And with the new Destruct-O-Meter, the more blocks you destroy, the more extra throws you get!
NEW MULTI-STAGE LEVELS! – You've never seen Piggy Island like this – jaw-droppingly stunning levels brimming with exotic plants, quirky details and plenty of peril. And because those naughty porkies are building their pigstructions right under your beak, many levels have multiple stages.
SPECTACULAR SPELLS! – Use blizzards, chilis, magic ducks and other outrageous spells to inflate the pigs for easier popping or to freeze their forts. And when you need some serious help, guess who's at hand to make a pork-smashing cameo? That's right, it's the sardine loving Mighty Eagle.
CHALLENGE OTHER PLAYERS! – Challenge players from across the world in the new leaderboards to see who's the most hardcore bird flinger of them all.. Play new tournaments every day and earn more feathers to level up your birds to face the toughest competition on the planet.
DEFEAT BOSS PIGGIES! – There's some serious bad guys on Piggy Island, and your slingshot skills are needed to take them down. Foreman Pig, Chef Pig and – of course – the infamous King Pig make this the toughest challenge the birds have seen so far.
The game has been soft launched only on iOS platform in Canada. Rovio says that it will be gathering feedback about the game from fans before releasing it worldwide and on other platforms.
Download Angry Birds Under Pigstruction (Free) – iPhone and iPad