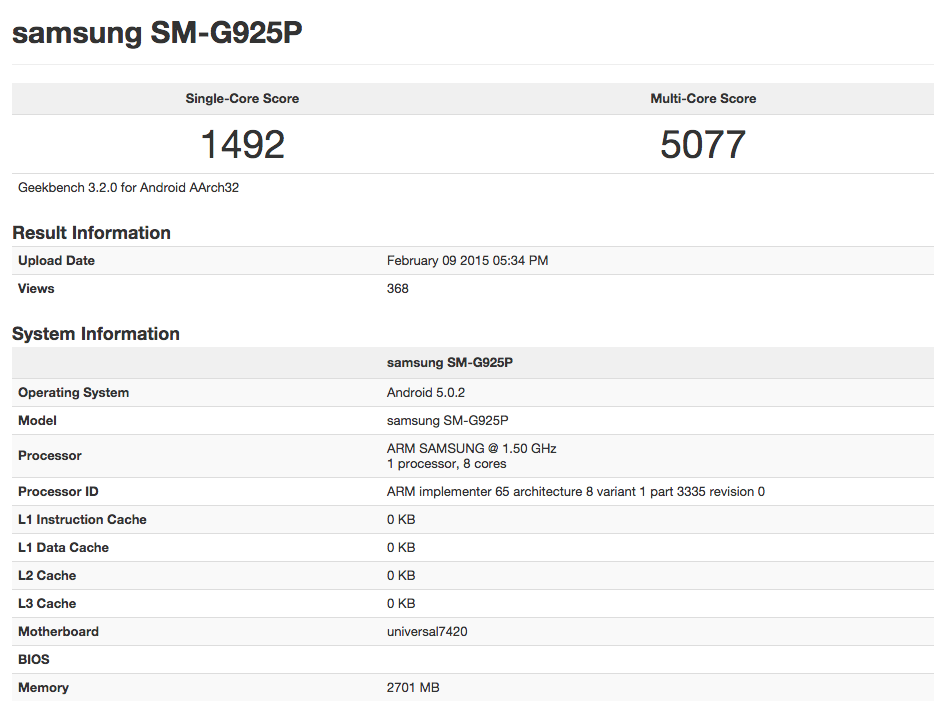 Another day, another leak related to MWC 2015 and as it seems, yet another leak related to Samsung's pair of new devices – the Galaxy S6 and Galaxy S6 Edge. Both handsets have appeared several times in leaks recently and the latest leak shows the latter will offer more than just a unique display.
The Galaxy S6 Edge has appeared in popular benchmark Geekbench's benchmark database and shows impressive performance that means not only will it offer a unique display but it'll be a powerful smartphone as well. According to Geekbench, the Galaxy S6 Edge is powered by a Exynos 7420 processor and scored 1,492 points in the single-core test and 5,077 points in the multi-core test.
The single-core test is somewhat lower than the iPhone 6 Plus and Nexus 9 but the multi-core test shows that Samsung could introduce the world's fastest smartphone yet with the score of 5,077 far surpassing any other result in the database. In comparison, the Snapdragon 805-powered Galaxy Note 4 has a single-core score of 1,054 points and a multi-core score of 3,374 points, which are impressive but slouch in comparison to Samsung's next flagship.
The Galaxy S6 Edge which made an appearance at Geekbench is likely to be a pre-release model which means that the final retail unit could have even better performance; the Galaxy S6 Edge also made an appearance at AnTuTu and their testing revealed the most powerful smartphone to-date which suggests Samsung's new flagship will have both beauty and brains as it challenges the smartphone-elite.
There's just a few short weeks to go until Samsung's MWC press conference on March 1st and we'll bring you all the news in the run up to, and from the show floor in Barcelona as the world's manufacturers descend upon the Catalan capital to showcase their latest devices.