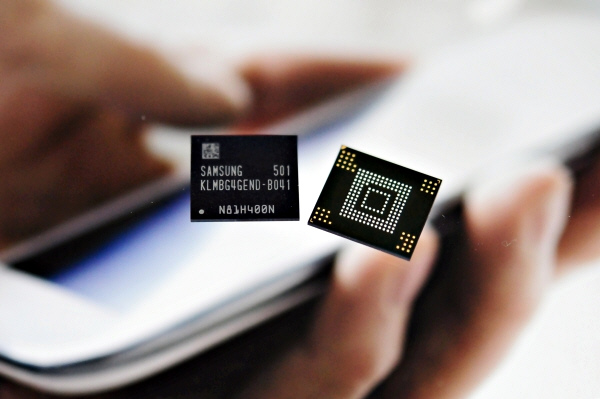 Samsung today announced that it has started mass producing of world's first ePoP (embedded package on package) memory. This is a single memory package that includes a 3GB LPDDR3 DRAM, 32GB eMMC (embedded multi-media card) and a controller to be  used in high-end smartphones saving approximately 40 percent of space.
Commenting on the new ePoP solution, Jeeho Baek, Senior Vice President of Memory Marketing at Samsung Electronics, said,
By offering our new high-density ePoP memory for flagship smartphones, Samsung expects to provide its customers with significant design benefits, while enabling faster and longer operation of multi-tasking features. We plan to expand our line-up of ePoP memory with packages involving enhancements in performance and density over the next few years, to further add to the growth of premium mobile market.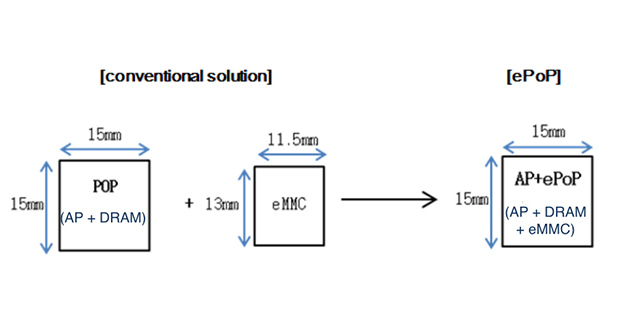 The 3GB LPDDR3 (4 x 6Gb) mobile DRAM fabricated on 20-nanometer (nm) class process technology inside the ePoP operates at an I/O data transfer rate of 1,866Mb/s, and sports a 64-bit I/O bandwidth. The ePoP does not need any space beyond the 225 square millimeters (15x15mm), compared to separate eMMC (11.5mm x 13mm) package that takes up 374.5 square millimeters. The single-package configuration also meets the semiconductor package height ceiling of 1.4 millimeters (mm).
Samsung is already offering a similar single-package solution for wearable devices called wearable memory. The ePoP memory can also used in mobile devices such as high-end tablets, says Samsung.