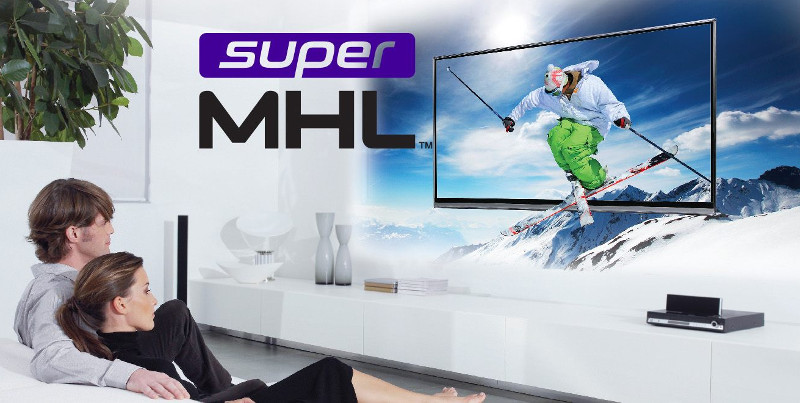 MHL Consortium has announced the superMHL specifications, the next-generation of MHL technology for CE and mobile devices. It offers higher resolution and frame rates along with 40W of power charging, support up to 8K video resolution and expanded audio formats. This enables consumers to link their mobile devices, set-top boxes (STBs), Blu-ray Disc players, AVRs, streaming media sticks and other source devices to TVs and displays.
MHL has introduced the new reversible 32 pin superMHL connector with support for 6 high-speed data lanes can carry concurrent video, data and power charging all in a slim, consumer-friendly form factor. Since it has a reversible design, consumers don't have to worry about the plug's orientation or the cable's direction eliminating frustration and offering a high level of flexibility.
Connectors supported in superMHL specification include, Micro-USB (Source), USB Type-C (Source), Proprietary connectors (Source), HDMI Type-A (Sinks) and superMHL connector (Sources and Sinks).
Commenting on the announcement of superMHL, Rob Tobias, president, MHL, LLC, said:
MHL enables consumers to share what they love – photos, videos, music and ideas – with the world around them. Our goal is to make content more meaningful and accessible. With the release of superMHL, consumers can experience content beyond resolution, focus on the picture instead of the pixels, and live in a world where TVs are truly windows into the future.
Features of superMHL
Delivery of up to 8K 120fps video
Deep Color support up to 48-bit color depths
Wider color gamut to view content the way filmmakers intended
High-Dynamic Range (HDR) support to strike the perfect balance of bright spectral highlights along with shadow details
Immersive surround sound with support for object audio such as Dolby Atmos, DTS- UHD, 3D audio, and an audio-only mode
Advanced connectivity configurations to link multiple MHL devices together (TV, AVR, Blu-ray player) and control them via one remote
Power charging up to 40W
Content on multiple displays when connecting a single device
New reversible superMHL connector
Backward compatible with MHL 1, 2 and 3 specifications
New support for the MHL Alt Mode for the USB Type- C specification
Here are the differences between superMHL and the other MHL specifications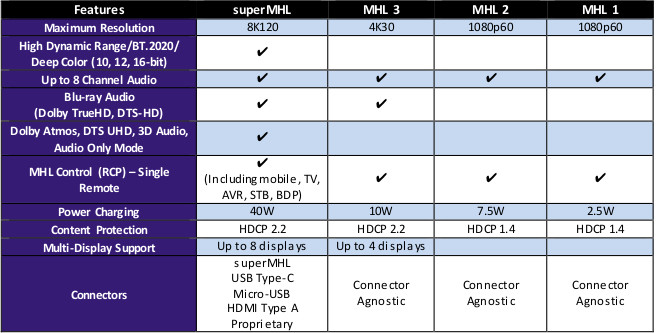 Differences between superMHL, DisplayPort 1.3 and HDMI 2.0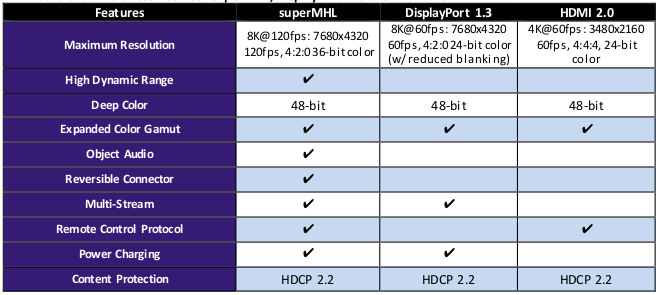 Hope we can expect products with superMHL support soon.